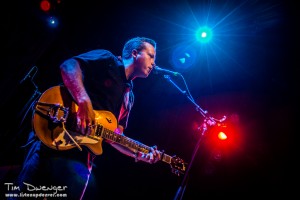 Photos by Tim Dwenger
The Scene: The Ogden Theatre is one of Denver's best mid-size concert venues, and it was the perfect setting for this highly anticipated Rock n' Roll double feature: Intimate enough to get close to the bands, but big enough to feel like more of an "event" than your average rock club. The Ogden was full of folks across the age spectrum – from older Jamband fans, perhaps familiar with Dave Schools via Widespread Panic or Jason Isbell enthusiasts who first heard him in a little band called Drive-By Truckers; all the way up to stoney college kids who looked like they were quickly getting acquainted with Denver's party-friendly concert scene.
Jason Isbell: Hot on the heels of releasing one of the most critically acclaimed albums of 2013, Southeastern, Jason Isbell and The 400 Unit (his long-time touring band) brought some serious firepower to the proceedings. The unit as a whole was extremely tight and dynamic, with each member adding tasteful solos or color when appropriate. In addition to the overall instrumental prowess of the band, the whole band also added rich harmony vocals throughout the evening, giving Jason Isbell's lyrics even more of a bittersweet or melancholy tone.
Though Isbell mixed in a fair amount of his older solo material and tunes he wrote during his tenure with The Drive By Truckers, it seemed to be the material from Southeastern that he and the band performed with the most zeal. Older tracks like "Go It Alone," "Alabama Pines," and "Codeine," along with spirited Muscle Shoals-inspired cover of Candi Staton's "Heart On a String" were sprinkled in with the majority of Isbell's most recent album. Highlights of the new material were a rowdy take on "Super 8," but also the more hushed intimacy of emotive ballads like "Cover Me Up" and "Elephant." Though seemingly shy and somewhat stoic, Jason Isbell did a great job of drawing in the audience. He thanked everyone for the breakthrough success of Southeastern, and turned in an extremely polished and dramatic set of classic rock n' roll.
Hard Working Americans: The Hardworking Americans is a new group comprised mostly of members of other well-established touring and recording bands — bassist Dave Schools of Widespread Panic, acclaimed singer/songwriter/author Todd Snider, guitarist Neal Casal of The Chris Robinson Brotherhood (who also spent a long time in the studio and touring the world with Ryan Adams), Chad Staehly of Great American Taxi on keys, Duane Trucks on drums, and newest member Jesse Aycock playing second guitar and lap steel.
In a sharp contrast to Jason Isbell's heart-wrenching and tightly scripted set, the Americans' proved to be a freewheeling improv-heavy jamboree. Todd Snider certainly helped set the mood from the get-go — His strange onstage mannerisms and between song stories, along with his distinctive gravelly vocal delivery places him somewhere between a more melodic Tom Waits and a drugged-up carnival barker. Sticking mostly to material from their self-titled debut album, the Hard Working Americans opened with the slide guitar stomp of "Run a Mile," and seemed ready to flex their collective Jamband muscles: Weaving lengthy instrumental segues into the collection of covers of like "Blackland Farmer," "Stomp and Holler," and "Down To The Well" allowed Staehly, Aycock, and particularly Casal to stretch out on their respective instruments; but the jams would often drag on with fewer dynamic peaks and valleys than one might expect from this seasoned crew. No big surprise that there was a considerable jump in energy from both the crowd and the band when Jason Isbell stepped back onstage to join Hard Working Americans to close out the evening with "Straight To Hell" and "Play A Train Song."
Energy: B
Musicianship: A-
Sound: B+
Stage Presence: B+
Set/Light Show: C+
Overall: B+