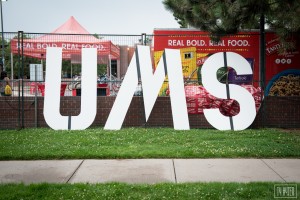 Photos by Ty Hyten
The Underground Music Showcase, Denver's four day run of diverse, audible splendor, occupied South Broadway this past weekend. People of all sexes, styles, shapes and sizes inhabited the streets for this region's version of SXSW. Walking along the Baker District, skateboarders kept the beat for freestylers, while tatted girls bellowed to the sounds of acoustic serenity. Local fashion vendors were selling fitted flat brims next to four year olds carting around fresh lemonade for a hard-earned dollar. Girls in high-waisted floral shorts and guys in ironic button-downs flooded the streets around some of Denver's most popular venues, bars, bookstores, parking lots, alleyways–you name it. The Punk Rock vibe radiated through the cracks of the underground.
THURSDAY
Thursday night kicked off the weekend with several noteworthy acts: Pageantry, a trio from Denton, TX, drew in a sizeable crowd to the Irish Rover. The small town boys classify themselves as Inspirational Pop-Gaze and their live sound is nothing short of genuine. Check out hits like "Friends of the Year" and "Family Tree." Next door at 3 Kings Tavern, Josh Moorehead & the Guestlist thrived with a very unique sound, merging Ska with a Modest Mouse influence. As the sun began to set, a number of people trickled into Blue Ice to catch local Denver producer, CRL CRRLL. Otherwise known as Carl Carrell, the dj's soothing vocals pair well with down-tempo beats that should be added to any summertime soundtrack.
Other noteworthy Thursday Acts: Snake Rattle Rattle Snake, In the Whale
FRIDAY
On Friday The Blind Pets led an all star line-up. The dirty and brash Austin-based Rock trio could easily be defined by their crowd interaction alone. The guitarist spent a good amount of time riffing his solos in the midst of the audience, rolling around the floor at the feet of the bar patrons. Surprisingly, three youthful teens made up members of this 21+ crowd: drummer Ben Redman, guitarist Deven Ivy, and bassist Max Redman, a.k.a. Residual Kid.  The Redman brothers plus Ivy are a force to be reckoned with; they don't mention artistic influences per-say, but reveal their main inspiration is drawn by "energy and sound," and "skateboarding." Their post-modern take on Grunge Rock blurs the lines of youth and maturation.
The main stage hosted headliners Tanlines and People Under the Stairs who weren't surprisingly awesome, but awesome nonetheless. If you haven't seen either, put them on your "To-See" list. Tanlines, with their ethereal Pop sound, perform exactly how their recordings sound, if not better. Thes One and Double K of People Under the Stairs put on an interactive Hip-Hop show that embraces the underground scene with a jovial attitude. I just want to hug both of them.
Closing out the night at Illegal Pete's was Step Rockets, an Indie-Rock band from Minneapolis. Their hit "Kisser" should be enough of a reason to start following their movement in the music scene, but their live show is more fun than Mayor Ford on crack.
Other noteworthy Friday Acts: The Other Black, Mosey West, Roadkill Ghost Choir 
SATURDAY
The Saturday shows continued to awe the masses with a few key takeaways. Gardens & Villa stole the main stage in the most unassuming way possible. Their hits "Thorn Castles," "Bullet Train," and "Black Hills" are both upbeat and down-tempo, pervasive in their own sense of the word. These California guys have captured a unique modern-meets-past sound in a crowded indie space.
Taking the stage at Denver's most established hipster watering hole, The Hi-Dive, was Portland trio, AAN. Those who had never heard AAN were instantly mesmerized by singer, Bud Wilson who's gritty finesse sounds similar to The Mar's Volta's Cedric Bixler-Zavala. They're a wonderful Experimental Rock band with subdued passion. Be sure to check out their single, "I Don't Need Love."
Following the majesty of AAN were two of the better known acts of the weekend: Baths and Real Estate. Baths, also known as Will Wiesenfeld, seized the stage in a somewhat abrasive manner but the crowd didn't budge. At times people looked confused and scared but only got closer to see what Wiesenfeld was doing to their ear drums and quite possibly their souls. Real Esate's cheery tone followed and did so in a relatively, and surprisingly, cohesive manner. Baths and Real Estate probably wouldn't belong on the same playlist.
Other noteworthy Saturday Acts: The Belle Jar, A. Tom Collins
SUNDAY
Ah, Sunday. What would be the day of rest for many, was the day of let's-see-how-long-we-can-keep-going for others. The beer lines were a bit shorter but the crowds were just as dedicated. Local Ambient Rock group, Sunboy, played a psychedelic Sunday show for a larger than expected audience. Though not a band to miss live, their music video for "Highway Screamin'" is wonderfully similar to Portugal. the Man. Portland-based Unknown Mortal Orchestra drew an even larger Sunday crowd as they showed off their interstellar Pop talent with popular hits like "So Good At Being In Trouble." Similar to a live viewing of Foxygen or Tame Impala, UMO brought about a sense of Indie unity as they performed against a wonderful sunset to close out a memorable weekend of music.
Other Noteworthy Sunday Acts: RumTum, Blonde Redhead
This year's UMS proves once again that Denver is in the running to be named one of the greatest music scenes in the nation.
Quotes from local spectators:
"Tamed debauchery that made it difficult to leave and nearly impossible to recover from."
"Beautiful madness. So spectacular for an underground festival. A SXSW feel without the big names, and nothing too flashy to take away from the raw I'm-So-Denver feel. It can be gritty and grimy, or tame and timid; at times relishing its theatrics or simply swaying to the formulaic, yet assuredly catchy 4-chord progression."
"Some people [at UMS] are assholes, but that's their thing. This is their thing. Which doesn't necessarily make this thing an asshole."
Lindsay was born in Georgia, raised in Florida, and moved to Colorado when she turned 18. All Lindsay asks for in life is music, hoppy beer, and the written word. The necessities of family, friends, water, and food naturally follow.