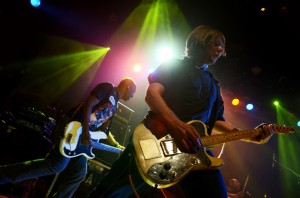 Photos by Todd Radunsky
It was the 90's all over again as Denver's Ogden Theatre hosted Summerland Tour 2014 featuring four bands that exploded on to the music scene more than 20 years ago. Amazingly, all the bands that played, Spacehog, Eve 6, Soul Asylum, and Everclear are still going strong despite line-up changes and the inevitably ebbing fanbase.  The Ogden wasn't sold-out, but was still packed enough to give the room a great energy and fan presence as the bands provided the rockin', edgy, sound that made the '90s alternative scene so pleasurable.
 The sound was great inside the Ogden and the bands each played short but sweet 6-7 song sets. Even with the shortened sets, you could really tell each act gave it their all, playing with great intensity and focus as they delivered a sampling of their most popular hits including Spacehog's "In the Meantime,"  Eve 6's "Promise" and "Inside Out," and of course Soul Asylum's "Run Away Train" and "Misery."
I work in the music industry photographing bands live and offstage for publicity. My work includes shooting concerts, festivals, and portraits of musicians and bands. I shoot for promoters, record companies, publicists, magazines, band managers, and individual musicians. I also photograph weddings, and portraits and have traveled the world to do so. I've shot weddings in Cali, Ireland, Mexico, Cape Cod, and Amsterdam to name a few.