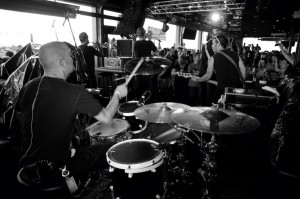 Not many local Punk/Ska bands have continuously produced music with lasting value over the past decade. Synthetic Elements is one of the few exceptions. Since 2001 these guys have been making the kind of music that makes a once-punker nostalgic for days past. Their high-energy tempo, entertaining lyrics, and awesome vocal harmonies are as impressive as their wide array of instrumentation and technical prowess–on their four studio albums and in live performances alike. They met in high school in Fort Morgan, CO, moved to Denver, and have since worked just about every stage in town. We sat down with their drummer Brett Carson to learn about how the group came to be, what they are are doing now and what they are looking forward to in the years to come.
Listen Up Denver!: How did you come up with your band's name?
Synthetic Elements: Well, we had a show booked before we officially had a band name and we needed to get some promo flyers made for the show, and Todd was looking through his science book one day and saw the words "Synthetic Elements" so we went with that.
LUD!: What is the line-up of the band?
SE: Brett Carson (drums), Kyle Hernandez (bass and backing vocals), Todd McMullan (guitar and lead singer), Mike Blecha (trumpet, keys, acoustic guitar and backing vocals), Tyler Johnson (Trombone, accordion, backing vocals and washboard).
LUD!: How would you describe your sound?
SE: Pirate Punk Rock and Roll with Horns!
LUD!: Who would you count as major influences on your band?
SE: When we were starting out we listened to a lot of Goldfinger, Less Than Jake, Rancid, The Slackers, Flogging Molly… bands like that.
LUD!: How did you guys get started playing together?
SE: Todd and Kyle used to skate all of the time and it was snowing outside one day so they went into Todd's garage and picked up some of his dad's guitars and started messing around on them. They called me up and asked me if I wanted to jam with them, so I did. We jammed together a couple of times and had some fun so I called up my fellow band nerd buddy Mike to see if he wanted to come play his trumpet with us on a song or two. We really liked the "new sound" and from there SE was born.
LUD!: Does anyone in the band have any formal musical training?  If so, what is it?
SE: No, not really. We all took a lesson or two and were in band class in high school but none of us went to college or anything like that. We went on tour instead.
LUD!: Where was your first gig together and how did it go?
SE: Our first show was at "In The Mood Coffee House" in Fort Morgan. That was in April of 2001. We had a pretty good turn out…because we lived in Fort Morgan and there isn't ANYTHING to do. We had a ton of friends and family show up to support us.
LUD!: What's your favorite memory of playing together?
SE: I have a million. I think that the overall experience that the band has given me is my favorite memory, as cliché as that may sound. Every time I go on stage with those guys, it's as fun as the first.
LUD!: Are you playing any shows coming up that you are particularly excited for?
SE: We are playing Summer Grind at the Gothic Theatre/Moe's BBQ on August 16th. That is always a fun show.
LUD!: What is your favorite song to cover?
SE: Probably "Heartbreaker" by Taio Cruz
LUD!: What is the strangest request you've had at a show?
SE: Every single damn time we play in a bar some asshole requests "Free Bird."
LUD!: What was the first song you wrote together as a band?
SE: "Dork"
LUD!: Do you still play that song live?  If not, why?
SE: No because we've drank so much beer in the past decade we don't remember how it goes…
LUD!: Are you releasing any new material soon?
SE: We have been in the studio writing some new music and have been trying to put together a new live show for our fans.
LUD!: What is your favorite venue in Colorado, and why?
SE: My personal favorite venue in Colorado is the Gothic Theatre in Englewood. There isn't a venue here that I don't like. Pretty much everyone in the local scene is great to work with.
LUD!: If you could play on any stage in the world where would it be and why?
SE: I'd love to hit the main stage at Red Rocks personally. It's legendary and it's in our back yard.
LUD!: If you could open for any band or artist, who would it be and why?
SE: Dropkick Murphys would be a fun one…
LUD!: What is the most outlandish thing your band would consider putting in your backstage rider?
SE: I'm not sure I should answer that… 😉
LUD!: What is your bands drink of choice?
SE: Budweiser, Budweiser, Budweiser and Jamison.
LUD!: Can you name a few local Colorado bands that are really impressing you right now?
SE: Potato Pirates are kicking ass right now. MF Ruckus, Lola Black the list goes on and on.
Audiophile. Logomaniac. I must get to the show.