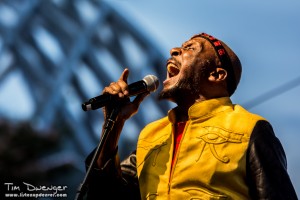 Photos by Tim Dwenger
The Scene: Despite the threat of rain early on, the Botanic Gardens remained dry last Monday night when they played host to a sold-out crowd and one of the most passionate and soulful performers to ever come out of Jamaica: Mr. Jimmy Cliff.  As is typical at The Gardens, the crowd rushed in, spread out their blankets and immediately dove into lavish spreads of rich creamy cheeses, perfectly ripe fruit, cured meats and of course wine, oh how the wine flows at The Gardens.
Opener: Zach Deputy. The night started off with the startlingly complex sounds of Zach Deputy.  He was hidden behind a wall of equipment and as he strummed his guitar the crowd was mesmerized as the sound grew and took on a life of it's own thanks to Deputy's live looping prowess.  He would sample riffs, bass lines, or vocals and layer them on top of one another to create fully orchestrated pieces of music on-the-spot.  It was impressive to watch, but I think the crowd would have liked a little more as his set was over almost as soon as people realized what was happening on stage before their very eyes.
Jimmy Cliff: As eight o'clock approached and twilight eased it's way in, Cliff's band began to take the stage, one at a time, to ensure their equipment was all in-place and ready to go.  Before the man himself was even visible to the expectant crowd, his voice rang through the PA as he marched down the hill to the stage to join his band on a stirring mash-up of his own "Bongo Man" and The Melodians "Rivers of Babylon."  The percussion heavy opener featured Cliff playing a drum at the lip of the stage while his band flanked him on their own drums.  It's safe to say the crowd was in the palm of his hand from the get-go but Cliff never took it for granted and poured his heart and soul into every moment of the 75 minute set.
He tugged at heart strings with an incredible version of "Many Rivers To Cross," waxed nostalgic with his memorable (and possibly better than the original) take on Cat Stevens' "Wild World," and got current with an updated version of "Vietnam" that focused on recent problems in Afghanistan, but it was his energy that probably left as big an impression on the crowd as the music.  The 66 year-old Cliff was simply all over the stage as he high-kicked and waved his arms in the air like a teenager.  It was something to witness and the typically sedentary Gardens crowd responded by packing the front and sides of the stage and getting to their feet on the surrounding hills on more than one occasion.
The hits kept coming all night and I noticed astonished "I forgot he wrote this too" looks on people's faces around the grassy slopes as the band launched into songs like "You Can Get It If You Really Want" and "The Harder They Come," but it was his cover of Johnny Nash's "I Can See Clearly Now" that got one of the biggest crowd responses of the evening.  As the show wound down Cliff and the band even took things a little Disco when they closed with "Reggae Nights" from his 1983 album The Power and the Glory.  Despite Cliff leaving the stage and starting up the hill, the crowd took up a rousing "One More" chant and the spirited singer obliged them with a show ending cut from his 2012 album Rebirth entitled, fittingly, "One More."  It was a night to remember for all.
Energy: A
Musicianship: A
Sound: B
Stage Presence: A+
Set/Light Show: B (Thanks largely due to the giant Chihuly glass sun on the edge of the seating bowl)
Overall: A-
Music has always been a part of my life. It probably all started listening to old Grateful Dead, Peter Paul & Mary, and Simon & Garfunkel records that my parents had, but it wasn't long before they were taking me to concerts like Starship, Crosby, Stills & Nash, and Huey Lewis & The News. I got the bug to write about music after reviewing an Eric Clapton concert for a creative writing project in high school but didn't really take it up seriously until 2002. Since then I have published countless articles in The Marquee Magazine and done some work for Jambase.com, SPIN Magazine, and various other outlets. I started Listen Up Denver! as a way to share the music information that is constantly spilling out of my head with people who care. Please enjoy!