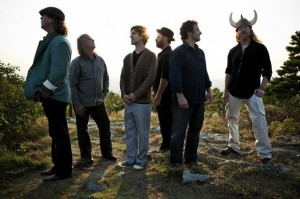 The Scene: For the third year in a row I've had the chance to witness what is, to me at least, the highlight of the summer music season at the Boulder Theater.  I might be biased, what with this band being my favorite and all, however, I've yet to see a show at the Boulder Theater as fantastic as the one performed Friday night by Stillwater New Jersey's Railroad Earth.
It may have helped that the venue was crowded with close friends and family, or that the trusty Conscious Alliance crew was there collecting donations and bringing in good vibes, or that the city of Boulder was abuzz with Iron Men and women preparing for their badass triathlon.  It may have been because only 2 weeks earlier so many of us were at Northwest String Summit, cheering on our beloved RRE.  Whatever it was, the tone for the evening had been set long before our arrival, and the anticipation of something incredible was heavy in the air.
Railroad Earth: In a theater now almost too small for the band's ever-expanding repertoire, our favorite Jersey Boys kicked off their sold-out show with "Donkey For Sale."  This may have been an unexpected show-starter, but was welcomed with open arms by this night's group of Railroad Earth "Hobos."  With RRE having nearly outgrown the Boulder Theater, Todd Sheaffer, Tim Carbone and the rest of the gang were free to do a little experimentation with their setlist.  And as unexpected as this tune may have been, the energy that comes in the first few seconds of "Donkey" was on par with our extremely high expectations.
A favorite sing-along that portrays deep, gospel influences came next.  "Lordy, Lordy" another tune that is less frequented on set lists, yet never fails to please as we sing in unison, "got trouble here below that's never-ending!"  Carbone's skills on the fiddle are something to be marveled at, and they were on full display on the opening notes of "Lordy."
Then, in true Colorado fashion, the third tune of the evening was the aptly-named instrumental, "420," which lead the crowd in a raucous round of foot-stomping and head-bobbing.  By far the most energetic instrumental in the RRE catalogue, we were an audience of jumping beans, ecstatic as Carbone, Andys Goessling and Altman ripped it on the strings, and Carey Harmon's drumsticks flew wildly across his kit.
Slowing it down after an excited and energetic start, Todd's soothing vocals moved fluently into "Long Walk Home," and then into the even slower "Right in Tune."  Taking a moment to sway arm-in-arm with those around me, I felt a profound appreciation for what I was experiencing.  After a full summer tour and a visit to Horning's Hideout, Railroad Earth's presence on stage in front of us felt magical.
Nearing the end of the first set, RRE broke out "Bread and Water," which was as impeccably placed this night as it had been one whole year ago for the band's 2013 show at the Boulder Theater.  Todd hooted "it's going down, it's going down!" as we danced, jived, twirled, and bounced into a set break.  This break came all too quickly for us whose thirst for RRE's "new grass" can never be fully quenched.  As the saying goes, time flies…
Wandering around the venue during set break, I ran into friends and fellow fans of all ages, each experiencing an unforgettable feeling of awe and a totally natural high.  Hugs and kisses were passed around as friends greeted friends, some of whom had not seen each other since RRE's last show two weeks ago in Oregon.  Thankfully, the set break was sweet and short, just long enough for family and friends to reconnect, enjoy one another's company and grab another beer before it was time for round two from our favorite band.
The second set kicked off with "Happy Song," a track righteously reflective of the feelings of the night thus far.  Us Hobos were absolutely stoked by Todd's crooning vocals, Tim's experimental fiddle jams, and Andy's changing of instruments between almost every other song.  "Happy" was altogether too fitting to open the second set.
My personal favorite song to see live came next with "Saddle of the Sun."  The combination of those opening notes from Tim's fiddle and John Skehan's mandolin brings the energy up to a soaring high each and every time I am lucky enough to see them performed live, and this time was no different.  Before we knew what was coming, the boys moved swiftly into "Storms," one of the most emotionally-riveting song in the RRE catalogue.  A hand-in-hand sort of song, the combination of "Storms" with the intimacy of the theater created this harmonious connection throughout every one of us.
Now, it ain't a Railroad Earth show without a chance to catch Carbone on vocals, and that's what we got next with "Crossing the Gap."  Singing of Jersey and the place they call home, RRE always knows how to make a place seem special with their poetic lyricism and heartfelt instrumentation.  The power these songs have to transport an audience to a different place and time is something that few can do, and yet Railroad Earth does with such seeming nonchalance.  It is truly a miracle what certain music can do for fans, and this set was a rare gem to be savored and cherished.
The highlight of the night for me came during the middle of the second set.  My father was at the show with us, having flown out from California to catch our favorite band.  Sporting his shirt from last year's Hangtown Halloween Ball, I felt blessed to be able to share this experience with my own dad.  Then, as if the boys of RRE had read my mind, next came "Daddy-O."  My dad and I, along with the many family and friends around us, all joined in with Sheaffer to sing the lyrics to this Railroad Earth classic.
The highlights of the night didn't stop there with "Birds Of America" topping the night in terms of both instrumentation and energy from the band.  The good vibes were felt reverberating off of the walls of the Boulder Theater, and the momentum of both the band and the crowd was at an all-time and insurmountable high.
One more foot-stompin' instrumental came in the form of "Stillwater Getaway" to keep that momentum going before RRE finally slowed things down a bit.  It seems that that every time our Jersey boys come to our town, they provide us with "The Forecast" – maybe in the hope of warding off the consistently unpredictable weather that can often be the defining factor of any evening in the Rocky Mountains.
The best of any Railroad Earth show includes "Head," when the entire crowd moans the opening "OHH-OHH-OHH!"  Individual jam sessions took place with the boys shining in the spotlight as they struck the cords of this obvious fan-favorite.  This was an ideal conclusion to the second set, leaving us adoring fans jittery and wanting more!
As the band completed the set and took their leave, a hush did not fall over the crowd, but rather a whisper, as we knew there was a birthday to be celebrated.  Shortly, RRE returned back onto the stage, where Todd announced that they did indeed plan to wish a happy birthday to and honor the late, great Jerry Garcia.  With that, the boys took off into their version of "Mississippi Half-Step," and a tremendous cover it was.  The moment was humbling in it's modest celebration of Garcia's life, a tasteful honoring of the man who so many musicians have to thank for the inspiration of there own music.  As the song and the second set came to a close, Sheaffer offered his gratitude to an ovation before gracefully departing the stage once more, and leaving us anxious with excitement for what was to come the next night…at Red Rocks.
Railroad Earth – Boulder Theater, Boulder CO – 8/1/2014
Set I: Donkey For Sale, Lordy Lordy, 420, Bowling Green, Long Walk Home, Right in Tune, Lone Croft Farewell, Mountain Time, Mission Man, Bread and Water
Set II: Happy Song, Saddle of the Sun, Storms, All That's Dead May Live Again, Hunting Song, Said What You Mean, Crossing The Gap, Daddy-O, Birds of America, Stillwater Getaway, The Forecast, Head
Encore: Mississippi Half-Step
Energy: A+
Musicianship: A+
Sound: A+
Stage Presence: A
Set/Light Show: A
Overall: A+