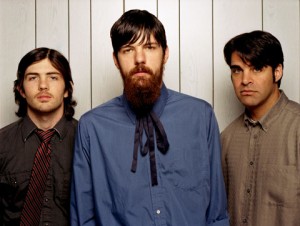 Avett Brothers July 9 Concert from Red Rocks to be Simulcast Live
On World's Largest HDTV at Charlotte Motor Speedway
The Live Performance Will Also Be Available For Streaming at www.iclips.net
The Avett Brothers sold-out show on July 9th from Colorado's famed Red Rocks Amphitheatre will be broadcast live via satellite to the band's hometown of Concord, NC on the planets largest HDTV screen.  AEG Network LIVE is responsible for producing and shooting the entire event in HD and delivering it via iClips to Charlotte Motor Speedway. Charlotte Motor Speedway, home to the massive 80' x 200' Panasonic HDTV, will host Avett Brothers fans from near and far for a chance to be part of this exciting show as it happens live. Fans who can't make it to Colorado or North Carolina on July 9 will be able stream the show on iclips.net.
The live simulcast will give the Avett Brothers' rabid local fan base the opportunity to view their historical show from Red Rocks on the speedway's massive 80-foot-by-200-foot HD video board. The speedway will supply concert-grade speakers to turn the infield area in front of the video board into a one-of-a-kind concert venue.  Tickets for the July 9 simulcast on the world's largest HDTV at Charlotte Motor Speedway are on sale now and can be purchased at the speedway ticket office or by calling 1-800-455-FANS (3267). Tickets are only $10 until July 1, when they will increase to $15 until July 8. Tickets purchased the day of the event, July 9, will cost $20.
"The speedway has been a hometown landmark for us our whole lives and we're proud to have an opportunity for our music to echo through that historical infield," said Seth Avett. "For us, performing at Red Rocks and airing live in Concord is about the most ideal situation for being in two amazing places at once."
The Avett Brothers front men, Scott and Seth Avett, who grew up on their father's farm in Concord, quickly grew their fan base throughout the region with memorable energetic shows, which has become the band's trademark.
The Avetts' popularity skyrocketed on the heels on their major label debut, the 2009 album "I and Love and You." Recently, the band has become accustomed to performing sold out concerts and in February they performed at the 53rd Grammy Awards in Los Angeles alongside Bob Dylan.
"We are so fortunate to travel and play the many places we do," said Scott Avett. "To have an opportunity to share that with our supportive home town in a setting where great men like Richard Petty, Dale Earnhardt and David Pearson competed adds to the sense of pride that we feel to be a part of the Charlotte community and this event at Charlotte Motor Speedway."
"This is going to be an unbelievable event," said Marcus Smith, president and general manager of Charlotte Motor Speedway. "This is something that would have never been possible without the world's largest HD video board. But, now we're going to simulcast a live sold out show from one of the most famous concert venues in the world, featuring our home-town boys, the Avett Brothers, to their loyal fan following here in Charlotte. It's going to be awesome!"
Music has always been a part of my life. It probably all started listening to old Grateful Dead, Peter Paul & Mary, and Simon & Garfunkel records that my parents had, but it wasn't long before they were taking me to concerts like Starship, Crosby, Stills & Nash, and Huey Lewis & The News. I got the bug to write about music after reviewing an Eric Clapton concert for a creative writing project in high school but didn't really take it up seriously until 2002. Since then I have published countless articles in The Marquee Magazine and done some work for Jambase.com, SPIN Magazine, and various other outlets. I started Listen Up Denver! as a way to share the music information that is constantly spilling out of my head with people who care. Please enjoy!