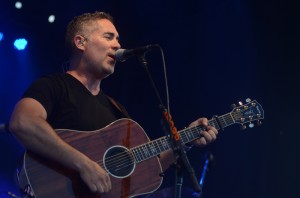 Photos by Todd Radunsky
The Scene: The scenic Denver Botanic Gardens Chatfield was the scene for those who wanted to enjoy the finer thing's in life on Friday night.  Good food, good company, and a beautiful Colorado night mixed with the care free vibe of one of Canada's best musical exports to the United States, The Barenaked Ladies, made for a most delightful evening under the stars.
Barenaked Ladies: Quirky, comical, smart, and most of all, talented.  I think these are the four words that best describe the Canadian rockers better known as Barenaked Ladies.  The sold-out Friday night crowd crowd at Denver Botanic Gardens Chatfield got a taste of just how fun BNL can be as the band weaved it's way through a seemingly effortless 22 song set filled with many of the bands most popular hits.   At one point lead vocalist and guitar player Ed Robertson even showed the family friendly venue just how family friendly the band is by bringing his two young sons Lyle and Arden out to play drums and guitar for a while during the set.
Fans both stood and danced as well as sat on their blankets dining on cheese, drinking wine and singing  along to popular tunes like "One Week," The Old Apartment," Pinch Me," and of course "If I Had $1,000,000."  It doesn't seem like it to me but the fact is Barenaked Ladies have been playing to their incredibly loyal fans for a quarter of a century now and doing so in rare fashion.  With quick wit and sometimes hilarious banter between songs, this band is constantly engaging the audience at all times during their show, and it's a refreshing treat you just don't get with most musical acts.
Energy: B+
Sound: B
Musicianship: A-
Stage Presence: A
Set/Light show: B-
Overall: B+
Music has always been a part of my life. It probably all started listening to old Grateful Dead, Peter Paul & Mary, and Simon & Garfunkel records that my parents had, but it wasn't long before they were taking me to concerts like Starship, Crosby, Stills & Nash, and Huey Lewis & The News. I got the bug to write about music after reviewing an Eric Clapton concert for a creative writing project in high school but didn't really take it up seriously until 2002. Since then I have published countless articles in The Marquee Magazine and done some work for Jambase.com, SPIN Magazine, and various other outlets. I started Listen Up Denver! as a way to share the music information that is constantly spilling out of my head with people who care. Please enjoy!