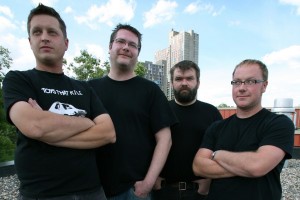 The Scene: All the old-school Punk Rockers showed up for the Riot Fest promoted event at the Summit Music Hall last Saturday. Fans from all over came out for the long overdue reunion show for the band Pinhead Circus, a Colorado band that was formed in 1988 and played last in 2008. Although Minneapolis, MN based Dillinger Four was the headlining band, most concertgoers admitted being there to see Pinhead Circus one more (perhaps also one last) time. Punk Rock greats Tim O'Hara (drummer for The Lillingtons and newly formed Bombay Blackout) and Miguel Chen (bassist for Teenage Bottlerocket) as well as Clint Carlin (Teenage Bottlerocket hype-man) were amongst the fans that came out to enjoy the night's events. Promotional agents distributed free tickets in abundance in the days before the event, successfully ensuring a packed venue. Old-timers filled the room and a sea of black T-shirts was visible in every direction.
Opener: The Sound Collapse. The Sound Collapse (Denver-local melodic four-piece band) was a great choice to start the raucous night of Punk Rock at the Summit Music Hall. Singer and guitarist Chris Tafoya is also a member of the very recently disbanded Denver giant Boldtype. Tafoya interacted with the audience appropriately and seemed genuinely glad to be a part of the night. The Sound Collapse played smoothly and effortlessly. Tafoya's voice sounded great over the sound system, it had a booming quality instead of the not-turned-up-loud-enough sound that most opening bands are stuck with. Matt Strayer's (guitar, backup vocals) voice made the vocals stronger, and he ripped on the guitar.
Although the band was unfamiliar to the crowd, peopled seemed to enjoy the music. Dan Fox (drums) smashed it, and the triple harmonies (bassist Tim Reed coming in as the third vocalist) on the choruses were great. One girl commented afterwards on the superb job done by the drummer, saying drummers are the heart of the band and Fox's beats held the band together well. The band played four songs off of their 2011 self-titled EP as well as six unreleased songs, "Splitting Hairs," "Exit Strategy," "Anchor Punch," "Sunday Mimosa Crises," "Bad Night for Bingo" and "Amelia."
Opener: Arliss Nancy. A semi-local band from Fort Collins, Arliss Nancy played next. The four-piece had a Hot Water Music sound and the members described themselves afterwards as a Rock-and-Roll group, somewhat different from the other bands playing that night. Guitar and vocalist Cory Call said that he learned how to play guitar while listening to Dillinger Four. The Rock band soon loosened up the crowd; in fact the band had many fans in attendance that night. They were all great musicians, and their sound filled up the room. The band consisted of Call and Jason Larson on guitars, Kyle "GB" Oppold on bass and vocals, and Chris Love on keyboards (a strange sight at a Punk Rock show). Drummer Diesel J was absent from the show and Tim Browne (singer of Fort Collins band Elway) filled in for the night. When asked when he started drumming, Browne said, "I don't know, just fucking around in a Punk band for long enough." Arliss Nancy played several songs from their 2013 release Wild American Runners, including "Benjamin," "Hold It Together," "Directions Never Hold," and "Coals," as well as "Should've Been There," "The Crease," "Front Seat," "40s" and "Abacus" from older releases.
Opener: Pinhead Circus. According to singer and guitarist "Scooter" aka Jimmy Pinhead this was the bands' first show in six years, and most fans came out for this reunion and not the main event. A dense group of fans crowded the front of the stage beforehand waiting for the band to play. Fans screamed in excitement during drummer Dave Barker's sound check and after some deliberation and a few false starts, Pinhead Circus played again as if no time had passed, and the entire venue erupted with cheers. James engaged the audience with his banter and Barker simply killed it on drums and fans cheered and whistled and screamed out the bands' lyrics.
Pinhead Circus sounded wonderful and played seamlessly for the packed venue, although James' microphone could've been louder. Many fists were held high in the air and beer cans flew around the room and onto the stage. Jordan Hauser (guitar) jumped around the stage while playing, feeling the moment. Fans were exploding with excitement, but the biggest show of support came from "Paddy" Patrick Costello (bassist and vocalist for Dillinger Four), who ran around stage during the set rubbing Barker's shoulders and singing along into the microphones.
From the bands' first album Detailed Instructions for the Self Involved they played the title track, "Clueless," "Carefree Metal Daze," "Wyoming" and "Just Fucking Wonderful." From the second album Everything Else Is Just A Far Gone Conclusion they played "Say Goodnight," "Asking For A Beating," "Hallmark," "Clear A Path," and "My Confession." From The Black Power of Romance, they played "Open Casket Life," "I'll Die Soon and it Will All Be Over." From the self-titled album they played "Foghat." After Pinhead Circus played the last song and left the stage, fans lingered screaming for one more song.
Dillinger Four. Costello was obviously drunk during Pinhead Circus' set, and definitely did not sober up before taking the stage with Dillinger Four. Erik Funk (guitar and vocals) called himself the bands' straight man and talked fondly about his relationship with Costello backstage before the show, recalling how they met 27 years ago in High School. Talking about their respective band member's antics with Miguel Chen, Funk stated, "Yeah but your band is good, and mine just has a big fat guy who gets naked." A man came up to Funk and asked him to congratulate him and his fiancé on their recent engagement. The bride-to-be was a huge fan of the band; of course, he obliged. When asked before the show what songs they would be playing, Funk replied "Gainesville," "doublewhiskeycokenoice," "Maximum Piss and Vinegar," "Stairway," and "Black Dog." He then said, "Those last two are Led Zeppelin songs."
Costello started the show with his shirt off and his gut out, and promptly fell into the drum set while fans chanted his name. Funk came over and gave Costello a pep talk, and then Costello tried and failed, eventually standing up. Drummer Lane Pederson commented softly to the side stage that this was the first time he had used a double pedal drum in fifteen years, his quiet remark a stark contrast to Costello's actions. Costello stopped playing for a while with his bum hanging out of his pants but Pederson held it down. Fans didn't seem to care, waving their fists in the air. Costello left the stage during the middle of a song and Funk rolled his eyes. Pederson threw one of his drumsticks off the stage and disappeared as well for a five-minute band break.
After returning to the stage, Costello pulled his pants and boxer shorts down and a female fan rushed from backstage to pull them up with no help from him. Once he was dressed Costello promptly removed his undergarments and continued to play with his crotch exposed to the audience. Shortly afterwards Costello stopped playing and simply smiled like an idiot waving his junk around. A security guard rushed out and demanded he pull up his underpants with no response. The guard eventually pulled Costello's pants back up, and Paddy pulled them right off again. Costello was mostly laughing and not playing at this point; the security guard pulled his pants up again and Costello pulled them down immediately again. The security guard threatened to shut down the show to both Paddy and Erik, each shrugged as if to say he was helpless. Costello eventually left the stage and the band played the rest of the set without him. Paddy wrestled with the security guard who ended the show, running around the backstage area in a comical circle, trying to get back onstage as the guard continued to chase him.
Some fans thought this whole act was hysterical, an epic ode to what has left the genre as it has become more professional and credible. Others were disappointed in the antics; one fan was overheard saying Dillinger Four was a sloppy disgrace to the genre and the show was overpriced for what turned out to be a five-song set. D4 played the three aforementioned songs as well as "A Floater Left in the Executive Washroom" "Swamprat" and although there were five other songs listed on the set list, they were not played. These five songs were actually the first ones on the list but were skipped as if it were an inevitability that the show would end abruptly and incomplete.
Energy: A+
Musicianship: C-
Sound: C+
Stage Presence: A+
Set/Light Show: B-
Overall: B

I have been working in the music industry for over three years as a DJ (DJ Pecas) for GreenLight Radio in Boulder since July of 2010. We are pirated on the FM dial at 97.1 FM and broadcasted online at greenlightradio.com. During the past three years I have attended countless shows and hope to continue to do so!