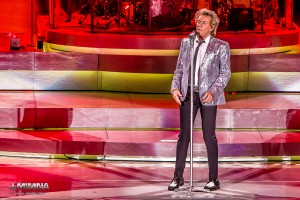 Photos by Jim Mimna
The Scene: The workweek couldn't hold the music fans back last week at Denver's Fiddler's Green where two legends met up and rocked out to a sold-out amphitheater. Shows at the Green start early, so fans were formed in crowds around the bars in an attempt to cool off. So warm was the evening, without a cloud in the Colorado bluebird sky, that folks were requesting their Fireball shooters to be served on ice, along with tasty margaritas and beers as cool as the snow-capped Rockies.
Santana: Santana took the stage promptly at 6:30, with the summer sun still high in the sky, and the energy even higher. Fans had arrived earlier in the afternoon to set up camp on the General Admission lawn and were suited up in a diverse array of band merchandise.
The supporting band consisted of a brass section, a keyboard, a couple bass guitars and a variety of drum sets. The band, lead by Santana, ran through the hits, the favorite of all being "Smooth," along with covers such as The Champs' "Tequila!," and even an extended verse from Sting's "Roxanne." Fans were elated, and left wanting more from this Rock-n-Roll legend.
Rod Stewart: Chatter among the crowd was that there couldn't possibly be a way for headliner Rod Stewart to live up to Santana's opening set. However, skeptics were swiftly proven wrong when Stewart pranced onstage and took the center position amidst his band, starting off his 2-hour show with the Pop tune, "Infatuation." Decked out in a sequined silver blazer and form-fitting dress pants, Stewart reeked of class. Another quite literal dance tune followed suit with "Having A Party," with Stewart surrounded by his female backup singers, all dressed in thigh-high, sequined, silver dresses to match their man.
1972's "You Wear It Well" was a definite crowd pleaser as Stewart wailed from the stage. Interestingly, the majority of Stewart's supporting band was female. And not just female, but all the women were wearing these sexy, form-fitting and fun dresses that made it feel like they were all at a cocktail party, singing and making music together. One particular woman was on the fiddle, and got the opportunity for many skillful solos throughout the evening. Another blonde woman blew on her saxophone, and it was awesome to see her dressed up and still have her instrument hootin' away.
Switching back over to Pop tunes, Stewart and the band went into "It's A Heartache" and "Tonight's The Night." The backdrop of the stage was a slideshow of imagery that accompanied the lyrics of whichever song quite perfectly and added a dazzling visual element for the show.
A song that Stewart sang back when he was with Faces came next, 1971's "Stay With Me." "Rhythm of My Heart" followed, with Stewart honoring the troops by dedicating the tune to those still in service as well as those in retirement. At this point, Santana made another appearance on to the stage to play guitar while Stewart sang Etta James' emotionally-riveting "I'd Rather Go Blind." Santana received his third standing ovation of the night and took a humble bow before gracefully exiting the stage once again.
Another Pop hit and a fan favorite, "Forever Young," consisted of a tribal drum solo, with three female drummers on three different African drums. Then Stewart announced that a portion of his show would be acoustic, beginning with "The First Cut is the Deepest" the almost all female-band, now having changed into cheetah-print versions of those same sequined dresses, lined up along the front of the stage for the beautiful sing-along that ensued. To accompany the acoustic songs, an all-female mini-orchestra including a harpist took the stage beside Stewart and his band.
Pulling out one of the most popular wedding songs of all time, the audience sang along yet again with "Have I Told You Lately," and swayed together as we heard solos from the fiddle and the harp. Stewart then introduced a new acoustic song, a heart-breaking love song entitled "Brighton Beach," that featured scenic pictures on the backdrop to help our imaginations travel to the seaside before the band took their leave from the stage.
One more costume change brought the many talented female musicians back, this time dressed in hot red flapper dresses, in time for the party tune "Sweet Little Rock and Roller" that included a killer saxophone solo. Stewart then took his leave from the stage and left his band and singers to lead the audience in a version of Tina Turner's "Proud Mary."
The last three songs of the evening were big hits, with Stewart crooning through "You're In My Heart" and "Hot Legs," where he was tossed countless soccer balls from offstage, which he signed and kicked, one by one, into the crowd. "Maggie May" was the set-closer and it got every single bottom up off its seat for one of Stewart's biggest hits of all time. Though an encore brought maybe the most commercialized hit of Stewart's career, "Do Ya Think I'm Sexy?" with the entire band up and dancing, and Stewart leading the crew sporting a comedic cowboy hat.
The man is not only a classic, a living legend, but also quite the jokester, and a man who knows how to please his crowd, whether through songs or through comedy. Charismatic with a tremendous singing voice, Rod Stewart's performance was incredibly enjoyable, and an impressive spectacle of class and talent. A wonderful and warm summer night this was, thanks to Carlos Santana, Rod Stewart, and their grand posses of class-A musicians. Needless to say, legends never die.
Energy: A
Musicianship: A
Sound: A
Stage Presence: A
Set/Light Show: A
Overall: A