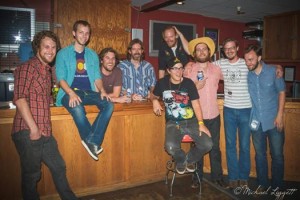 Photo by Michael Liggett 
It was a cold, snowy night in Nederland, Colorado but the town was hoppin' as it was in the midst of the annual Frozen Dead Guy Days festival.  Over at Whistler's Café The Grant Farm was getting ready to take the stage.  Driving up to Ned in an old van was a then little known group of street performers turned club players called Fruition.  While neither band knew it at the time, one of those cosmic crossing of the paths was about to take place.  But it wasn't all in the stars.  It would take some proactivity and determination to get noticed from the wily former street musicians to make this meeting of the minds come to pass.
Back in 2011 both Fruition and The Grant Farm were in very different places then they are now.  Grant Farm was not the road tested, airtight band it is today with Tyler Grant on the telecaster, Adrian Engfer on the bass, Sean Macaulay on drums, and Stephen Thurston on keys.  In fact, the only common denominator back then was Tyler Grant.  The band did, however, boast quite a bit of star power back then with Keith Moseley on bass (The String Cheese Incident) and Andy Thorn (Leftover Salmon) in the lineup, not to mention local musicians extraordinaire Pete Goldberg on keys (Smooth Money Gesture) and drummer Chris Misner.  Oh yeah, and Billy Nershi (SCI) was supposed to stop in, no biggie.  On a tour of Colorado sometimes playing clubs and sometimes hitting the streets, was Fruition. Having heard about this veritable super-jam, the band wanted to be in the middle of the action and hopped in their van to truck it up to Nederland.
Jay Cobb of Fruition remembers the transitional time for the band. "We had just started doing some serious touring.  When we started as a band we used to tour a lot and just kind of busk and play on the streets.  We did a lot of street performing.  About three years ago we started to get some more legit gigs and started doing some touring.  I think we may have had a gig somewhere out there in the mountains but I don't believe it was in Nederland.  We were in our little eight-passenger van and we heard about this great show going on.  So we just walked into to some amazing music.  But there was snow everywhere."  A little snow wasn't going to stop Fruition and they grabbed their acoustic instruments and began playing outside of Whistler's during set break.  It was the band playing while it was snowing that endeared them to Tyler Grant.  "Here's these dreadie lookin' hippie kids out on the patio of Whistler's in the snow!  Then they started singing and I was like 'Holy shit! These guys are really good.'"  It was sort of a calculated move on Fruition's part.  "We were still kind of a baby band and we wanted to meet them and everything so during set break we decided to busk outside of their show.  In the middle of the snow!"  Fruition's exhibition worked and Jay Cobb found himself onstage with The Grant Farm, going from playing outside in the snow to standing on a stage with legends.  Pretty amazing.
Pretty amazing could be used to describe Fruition's career from that point forward.  In just a few years they went from performing in the streets to playing major festivals and being the Americana darlings of the West Coast.  Then again the same could be said for Grant Farm.  They have built a strong following from Colorado to California and their second studio album Plowin' Time is currently #6 on the Jamband radio charts after debuting at #2.  Grant Farm was also hitting up the festival circuit and it was there that the two bands' paths crossed again prompting Grant Farm to have Fruition open for them when they released their eponymous debut album.  According to Tyler Grant it was really the festival circuit where the bands developed the kindred spirit that exists between them today.  "We ended up seeing them at a lot of festivals and then I would go and sit in with them on a bunch of songs.  Whenever we're around each other it's kind of an uplifting thing.  They just have that kind of spirit and they help bring that out in us."
But Tyler Grant and Grant Farm also bring something to Fruition's table.  "When we first heard Tyler play Grant Farm was completely different band then it is now.  But the direction he was heading towards was there.  Just a phenomenal guitar player and we all looked up to his playing.  We bring the vocal harmonies and songs and Grant Farm brings a musical professionalism.  The musicianship is top notch in that band and they bring their own style called Cris-Co (Country Disco).  We come together pretty well.  They fill in some gaps we may have and we fill in some gaps they may have.  More than anything though we respect each other and we love each other's music."  Well said, Jay.  But just how do they fill in those gaps as two separate bands?
I'll let Tyler Grant handle that one. "When we do shows together we set up both bands complete and we'll all play together."  Most recently Grant Farm and Fruition played together to a packed Fox Theatre along with honorary farmer (and original member) Andy Thorn.  It was an electric night with both bands feeding off each other's energy.  The two bands' normal rapport with each other was no doubt amplified by their latest venture together up in the mountains above Boulder.
The seeds for a Fruition/Grant Farm collaboration on tape had been sown a few days earlier when both bands had performed for the Campout For The Cause.  After Fruition's set on Sunday they were approached by veteran engineer Andrew Lundsford, who has a long and storied career, to come to his Kodak Lake Studio and lay some tracks down.  "I brought it up to Tyler and asked him if he knew Andrew and he said, 'Yeah, you know what we should do?  When we have a free day, go up to his studio and record together.'  I was so game, all of us were.  But Tyler was really the one who was the push for it," said Cobb.  For Grant it was a carpe diem kind of a thing.   "It had been something we had been wanting to do for a while," he said.  With Fruition about to have a few free days in the Boulder area and a decorated engineer wanting to record them just up the mountain, the stars seemed to be aligning for the two bands yet again.
The week before their Fox show the bands got together and collaboratively wrote four new songs.  "Tyler already had an idea that Mimi had given him for a song, and they started throwing out ideas for writing more.  Then Tyler was like 'The idea around this is Meeting On The Mountain.'  So I kind of took that idea and ran with it and wrote a song.  Tyler helped me finish the last verse; so it was a co-write.  But I just started coming up with some music and that idea of 'Meeting On The Mountain' kind of just started flowing and everything was flowing right."  So right that it only took a day to complete fours tracks.  According to Grant, "It was a full on two band collaboration and with one day in the studio we knocked off four songs."  The Meeting On The Mountain EP will be released digitally in October at the end of Fruition's extensive national tour where the Grant Farm will join Jay Cobb Anderson (guitar/harmonica), Mimi Naja (mandolin/guitar), Kellen Asebroek (guitar/piano), Keith Simon (bass), and Tyler Thompson (drums/banjo) onstage.  A single will be released later this month.  Don't worry, Colorado fans will get a chance to see the two band's play together at The Bluebird on September 25th before they head back to the northwest.  But you might get a chance to see the sparks flying with these two bands this weekend.
With Fruition's tour starting in Crested Butte tonight (August 20th) and Grant Farm hitting up some Colorado festivals, their paths will cross once again where it all started as both bands are slated to play Nedfest this weekend.  Considering the history and respect between these two up and coming bands, it's a pretty good bet that something magical may happen this weekend in Nederland.  But one thing is sure; something has certainly come to Fruition on The Grant Farm.
Fruition & Grant Farm
September 25th, 2014
The Bluebird Theatre
PURCHASE TICKETS
Nate Todd was born on the central plains of Nebraska, but grew up on the high plains of the Texas panhandle. With not much to do in either place, music was his constant companion. His parents dubbed the first two albums he ever owned onto a tape for him. Side A was Bert and Ernie's Sing Along. Side B was Sgt. Peppers. His lifelong love affair with music started early as he practically grew up in a Rock & Roll band, with his father and uncle often taking him out on the road or into the studio with them. Nate began performing live at sixteen and hasn't looked back, having played in numerous bands from L.A. to Austin. At the age of twenty he was bitten by the writing bug, and upon moving to Denver decided to pursue a degree from Metropolitan State University where he recently graduated with a B.A. in English and a minor in Cinema Studies.