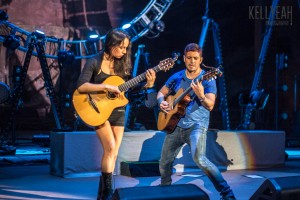 Photos by Kelly Hueseman
Internationally acclaimed Mexican acoustic rock guitar duo Rodrigo y Gabriela brought their unique instrumental blend of metal, jazz and world music to a passionate Red Rocks audience last Sunday.  Over the course of their nearly two hour performance, the pair debuted a number of pieces from their forthcoming album, 9 Dead Alive, and welcomed Metallica bassist Robert Trujillo to the stage for a medley of Metallica songs.  Bolstered by the power of Colorado song-smith Nathaniel Rateliff in the opening slot, the evening was nothing short of electrifying. 
After growing up in Missouri listening to vintage records of The Allman Brothers, Carly Simon, and Stevie Ray Vaughan, I was hooked to the live music scene and the contagious sounds of guitar licks and soulful lyrics. After moving to Colorado, I've been contributing to Listen Up Denver! as a freelance photographer and writer. I've also started a side project, KellYeah Photography, which gives me the opportunity to pair my passion for live music with my creativity and love of being around people. Aside from photography and writing, I'm an avid hiker of Colorado 14ers and a beer enthusiast.