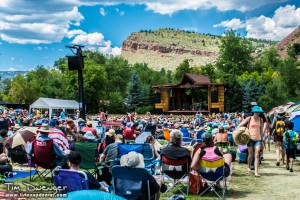 Photos by Tim Dwenger
The Folks Festival at Planet Bluegrass Ranch in Lyons, CO has always marked a high-point of the summer for me, but last year, in early September, just a matter of a few short weeks after the 2013 edition of the festival had drawn to a close, one of the most destructive floods Colorado had ever seen swept through the pristine grounds all but destroying our late summer haven.  My daughter had experience her first Folks Fest last summer (at six months old) and, after seeing photos and video of the aftermath, I was crushed, thinking we might never again set foot on the ranch I had some to know and love over the years.  While there was some solace in thinking she had at least been there once, I was hoping to build lasting family memories set in Lyons each August.  I wanted her to grow up with Folks Fest on her summer radar and maybe even have friends from festivals past spread across the country as she grew up.  Alas, I figured it was not to be.
Fast forward 11 months and the transformation was nothing short of miraculous.  Surely Craig Furgeson, his staff, and countless good hearted souls who donated their time and money had the same fears as I did and were determined that Planet Bluegrass Ranch remain a place of respite and revelry for the thousands of music lovers who frequent RockyGrass and Folks Fest each year.  For those who haven't been yet, let me report, the ranch is not only back and operational, it's better than ever.
While last year we carried her around in a Baby Bjorn, this year my daughter found her footing on the ranch (literally and figuratively) as she ran from tarp to tarp, snatched up unattended inner-tubes and sand toys, and made herself at home everywhere from the poser pit to the river as music from the likes of Elephant Revival and Hurray for the Riff Raff powered her little dancing feet.  It was truly a thrill for me to realize that my dream of her growing to love this place as much as I do was still intact.
FRIDAY
Friday opened with the best of omens when my friend looked down to see that a kind stranger had dropped the number 19 (out of more than 800) on our stroller piled high with gear mere minutes before the gates opened.  If you aren't familiar with the number game at Planet Bluegrass, suffice it to say this was the best number I've ever gotten, and ensured a great spot for our group's shade structure as I was able to enter after only 18 others.
After getting setup and venturing into town for a delicious, albeit slow, breakfast at the Lyons Fork, we were welcomed back to the ranch by a short set from Patrick Dethlefs who was participating in the Songwriter Showcase; a songwriting contest that earns the winner a slot on the main stage during the next year's festival.  Though Dethlefs was not chosen as the winner, he was seen around the grounds for the rest of the weekend and made at least one other appearance on the main stage with Ben Sollee on Sunday.
A little later in the afternoon the comical Steve Poltz took the stage for a atypical Folks Fest set that featured Auto-Tune, countless F-Bombs (F— cancer was the sing-along chorus to one of his most catchy tunes), a hilarious diatribe from his iPhone's Siri, and even a cover of TLC's "Don't Go Chasing Waterfalls."  Though different, Poltz was exactly what the festival needed as the heavens opened up over Lyons and brought some short but heavy showers to the festival.
After a spirited and Bluegrass tinged set from a beaming Sarah Jarosz, the one and only Greg Brown took the stage to the delight of countless Folks Fest regulars.  I was first introduced to Brown a few years back and came to realize this year that it's people like him that keep me coming back to this festival.  Armed only with a guitar, Brown sat alone on stage and spun intricate and heart wrenching tales in his gruff and gravelly baritone.  While songs like "Freak Flag" and "Fat Boy Blues" brought some chuckles from the crowd, it was "Tenderhearted Child" that touched my soul and made me think of my own little girl who was playing quietly nearby.  The words are sure to ring true to any parent and I highly recommend taking a listen if you have some tissues handy.
Though Ani DiFranco sat in the front row taking in Brown's set, I didn't get to take in hers on Friday night as my wife and I took our own tender hearted child home to bed so we could all enjoy more music on Saturday.  Festivating while parenting ain't always easy, and yes we have to make some sacrifices, but in the end it puts a whole new spin on the experience and one I wouldn't give up for the world, even if I do miss a few sets of music over the course of the weekend.
SATURDAY
Saturday dawned beautiful, and though our number fell in the mid-six hundreds, we found ourselves some space and settled in for another day on the ranch as the Country tinged Folk of the 2013 Songwriter Showcase winner Caroline Spence floated through the air.  She invited Robby Hecht out to the stage for "Putting It All On The Table Now," a song they had co-written, but it was her take on Springsteen's "Dancing in the Dark" that stunned the crowd and left many speechless.
In between trips to the face painting stations in the family tent, the beach, and the river with my daughter, the Country and Bluegrass influence that had slipped in on Friday with Sarah Jarosz was built upon by The Stray Birds and Hurray for the Riff Raff.  The Birds harmonized on covers of Townes Van Zandt and Will Kimbrough alongside their own material while Riff Raff opened with "San Francisco Bay Blues" and name checked the late Levon Helm with their own moving "Levon's Dream" under the beautiful Colorado August sky that showed no signs of rain.
As my daughter and I waded through the river snapping some photos of my wife sitting on the bank, John Fullbright took the stage and I was immediately struck by how similar he sounded to, one of my childhood favorites, Billy Joel.  While Fullbright didn't bust out any of the Piano Man's hits, he sucked in the crowd with his own brand of Outlaw Country on songs like Hoyt Axton's "Jealous Man" and his own ode to long distance relationships: "The One that Lives Too Far."
It was Imelda May that serenaded us on the way out to put our daughter to bed on Saturday, but this time we'd be back as some very dear friends had offered to babysit so we could head back to the festival a catch Josh Ritter and Brandi Carlile electrify the capacity crowd under the stars.
When we returned, Ritter was a few songs into his set but we got to hear one of my personal favorites, "Girl In The War," as we made our way up to the stage.  As the songwriter worked his way through his set he serenaded us solo and with a full band as he broke out new songs like "Devil In The Eye" and old favorites like "Snow Is Gone."  The later of which had the entire crowd singing along with every word before he broke into "So Long, So High" which kept the sing-along going strong.  After a brief break, Ritter returned and dropped the second Springsteen song of the day: a stripped down version of "The River" that felt so appropriate as we all sat under the stars on land that had so recently been under the raging waters of the St. Vrain now bubbling quietly just a few feet away.
As darkness fully enveloped Planet Bluegrass it was almost time for Brandi Carlile who, for the last few years, has opted for headlining slots at Red Rocks over the intimacy of the ranch.  Her fans were out in force and all the tarps were full when she took the stage with her longtime musical partners Tim and Phil Hanseroth.  The soaring set showcased Carlile's incredible voice on tracks like "Closer To You" and "Save Part of Yourself For Me" but it was when she invited Gregory Alan Isakov to the stage for "You Belong To Me" and "That Moon Song" as the Big Dipper hung low over the stage that she really won me over.  While her performance consisted of mostly originals she showed her exceptional ability to interpret other people's songs with a stunning cover of Dolly Parton's "Jolene" and, in the first encore slot a version of Fleetwood Mac's "Chains" that brought the crowd to it's feet!
SUNDAY
The final day of the 2014 Folks Festival found us blessed again by the kindness of a stranger who handed me number 102 allowing us to set up and grab a bite to eat before a performance from The Drepung Loseling Monks.  Though monks are typically known for chanting, this group of Tibetan's brought chanting, music and performance art together into a hour long visual and aural spectacle that won't soon be matched.
Folk cellist Ben Solee had the unenviable job of following the monks and he did an admirable job as he sat alone on stage for most of his accompanying himself on just a cello.  While much of his set slipped by like the water in the river I took notice when he invited Patrick Dethlefs back to the and then performed one of the most unique covers of the weekend with a version of Paul Simon's "Obvious Child" that had me shaking my head in disbelief.  He closed his set with a brand new tune that he had written that morning about the resilience of Planet Bluegrass and the Folks Fest fans called "Rise Above The Waterline."  It didn't take much for the crowd to catch on to the refrain and soon it was echoing from the red rock cliffs bordering the venue.
From Sollee's cello to the Bridget's Law's Fiddle, Elephant Revival took the stage next and dazzled the crowd with their own brand of New Age Folk that has been gaining steady traction over the last few years.  Judging by the crowd reaction to songs like "The Rakers" and "Remembering The Beginning" Elephant Revival might soon be playing after-dark at Planet Bluegrass.  Shortly after they scored a rare early afternoon encore with Bonnie Paine's a capella take on "Words To Birds" (a song she noted was "the shortest one they could think of" and was also "written on this river") they headed to the merch tent where they spent nearly 90 minutes signing autographs and posing for photos with adoring fans.
At this point my wife and daughter were ready to head home.  Both of them had been troopers and they loved dancing and playing together as I broke away from the family regularly to dash to the stage, take pictures, and absorb as much of the music as I could while still being there my girls.  Two and a half days of festivating is a lot for the strongest of adults and they were eager to get back home.  As they drove, I listened to Peter Himmelman with a longtime friend of mine who had grown up on his music.  It was interesting to hear how songs like "Tremble" had morphed over time, but the real kicker came when we were able to approach Himmelman backstage after his set to get my buddy's 20 year old t-shirt signed.  Having just led a conga line through the venue, Himmelman was selfless with his time and even invited us back into his dressing room to chat and take a few photos.  It was a great moment for a friend from New York who is now able to place a human face and experience on the music that was the soundtrack to so many teenage memories.
My second to last set of the weekend was delivered by rocker Ron Pope.  With his edgy long hair look, Pope didn't exactly look like your typical "Folky" and when he opened with Hendrix's "Little Wing" he confirmed that suspicion (at least I thought he did).  As his set moved through relatively standard originals like "One Grain Of Sand" and "Lick My Wounds" he proved himself to the crowd with the daring pairing of Tom Petty's "You Don't Know How It Feels" and his own mesmerizing "Hotel Room."  After the later tune he commented that he hadn't heard a crowd of that size be that quiet for him ever before . . . a real testament to the Folks Fest audience.
As we packed up our things, one of my most anticipated acts of the weekend, Lake Street Dive, took the stage and launched into a set that far exceeded my expectations.  The way this group blends 70's Soul with Folk sensibilities is unparalleled in young bands today.  Lead singer Rachael Price belted out favorites from their debut album including "What About Me" and "Bad Self Portraits" as her band followed with the lock-step tightness that is key to their unique and highly evolved sound.  While it was a great way to wrap up the weekend for me, I did find myself humming "You've Got A Friend In Me" as the sun set on our drive toward Denver and wishing I had stuck it out just a few more hours and caught Randy Newman's closing set of the weekend . . . but I had to get home to my girls, and I was glad I did.
Music has always been a part of my life. It probably all started listening to old Grateful Dead, Peter Paul & Mary, and Simon & Garfunkel records that my parents had, but it wasn't long before they were taking me to concerts like Starship, Crosby, Stills & Nash, and Huey Lewis & The News. I got the bug to write about music after reviewing an Eric Clapton concert for a creative writing project in high school but didn't really take it up seriously until 2002. Since then I have published countless articles in The Marquee Magazine and done some work for Jambase.com, SPIN Magazine, and various other outlets. I started Listen Up Denver! as a way to share the music information that is constantly spilling out of my head with people who care. Please enjoy!