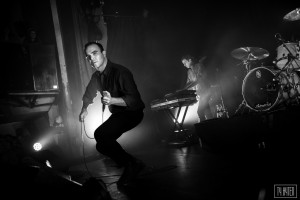 Photos by Ty Hyten
The Scene: At this point, Future Islands' reputation as raw, intense, and emotional performers precedes them. So it seemed fitting that Future Islands' stop at the sold-out Gothic Theatre should coincide with an equally intense night of torrential and spectacularly lightning filled downpours. Trying to stay out of the rain and hoping to score tickets, two men stood awkwardly close to the box office, one of them sheepishly remarking, "Can you sense our desperation?" I could. Future Islands' live performances, and specifically the fierce performances of lead singer Samuel Herring, have been so thoroughly documented that the band has now taken on a kind of mythical status. "Did you see them on Letterman?" has become the title of its oral history.
Opener: Operators. Starting shortly after 8pm to an already packed house, Operators had everyone dancing immediately with their Electro-Pop. Led by Wolf Parade's Dan Boeckner dressed formally in a black suit jacket, the trio presented their dance music in a more favorable live format, with Devojka situated in the middle of the stage encompassed by a circle of synths and Sam Brown providing wonderful depth on drums. Reminiscent of the beat driven Rock of Radio 4 with a dash of Disco from Mirwais, I couldn't tell if I hadn't been to a live show in a long time or if Operators were that accessibly good. The latter was confirmed as Devojka issued a warning that the bass was "bitchin'" before the band launched into the hit "True" of their recent EP, titled EP1. Boeckner provided vocals and an (albeit more subdued and clothed) Anthony Kiedis like frenetic energy to the songs. If this is the band's first tour, we should be in for more dance parties from Operators.
Future Islands: As it turns out, Future Islands does have a mission statement. "We're breaking down the artifice, can't you see," Herring declared at the end of the night. And indeed, dressed plainly and in a monochrome color palette of black, Herring had long ago sweated through his black dress shirt and sloughed it off in favor of a not much different black T-shirt to match his nondescript black slacks, belt, and shoes. And with the exception of double amps flanking both sides of the stage, Future Islands had no special stage set-up or visuals other than Herring and the band. Bassist William Cashion, keyboardist Gerrit Welmers, and drummer Michael Lowry had quietly arrived and played to the background of Herring, with only an occasional small smile escaping from Lowry and a little twinkle of the eye from Cashion.
In any case, I think Herring is right. Future Islands' music can stand on its own, as before I had even viewed or read about the trademark fist-to-chest pumping, side shuffle, or growling, I first heard "Seasons (Waiting On You)" on a SWSX mix and was floored. Aside from the aptly described to me Labyrinth like synth throwback, Herring's voice is immediate, sad, masculine, and always driving and moving forward in the face of futility. There's not much more needed here. However, in a live setting, Herring's face and body add a whole new dimension to the band's catalog. It's as if Herring moves and contorts not only to convey raw emotion, but more out of a deep sense of responsibility to the task at hand, describing himself at one point as a "rolled up tube of toothpaste." Starting off with "Give Us the Wind" from the 2011 album On the Water, Herring launched into his now trademark side shuffle. Also as expected, Herring whispered and then growled on the reflective "Back in the Tall Grass," the sweat already plain on his face. Stopping to link hands and make eye contact with audience members several times during the set, Herring's relentless performance was at times a little intimidating, but completely gripping. Moving into "A Dream of You and Me," Herring held his face upside down in his hands in agony and every time he punched his chest, the audience would cheer.
Although the band played many songs off of Singles, such as the aforementioned "Seasons (Waiting On You)," "A Song For Our Grandfathers" and "Light House," the band sprinkled in some older tracks such as the anthemic "The Fountain," a b-side to the single "Tomorrow" and "Balance" (where Herring's impressive high kicks have led me to believe there is nothing he can't will his body to do). If the audience wasn't getting it figuratively, Herring also made sure to take a more literal route, often introducing a song and its meaning, stating for instance on "Walking Through that Door" that "life is tough, but you gotta keep pushing…and it will even out."
Ending the initial set with "Spirit" and advising that the song should inspire the audience to "dig deep…for that little flame," an encore was all but predetermined. Starting with "Fall From Grace," a song about "someone you can never say goodbye to" the band ended with "Little Dreamer" off their 2008 debut, Wave Like Home. Surprisingly, Herring confessed during the encore he was having an off night, which revealed just how ambitious this band is and also, I expect, how much more of them we'll hear about.
Energy: A+
Musicianship: A
Sound: A
Stage Presence: A+
Set/Light Show: B
Overall: A
Patty is a Washington State native that was lured to Colorado by the sun and the mountains. When not listening to music, there is a pretty good chance she can be found eating ice cream.