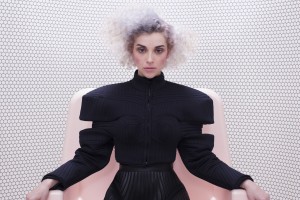 Why You Should Go: Four albums into one of music's most compelling careers, St. Vincent, aka Annie Clark, is not slowing down any time soon.  The music on her most recent release, St. Vincent, is charming and alarming, gorgeous and morbid, comforting and uncanny. These songs comprise her most lyrically sophisticated and musically diverse collection to date, meshing distorted, aggressive electric guitars and bold vocal and synthesizer arrangements on top of a relentless rhythm section and will be incredible to experience in the veritable Garden of Eden that is the Denver Botanic Gardens this Saturday.  
Clark has been moving at a breakneck speed for the past three years, barely stopping to catch her breath amidst a whirlwind of recording and touring. In 2011 she released her third album, Strange Mercy, called "one of the year's best" by the New York Times and "something to behold" by Pitchfork. The record cemented her status as one of her generation's most fearsome and inventive guitarists, earned her the covers of SPIN, Paper, and Under the Radar, performances everywhere from the Metropolitan Museum of Art and Fallon to Letterman and Conan, and a year-long sold-out tour of her biggest venues to date around the world. It was during this already monumentally busy time that she completed work with David Byrne on their collaborative album 'Love This Giant,' another critical smash that was dubbed "marvelous" by the New Yorker and "magical" by NPR.
Venue: Denver Botanic Gardens – 1007 York Street, Denver, CO 80206 – 877-435-9849
Doors: 6:00 pm. Show starts at 7:00.
*Price: $54.00-$59.00
Purchase Tickets
*All prices are gathered from other sources and we are not responsible for mistakes or inconsistencies. They are intended only as guidelines. Please, always call the venue if you desire the most accurate information possible.