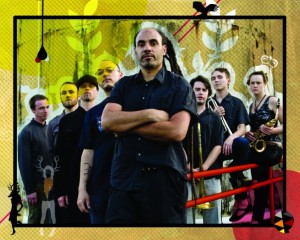 The Scene:Rolling up to Cervantes' on this Friday night felt good. It was one of those mild, late summer Colorado evenings that force you to love Denver. Not to mention, John Brown's Body was in town, and for those who know JBB – it's kind of a big deal. Apparently the word is getting out because the large Cervante's ballroom was full. JBB is an elite Roots Reggae Dub act and the fans on hand were in the know as they are essentially the core of the Denver Reggae scene. It was a good crowd and there were good vibes all around.
Openers: Denver locals Rastasaurus and Euforquestra warmed up the room. Rastasaurus started off with a set of Jam style Reggae tunes and they were followed by Euforquestra who got the place jumping a bit with their homegrown Reggae Dub sound filled with deep grooves and floating horn riffs. JBB has a history of using local acts as tour support and both bands were a good representation of our hometown reggae sound.
John Brown's Body: When John Brown's Bodytook the stage the room blew up. Nothing against our hometown support acts, but this is when the evening really got started. To be fair, not many groups anywhere have as much raw talent as JBB; these guys are seasoned pros, the real deal. Not only can they play, they make it look easy. Their sound features catchy and powerful vocals on top of solid grooves, ridiculous bass lines, tight rhythms, impressive horns, all accompanied by an incredible sound man who adds all the Dub effects in real time – and it's played to perfection.
The band came out with a barrage of new tunes and some offerings from their latest album, including "Step Inside"and "Plantation," both of which embody the essence of JBB. They continued rocking the room with their classic Roots style Dub music, accompanied with the echoes of a swaying crowd singing along with the spiritual flavored lyrics. "Follow into Shadow" is always a live classic with the crowd chanting "Yeah though we walk through the valley of the shadows, we will fear no evil." JBB embodies the spiritually of the Roots Reggae movement and backs it up with amazing music and talent.
Energy: A
Musicianship: A
Sound: B
Stage Presence: A
Set/Light Show: B-
Overall: A-