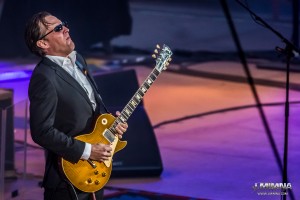 Photos by Jim Mimna
The Scene: Red Rocks is a magical place and holds a rare ability to still energize me, even when I am headed into a storm driving into the park, which was the case this holiday eve.  The sold-out show was the perfect Labor Day hurrah to fill the Sunday night slot of the holiday weekend.  The 40-something dominated audience filled in all the reserved seating and got settled in for what proved to be a great tribute to two of histories best Blues men.  The weather decided to grace the event with a pass and kept on moving to the plains, giving us a nice rainbow to savor upon its exit in classic Red Rocks fashion.
Joe Bonamassa: Currently named the #1 guitar player on Gibson's Top Ten Modern Blues Guitarist list, Joe Bonamassa paid tribute to the Blues former top players, Muddy Waters and Howlin' Wolf, in this exclusive concert experience.  Make no mistake, this show was like no other Joe has ever put on before in many ways.  The band was an all-star lineup, not his regular touring band, further adding to the night's unique vibe.  Also noteworthy, the sold-out show was the biggest of Bonamassa's career, as he told the audience in praise and admiration of helping him reach the milestone.  The quality of the evening's music was bigger than just the axe-man's spot-lit solos.  With many of the song selections pulled from the Muddy Waters & Howlin' Wolf catalogs, the evening was as classic a Blues show as you can get in today's world while still played with youthful virility as the 37 year old did so well.
Bonamassa came out with all guns firing and did not stop.  His blazing guitar solos were as over the top as they were perfect.  His ability to know what notes not to play was impeccable and almost as stunning as the licks themselves.  The large ensemble band was the perfect fit for him in such a large scale tribute.  Each player had their moment; there was no shortage of solos or the chops to play them on that stage.  All the players were old school veterans; most notable of the crew was long time drummer for the house band of David Letterman's late night television show, Anton Fig.  But let no praise be unsung, Reese Wynans, the keyboard player, was like milk in the cereal filling in all the sonic spaces with Leslie goodness, not to mention his piano intros that perfectly set up a few songs.  The horn section was solid yet not over whelming.  Harp player, Mike Henderson, was a fireplug all night.  He seemed at times to somehow out blow the entire horn section!  In the end, as good as the band was, Bonamassa was responsible for making or breaking this show.  And he did not fail.  His animated facial expressions said it all.  His guitar was an extension of his body from which he sang every note.  The house was well mixed, too.  I could hear every player and my ears didn't bleed after the show.  I was grateful for the quality sound.
The song selection was meticulous creating a musical rollercoaster of ups and downs in intensity and emotion.  The show was well-scripted with video accompaniment that had back scene clips of the two icons being honored, some brief clips of the tribute band, old B&W performance footage, and even a nicely executed interlude of an interview clip with Howlin' Wolf explaining the Blues and ending with this inflammatory statement, "Cause you're thinking evil. That's right. Any time you're thinkin' evil, you're thinking about the Blues", which was immediately followed by a blazing rendition of "Evil."  Well played.  My personal favorite highlight was the "Spoonful," it was as dynamic as it was nasty and I wanted more!
The Encore was more of a short set of Bonamassa's original tunes than a traditional encore, but given the level of satisfaction I got out of the tribute performance it was a nice bonus.  The production value coupled with the solid performance really tied together a great show, and a terrific way to close out the summer season.  If you don't have FOMO, you should!
Setlist: Tiger In Your Tank, I Can't Be Satisfied, You Shook Me, The Stuff You Gotta Watch, Double Trouble, Real Love, My Home Is On The Delta, All Aboard (Mean ol' frisco blues), How Many More Years, Shake For Me, Hidden Charms, Spoonful, Killing Floor, Evil, All Night Long
Encore: Hey Baby(New Rising Sun), Oh Beautiful, Love Ain't A Love Song, Sloe Gin, Ballad of John Henry
Energy: A
Musicianship: A
Sound: A
Stage Presence: A
Set/Light Show: A
Overall: A
Capturing life in various forms is what I do. I consider myself an archivist by nature. It is not a career choice that I consciously made, but it is something that has called me. I strive to freeze a moment in time with every frame, a moment that can retell its story with each viewing, forever. I also have a deep passion for music and have been photographing and recording live music for years. Capturing the energy and magic of a live performance in a photograph is one of my passions. In addition, I enjoy photographing in a wide variety of settings, from wildlife scenes to family portraits and everything in between. I am a lover of the earthscapes that we see all around us every day, both natural and manmade, and aim to make unique images that do justice to their beauty. Where others see darkness, I see streaks of light through long exposures. I shoot a very wide variety of subject matter including individual/family portraits, event coverage, landscapes, live concert/performance, HDR, product and commercial photography, architectural, weddings, food, and editorial photo journalism. With artistic expression, I aspire to create visual art that speaks volumes.