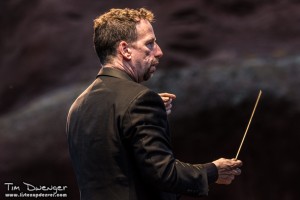 Photo by Tim Dwenger
Why You Should Go: The Colorado Symphony event "Red Rocks on a High Note," an end-of-summer celebration at Red Rocks Amphitheatre, will showcase the Colorado Symphony's musicianship and innovation. "Red Rocks on a High Note" combines traditional and contemporary works into an accessible, exciting program that will surprise and delight music lovers of all kinds.
Conducted by Scott O'Neil, "Red Rocks on a High Note" will include selections from contemporary composers John Williams, John Adams and Johnny Greenwood, guitarist of Radiohead. The program will also include beloved works by Beethoven, Debussy, Berlioz and Vivaldi. O'Neil will narrate the performance, taking the audience through an engaging, entertaining evening: Imagine a musical Ted Talk with light projections and very powerful soundtrack brought to life by more than 80 musicians, making this a night of must see music!
Venue:   Red Rocks Amphitheatre, 18300 West Alameda Parkway, Morrison, CO 80465 – (720) 865-2494
Doors: 6:00 pm. Show starts at 7:30 pm.
*Price: $20.00-$45.00
Buy Tickets
*All prices are gathered from other sources and we are not responsible for mistakes or inconsistencies. They are intended only as guidelines. Please, always call the venue if you desire the most accurate information possible.