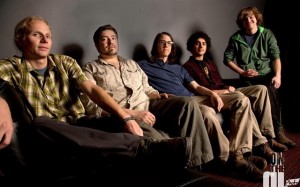 For the Colorado-native, Nederland-local band that they are, The Magic Beans have quite the large and loyal following, and deservedly so.  Known to fans as "Space Funk," the Beans' groove-grass sound is everywhere.  Literally, if you are a music-lover in Colorado, then you've probably witnessed the Beans in action just about every weekend this summer.  From festivals like Groove, to Arise, to their very own Beanstalk, there is always room from that infamously mountainous sound that separates the Magic Beans – guitarist Scott Hachey, mandolinist Hunter Welles, bassist Josh Appelbaum, keyboardist Casey Russell and drummer Codes Wales – from the rest.
A few weekends ago at Sunrise Ranch's Arise Music Festival just west of Loveland, there existed what seemed to be yet another of Arise's five stages.  Nope – that would be the campsite of the Magic Beans, and many of their friends, family and fellow musicians the Kitchen Dwellers.  Two easy ups, a sound system, and several couches were illuminated by holiday lights and disco balls galore.  Old school Funk music was bumping from the speakers and a pre-Beats Antique dance party was taking place.
Needless to say, the Magic Beans are seemingly a very popular group of young lads in the Boulder area.  And sure, they've got a posse, but the most impressive part about them is that they've got an enormous following for such a localized band.  Back at Arise, the Beans had the largest crowd of any non-headlining act.  Great bands who played between the hours of noon and 7 o'clock drew an audience, but none brought and held their crowd like the Beans did.  Furthermore, most of the audience was adorned with these bright green "Space Funk" stickers that seemed to somehow appear out of nowhere.  Arise Festival may not have signed them as a headlining act, but in the eyes of many who stormed the grounds in hurried attendance towards the main stage, they were as much of a headliner as any.
With a fan base as adoring as it is, it's no wonder that the release of the Magic Beans' first double album created so much anticipation from the masses.  Sights and Sounds was released just this past March, but was long overdue, being the first album to be released by the band in nearly three years.  With the Bean fans quite literally jumping for joy at shows and festivals around the state, the group brought their album release party to Boulder's Fox Theatre and funked things up, finally providing audiences with all that they'd been working on for some years now.
Guitarist Scott Hachey disclosed a few words between the band's busy schedule consisting of shows, festivals and parties.  Indulging in the past, present and future, Hachey is clearly a cool dude and thus a solid representation of the band – he was friendly, open, and easy to talk to.  From the sound of it the Beans are on a roll, more solid than ever, and Hachey's attitude definitely reflected that up-and-coming status of the band.  Things are movin' on up, and these Colorado homegrown Magic Beans expect their audiences to be ready.
Of course, one of the biggest deals for the Beans as of late has been this long-awaited double album; an album portraying the versatility and creativity of the band itself, and of the Colorado music scene as a whole.  And none have been waiting longer for Sights and Sounds than the Beans themselves.  Hachey sees the new album as an act of "branching out," with it having received "a lot of good feedback from longtime fans and new fans."  Furthermore, the album is a huge stepping stone in terms of the Beans becoming a more legitimate band.  Hachey expressed his feelings that Sights and Sounds was made from "a legit sound versus live recordings."  The album was co-produced by Andy McEwen at Eldorado Springs Canyon's Crucible Studios, utilizing both "great equipment and great energy" during the album's creation.  Coming from such a nurturing environment and accompanied by a ton of excitement, it's no wonder the boys were "waiting to release for a while," and ready for their 3-year break to come to an end.
So, why the double album, with the two sides boasting two very different genres?  According to Hachey, that's Colorado for you.  "The state and its music season encompasses so many genres," so why not the Magic Beans do the same?  Sights and Sounds reflects the eclectic variety of music genres that prevail in Colorado, and the Beans love to combine those genres.  Hachey has trouble choosing which genre of music he most prefers playing – "depends on the day or even the hour of the day; that is the reason we encompass two different genres; I can't pick!"  For old and new fans alike, that means one thing: we'll have to catch the band live to decide for ourselves.
What Hachey could decide between was a few favorite memories from the past year, during a steady incline of the band's career.  Some "awesome" times include the feature at Cervantes' weekly "Grass For That Ass" show, where the Magic Beans and Montana's Kitchen Dwellers performed together.  Learning this, it's no surprise that Hachey was found on the main stage during the Kitchen Dwellers' set at Arise, jammin' away with the Bozeman boys.  Scott reflects cooly on that memory, divulging that he "loves the music of the Dwellers."  Outside of the Denver metro area, another extraordinary moment for Hachey was at the biannual Joshua Tree Music Festival, and at a new venue in Steamboat that was "poppin' off – we'll be back there."
Looking back, and looking forward; "It keeps getting better and better," Hachey expressed, with the band "focusing on Fall tour, spreading the love and getting to different cities."  The band is tighter and more solid than ever, and Hachey's vibes illustrated that.  "I'm personally invested in this band, and we're trying to be as serious as possible.  We're taking our relationships as musicians together more seriously, and improving our professionalism."  Sounds like the band have a solid head on their shoulders and have found a healthy balance between work and play, even when the two are so frequently interchangeable.
The rest of 2014 will be an exciting one for the Magic Beans, with countless appearances scheduled in the Front Rage.  The next leg of their seemingly endless tour kicks off with an opening slot for the Disco Biscuits before a return to Cervantes' Masterpiece Ballroom, later that same evening with special guests.
The Magic Beans have stepped out from behind the shadows of the mountains and emerged as a band-to-watch on not just the Colorado music circuit, but very eventually the national music circuit.  "We've received lots of emails requesting random city stops," Hachey explained.  There is no doubt these Beans will be headed every which way quite soon.  They know their audience and they give their audiences the best of what they've got, and with a mentality like that, they'll be on their way to headline-dom.
THE MAGIC BEANS
Cervantes' Masterpiece Ballroom
September 13th
Tickets: $15 Adv, $20 DoS
PURCHASE TICKETS