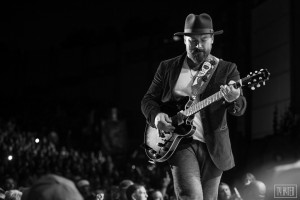 Photos by Ty Hyten
The Scene: Mesh-backed hats, cowboy boots and camouflage covered country fans flocked to Fiddler's Green for the first night of country megastar Zac Brown's two night run last Friday. Drunk suburban moms prepped for a night of screaming with copious amounts of Bud Light and unnecessarily large trucks awaited their drunk husbands in the parking lot. The surprisingly well behaved crowd of all ages got their money's worth in over two hours of music, plenty of covers, and an endless well of sing-along chart-toppers.
Zac Brown Band: I arrived Friday night as a sceptic of the Pop-Country genre and the rave reviews I'd heard of Zac Brown's live shows, but promised myself I'd keep an open mind …and bottle. While the twenty-five song, two hour and fifteen minute show didn't change my mind, there's no denying that I, and 17,999 other fans had a great time.
Zac Brown Band has an astounding ten #1 singles, so despite my claim that I wasn't familiar with their music, I ended up being familiar with most of the songs that he played as well as the ten or so covers that made their way into the set. Covers included "Kashmir," "The Devil Went Down to Georgia," "Piano Man," "Love The One You're With," "Isn't She Lovely" and teasers of John Mayer's "Neon," and Bob Marley's "One Love," "Three Little Birds," and "Wait in Vain."
While Zac Brown is the star, the remaining seven pieces of the Zac Brown Band deserve their own praise. The fiddle playing of Paul Simon lookalike Jimmy De Martini was the highlight and pinnacle of every jam, and three different guitarists wowed fans with lightning fast Rock leads, though some expression was sacrificed in favor of keeping songs tight and polished.  Dual percussionists also lit up the songs, though the inclusion of bongos lent to a corny tropical Jimmy Buffet feel on several songs. A handful of extended jams served to showcase technical prowess of the band (including Brown) and added depth to the performance.
All that said, the show was not without a heavy dose of stadium Country cheese as well. "This is some Nickelback shit right here," said the eye-rolling boyfriend of girl seated next to me as Zac Brown shot t-shirts into the crowd between songs. At another point, Brown pulled a young girl up onto the stage, autographed the guitar he was playing and handed it to her. There was even a "worst guitar solo" contest. Though the moment that took the cake was an audience pandering, classic Country music trope: the US soldier. During "Chicken Fried" two US soldiers marched on stage in uniform, saluted and marched off. While I support the members of the US armed forces, and value their sacrifices for our freedom, I couldn't help but laugh.
While the content and structure of most of the songs were about as vanilla as the venue, they sure were a good time to drink to and it was easy to enjoy them for what they were. Crowd favorites included "Sweet Annie," the Colorado referencing "Colder Weather," an acoustic "Toes," and "As She's Walking Away." Predictably, the high-water mark came with "Chicken Fried." The denim, poultry, and weekend-loving anthem was just about too much for the ecstatic audience to handle.
One of the biggest surprises of the evening was the encore. The band came out in glowing, full-body skeleton costumes. They played "Day for the Dead" and ended with an all out cover of Metallica's "Enter Sandman." The well executed, strangely placed covered ended the night and satisfied fans poured out to various suburbs.
Zac Brown Band put on a well polished, entertaining show, complete with Dave Matthews Band-esque jams, Pop-Country cheese, and plenty of feel good, sing-along hits. It may not have been "my thing" but there is no denying that Zac Brown puts on a pretty outstanding show.
Energy: A
Musicianship: A
Sound: A
Stage Presence: A
Set/Light Show: A
Overall: A