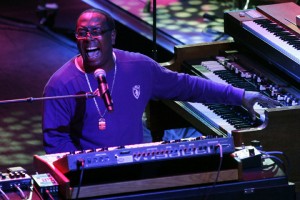 Photo by Rick Scuteri
Soul music is born of spirit and the Nth Power creates spirited sounds straight from their souls. This "super-group" of a band is made of some of the best in the business, and every member is now prioritizing the once side-project. Nigel Hall of Lettuce and Warren Haynes Band fame took some time to talk about how he, Nikki Glaspie (formerly of Dumpstaphunk), Nick Cassarino (Jennifer Hartswick Band), Nate Edgar (John Brown's Body) and Weedie Braimah (Toubab Krewe) became the Nth power…and how it is the band they have all been waiting for.
Growing up in Washington, DC, Nigel Hall was surrounded by Soul music and it was the music that always spoke to him. Hall's years as a musician have allowed him to play with a plethora of heavy-hitters, but the Nth power is the formula Hall has been looking to create. "The Nth Power came together at the New Orleans Jazz and Heritage Festival in 2012" explained Hall during a break from a recording session in New York City. "Jennifer Hartswick (Trey Anastasio Band) called us all to do a gig and that band became the Nth Power. We had all played together before through various avenues, but this was the first time we played together as a group. Literally, from the first note, there was something there. You felt it. Granted, we were very, very altered that night, but music transcends all that shit, and that night created something beautiful."
Not only is the band creating beautiful sounds, they are pulling on heart strings with some of the most passionate Soul music ever made…and that is no exaggeration. According to Hall this is more than a band, it's home. "It's spiritual and all written from a place of love", testified Hall. "Every note we play and everything we do together as musicians and as friends comes from a place of love. We have so much love for each other when we are not on stage that it makes everything we do on stage that much better…and doper."
The Nth Power first became so much more than the sum of it's parts on Frenchmen Street in New Orleans a couple years ago and Hall's recent move to New Orleans completed the Crescent City connection. "Moving to New Orleans is something I had always wanted to do," shared Hall. "The first time I ever visited New Orleans I knew it was the place for me. From the time I landed in the airport which, by the way, is the only airport named after a black musician, New Orleans is all vibe. That's all there is and that's all there needs to be there. All everyone in New Orleans does is vibe all day, and that's the kind of place I want to be at. I don't want to be walking down the street, see somebody, say 'How you doing,' and have them look at me all crazy. I want to feel the love and the vibe." Well, Hall, and the rest of the Nth Power, sure are picking up, putting down and spreading that love and vibe with every note that drips with sexy soul.
Hall shared that since his move to New Orleans he has felt the city coming through in his sound and thinks it was always there, just like he thinks New Orleans was always in his soul. Hall explains, "Once I moved to New Orleans I realized I had some of the city in my sound already, but I didn't figure out what it was 'till I got to New Orleans. People have taken me under their wing like family down in New Orleans, and I really appreciate that. I have become a much better musician since I got there, mostly because of the love from the city and its people. I represent New Orleans to the fullest because it is the one city in the world that "is" music. The city is built ON music and FROM music."
Nigel Hall has made his new home in New Orleans and feels most at home in The Nth Power. "We know this is what we need to do and that this is what we were put on the Earth for," exclaimed Hall confidently. "We are touching something that is extremely spiritual and not a lot of people are doing that…that I have heard anyway. This is the greatest band in the world to me. We sleep in a van that smells like feet and McDonalds and then we go to a gig and crush it at night only to wake up and do it all again tomorrow. And we have SO much fun. It's family. We are all home. This is what we have all been waiting for."
The Nth Power
Cervantes' Other Side
Wednesday, September 17th 2014
BUY TICKETS
Brian Turk grew up in the shadow of the Catskill Mountains, near Woodstock, NY. He comes from a family of music lovers, audiopliles, Dead Heads and avid concert goers.The musical magic that can only be created in the Catsklills, both past and present, is what Brian cosiders the epicenter of his music addiction. The music of The Band, and most recently The Levon Helm Band, is the soundtrack of home for him. Brian's mother took him to his first concert at 5years old...it was Johnny Cash and Roseanne Cash at Jones Beach Amphitheatre. For Brian, music is a family affair. He feels the same way about live music...we all convene to celebrate together. Brian's writing life started when he wrote his favorite author, southern fiction writer Clyde Edgerton, a fan letter at age 13. When most kids were idolizing baseball players and television, he was worshipping writers and musicians. The two became friends and Clyde shared his craft with Brian. The next year Brian attended Duke University's Young Writers Camp. This is the extent, of what Brian considers, his "formal" training in writing. From then on his goal was to capture snapshots of life through words. Brian has been involved with live music in various facets over the years, and combined with his enthusiasm and love for Denver's music scene, he creates a vivid description of what he sees and hears. If you see him out at a show, dancing with a notebook in hand, say hello.