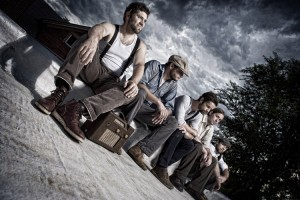 Why You Should Go: Influenced by My Morning Jacket, Wilco, Drive By Truckers, Crazy Horse, and The Band, Strange Americans believes in Rock-n-Roll. Formed in 2010 Strange Americans began writing music deeply  rooted in Americana, while remaining true to an innovative spirit. With classic guitars, an energetic rhythm section, three–part vocal harmony and tasteful Folk colorings these local favorites are sure to please Rock & Roll lovers of all kinds. This Saturday's show at the Bluebird Theater will celebrate the release of their new album That Kind of Luster. Don't miss your chance to catch these guys at an intimate theater because they won't be playing them for long!
Venue: The Bluebird Theater, 3317 E.Colfax, Denver, Colorado 80206-(303) 377-1666
Doors: 8:00 pm. Showtime at 9:00 pm.
*Price: $10.00 Adv; $15.00 DoS
Purchase Tickets
*All prices are gathered from other sources and we are not responsible for mistakes or inconsistencies. They are intended only as guidelines. Please, always call the venue if you desire the most accurate information possible.