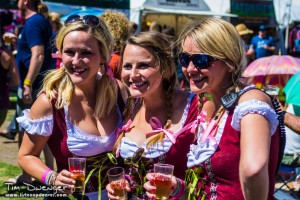 Photos by Tim Dwenger, Kelly Hueseman & Ty Hyten 
The Telluride Blues & Brews Festival is a one-of-a-kind music meets beer experience in an idyllic setting.  Sure there are festivals all summer long in this beautiful little mountain town, but none of them blend two things so suited for each other: world class Blues music and world class beer.  While it's a must-see bucket-list trip for a lover of either of the festival's main attractions, it's also the kind of place that welcomes newbies with open arms, full glasses, and three solid days of music.
FRIDAY
by Tim Dwenger
After a seven hour trip through some of the most beautiful scenery this country has to offer we arrived in Telluride Town Park in time to catch the tail end of Amy Helm's set.  Catching the daughter of legendary drummer, and personal favorite, Levon Helm was the primary impetus for the 5am departure from Denver and I'm glad we made it.  Her set was a high-energy blend of original tunes like "Good News" alongside choice covers of her father's and his contemporaries.  The Band's "The Night They Drove Ol' Dixie Down" brought a huge cheer from the crowd while Bob Dylan's "Meet Me In The Morning" had many grizzled veterans of the scene singing along.
After Helm wrapped up her set, we got settled and celebrated our arrival in our own personal nirvana with the first beer of the festival before the Sacred Steel of The Slide Brothers washed over us and took us to church.  They kicked off their set with the classic "In My Father's House" before cranking up the energy and really getting the crowd dancing.  A highlight of the set came with a nearly obligatory version of "When the Saints Go Marching In" that set the place on fire as we headed off to find the brand new Blues Stage where the Firefly Autism Battle of the Bands winner, Dragondeer, would soon be taking the stage.
I've caught Dragondeer a few times now and I've got to say they are one of my favorite new bands on the Denver scene these days.  Their innovative Psych-Blues style, original songwriting and creative takes on classics like "Deep Ellum Blues" and "Good Lovin'" took Telluride by storm.  They came out of the gates with their take on "Deep Ellum" and a healthy crowd began to form in front of the stage as Cole Rudy wailed on his lap steel as Eric Halborg handled vocals, guitar and harmonica duties.  The crowd danced their way through the groups 45 minute set that included the title track to their debut EP Don't That Feel Good.  There's no doubt these boy won a few new fans with their performance.
As we danced our way back to the main stage, Zach Deputy's one man show was stirring up a bit of a dust storm as he sat behind an array of mics and gear and looped his way to a thunderous ovation from an adoring crowd.  It's quite a feat to be one man on a big stage and wow a crowd with a full band sound, but Deputy was more than up to the task!
As evening began to set in, and the 70 degree temperatures faded away on the breeze, the legendary Robert Cray took the stage.  Cray is very much in the traditional vein of Bluesmen and headlined the festival in both 2000 and 2005.  His screaming licks and beaming smile pulled the crowd in as he put on a dazzling display of guitar heroics and ran through a set comprised of originals and Blues standards like "Sitting On Top of the World."  Whether on his own material or others, one thing remained constant, this man's phrasing, both vocally and on the guitar, is second to none.  Robert Cray is one-of-a-kind and while he may not be pushing to many boundaries, he defines "The Blues."
The outdoor festivities wrapped with one of the biggest surprises of the weekend, a stellar set of a sing-alongs from The Violent Femmes.  I'll admit that I had mostly written this set off back when the line-up was announced, but as soon as they took the stage and broke in possibly their biggest hit, "Blister In The Sun," I found myself grinning ear to ear and singing along with nearly every tune.  From "Kiss Off" to "Please Do Not Go" to "Add It Up" Gordon Gano's voice was in prime shape as the band front-loaded their set with hits and converted many nay-sayers who could be seen pushing their way up to the front screaming "why can't I get, just one fuck, I guess it's got something to do with luck!"  While they are more Punk than Blues, there's no denying the satisfaction in the simplicity of the Femmes music; something it shares with the Blues for sure.
After a trip back to the condo to get cleaned up and changed for the Juke Joints, we made our back across town to The Blues Stage to catch the West African magic of Bombino and boy was I glad we did.  From the moment we walked in I was mesmerized by the complex psychedelic wall of sound that filled the room.  As we danced, smiled, and got lost in the music I realized that none of the lyrics being sung were in English.  Somehow it didn't matter, what mattered was that the music was moving me.  Though we left before the end of the set, I was already eagerly anticipating the group's main stage set on Saturday as we approached the Sheridan Opera House to take in some funky Sacred Steel from The Lee Boys.
The Lee Boys kept us dancing right up until 2am as Roosevelt Collier and the rest of the band laid down their Funk laced brand of Gospel.  Toward the end of their set they blew the roof off the tiny room with a blistering take on Stevie Wonder's "Higher Ground" that gave us that extra little kick of energy we needed after nearly 14 hours of festivating.
SATURDAY
by Ty Hyten
Saturday began early with a much needed beer, in fact, several beers. The Grand Tasting, the "Brews" portion of the festival, showcases over 50 breweries from all over the country within earshot and sight of the main stage where a masterclass in Funkentology was about to go down.
We only allowed ourselves a few pours before joining Charles Bradley and His Extraordinaires for their goosebump inducing set. After spending most of his life in obscurity and hard times as a James Brown impersonator, Bradley was discovered by Daptone Records and has become a highly successful touring act…for good reason. His raw, screaming cry of a voice was arresting. It removed all desire (well, almost all desire) to further indulge in the 170 varieties of beer for the moment and left us to soak in his expressive tales of love, lust and heartache. Backed by a talented band complete with horns and traditional backup singers, Bradley's set was just about as soulful as Soul can get. As his facial expressions sold each and every tragic howl, his unexpected collapses to the stage were further reminders of his time in show business. The man is an entertainer, complete with lounge banter and microphone acrobatics. After one of the best hours of music we saw all weekend, Bradley hugged and spoke to fans in what struck me as a genuine display of gratitude.
After Bradley, we hopped from booth to booth trying dozens of tiny glasses of beer, with the funky West African rhythms of Bombino keeping some spring in my step. Conversation with overly chatty strangers in line ranged from interesting to annoying, but it still beat the awful FM morning show style banter of the festival MCs that filled the air between main stage sets.
The end of the beer tasting coincided with the beginning of a high energy set from Black Joe Lewis for which fans were amply lubricated. The Austin-based Blues and Soul group picked up where Charles Bradley left off and jacked the tempo way up. Lewis delivered vocals with a yell and guitar lines with the same fervor. Good crowd energy and good brass had festivalgoers dancing in the perfect, sunny late summer weather.
All that beer and dancing had us in the mood for sitting, so we stopped at the Blues Stage for Denver Comedian Troy Walker's set. While Walker's material on topics such as race and dating was funny, it got slightly less laughter than it deserved. I think much of this was to blame on the pitch black venue that was the Blues Stage. The temporarily converted indoor ice rink was strangely dark given the juxtaposition with the bright, gorgeous day outside. The audience was spread across gymnasium style seats, with Walker performing from the floor, obscured by the darkness…(did I mention I was dark in there?)
After the disorienting feeling of walking from a pitch black room into full sunshine (think leaving a movie theater at midday) we got back into the groove with New Orleans' Dumpstaphunk. The dual funky bass lines and omnipresent wah pedal was a successful recipe for carefree dancing. This set was followed perfectly by George Porter Jr's nasty bass lines of another New Orleans Funk outfit, the legendary Meter Men. Porter and two of the other original Meter's (Leo Nocentelli and Zigaboo Modeliste) were joined by John "Papa" Gross who was sitting in for the 75 year old Art Neville on keys and boy was it a smoking collaboration as the quartet blazed through versions of Meters' classics like "Fire On the Bayou" and the Professor Longhair gem "Hey Now Baby."  The second half of The Meter Men's set was spent in the grass, inhaling the delicious dumplings from the Sisters' Pantry stand and trying to gather the energy to keep going as we listened to Ivan Neville of Dumpstaphunk and Roosevelt Collier join band for and extended "Just Kissed My Baby."  Though our toes were tapping, metabolizing the insanely large beer flight that was our lunch, left us dragging a bit.
The fun in Town Park climaxed with Funk innovator George Clinton and Parliament Funkadelic. Surprising many long-time fans, the Rock-n-Roll Hall of Famer appeared without any of his trademark wigs, boas nor other flare. As is the custom with a P-Funk show, Clinton presided over the party but let the members of his band share heavily in the spotlight taking to the mic from time-to-time to deliver critical lines on hits like "Mothership Connection," "Give Up The Funk," and "Flashlight."  The large collective showcased faces both old and new to the P-Funk fold as waves of psychedelic Funk poured through the park.  It was a great way to top off "one of the funkiest days I've ever spent outside New Orleans" as one friend put it.
After some coffee and food back at the condo, we found a second wind it was out into the evening for the Juke Joints. The first stop was a return to the festival grounds for a repeat performance from Dumpstaphunk at the Blues Stage. The stage that failed to impress by day had become a legitimate venue and fans brought out moves that could only have been inspired by a day of drinking in the sun topped off with various substances and Red Bull. This second set from Dumpstaphunk felt more alive and so did we. The next stop was a long brisk walk down a busy Colorado Avenue past the historic bars and restaurants to Elks Lodge. The ol' boys' drinking club was a cool place to catch mainstage act The Slide Brothers. Taxidermied elk heads and historic photographs lined the walls of the tiny, furnace of a meeting room. The sacred steel stylings of Calvin Cooke & Aubrey Ghent centered around melodic Blues leads rather than the pedal-heavy cry of Country steel that many fans of the instrument may be accustomed to. It felt like Sunday morning in the deep South (not that I know what that feels like). The end of their set marked the end of the evening for us and, after hitting up the grilled cheese lady for one of her famous creations, it was off to bed.
SUNDAY
by Kelly Hueseman
After a fun late night infused with all the things that make for a cloudy morning, we woke on Sunday to bright, sunny skies – as beautiful and welcoming as they had been all weekend! After two late nights at the Juke Joints, it was admittedly hard to do much until we had three things: coffee, band-aids for our weary feet, and a little hair of the dog. We moseyed our way over to the Main Stage in time to catch The Lee Boys, who we had seen at their Juke Joint set at the Sheridan Opera House on Friday night. A self-proclaimed super-fan of the Funk and Gospel Blues, I first heard this band of soul brothers from Miami at the New Orleans Jazz & Heritage Festival, and couldn't wait to fall into their sweet dance trance again. Blues & Brews artist-at-large Roosevelt Collier is part of the magic The Lee Boys puts out, as the band is centered around his steel guitar and smiles. I can't even describe how good it felt to hear music from one of my favorite bands of late in the middle of what's arguably the most beautiful Colorado town.
But, alas, when one good thing ends…another good thing happens. (In Telluride that's the way it works anyway). I perused the vendor tents for the hundredth time that weekend while Shakey Graves put out a hot set that had everyone on their feet. This was a much-anticipated set from the Austin-based one-man act. Thanks to a set of Folk music packed with grit, freedom and soulful emotion, people were awake now.
The venerable yet weathered and wise beyond his years, Anders Osborne made his 9-year appearance on the TBBF Main Stage. Aged not only by time, but also by the hard life of a rock musician, Osborne has made a name for himself in many towns, including Telluride. The crowd that stuck around on Sunday was in for a treat as Osborne's signature guitar riffs exploded through the Telluride valley.
After the smoke from Osborne's set died down and Buddy Guy came on stage rumor spread like wildfire that Eric Clapton was in town. The sun was beginning to fall behind the mountains, and we were about to experience what I considered the best set of the weekend. Buddy Guy has been playing with legends for decades, but he still plays with the same passion and flirtiness he built his reputation on. The ladies loved him, the men loved him, we were all happy. And no, Clapton never made it out, but who knows if he was lingering in a nearby coffee shop or taking in the Blues music while sitting next to Bridal Veil Falls. Overall, Buddy Guy's set was packed with passion-fueled antics including his signature move of repeatedly thrusting his pelvis against the back of his guitar during Muddy Waters' "Hoochie Coochie Man" and generating laughs and smiles from himself and the crowd. For a 78-year old touring musician, it was impressive to say the least to see Buddy in all his glory, stomping around the stage (and into the crowd) without losing a single breath.
Closing out the weekend was Peter Frampton, the English rocker whose songs have been American favorites for years. It's not uncommon on Sunday for the crowd to thin out quite a bit as folks head home to start the work week, but Frampton played to a packed park that was transfixed when he launched into "Do You Feel Like We Do" on his talk box. It was definitely worth the wait to stick around for the festival's closing headliner.
But, alas, every good thing must come to an end and after Frampton's set we made our way back to our condo to get ready for one more night out in the magical town of Telluride.
This wasn't my first time at the Telluride Blues & Brews Festival, and it surely won't be my last. This year, one thing that stuck out was how excited all the artists were to be there. You could feel the energy, the appreciation for nature, and the humility from each and every musician. I hope everyone reading this has the chance to visit the tight little mountain town of Telluride for a music fest. There are so many reasons to make it a priority, including the beautiful waterfall welcoming you on the drive in, the incredible acoustics provided by Mother Nature's narrow canyon framing the back of the Main Stage, and obviously the warm and friendly people of Telluride, who would literally give you the shirt off their back. Thank you, Telluride, for another awesome memory to add to the storybook of life in Colorado.