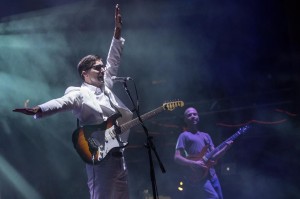 Photo by Dylan Langille / ontheDL Photography
The Scene: Red Rocks Amphitheater hosted a plethora of crunchy granolas this past Friday in honor of the September shakedown for our beloved Lotus. Wandering the lots of the famed venue, one was bound to find a mass amount of Bisco heads, several Phish heads and much chatter around… The Talking Heads. Perhaps a more diverse crowd joined the loyal Lotus clan this time around to pay tribute to the great American rock band, The Talking Heads. The five-piece Jamtronica band brought their own distinctive take on David Byrne's melodic masterpieces, sprinkled with cosmic hints of the prominent Lotus-synth.
Some may remember last year's show, which was postponed due to excessive flooding in the Front Range region. The show was rescheduled for a frigid-beyond-belief October date. Many bundled up in ski pants and jackets, long underwear, and warm hats. Those who forgot their gloves did not dare hold a beer. Yes, this year's show differed drastically in temperature (at a high of 82 degrees), but did not differ in talent. Lotus continues to bring it time and time again and if you have not seen this act yet, we, as admirable fans, beg you to go!
Opener: Papadosio. The budding quintet from Asheville, NC known as Papadosio took the stage after a short but sweet set from Electro-Funk duo, Orchard Lounge. Their lights, and musicianship exuded energy and really got the crowd riled up. Mike Rempel of Lotus joined the boys of 'Dosio for one of their most well known tracks – "Find Your Cloud" which wafted through the crowd with discernible perfection. Its downtempo, recurring melody sounds similar to that of Instrumental-Rock band, El Ten Eleven, but their lyrics lift up the slower melody into something that is beautiful and rhythmic, leading to steadily catchy guitar rifts.
The inspiration and purpose of this band is, as they say, "Revolutionary technology meets an evolutionary message…" This statement alludes to the current trend with bands like Lotus, STS9, Disco Biscuits and now Papadosio. Some are more versed than others and some are more transformative, but one thing's for certain: there's an evolution in sound and a renaissance in thought occurring  in the music community and these guys aren't skipping a beat. Papadosio is steadily working their way to the top of the Jamtronica heap and their approach is admirable. For a glance into what these guys are doing, check out their 2012 album, T.E.T.I.O.S.
Lotus: This year's Lotus performance took one part Talking Heads, one part pure Lotus, and a dash of perfect weather in a beautiful venue to make this concert ultimately enjoyable. The first set was strictly a Talking Heads tribute and Lotus nailed it with the help of featured vocalist Gabriel Otto of Pan Astral in the role of David Byrne. The dapper Otto donned a white suit and channeled all of the infamous Byrne moves. His vocals were on point and Lotus's support led the crowd to joint dance-offs all throughout the first set.
The band chose "Moonrocks" to start, sparking a sheer groove amidst the rocks. A few songs later, the popular "This Must Be The Place (Naive Melody)" drove a full-fledged singalong so even the Talking Heads haters could belt out the beauty of "Home," and agree that Colorado is "where you wanna be." The eccentric "Pull Up The Roots" had Otto dancing all over the stage and the first set closed with a goofy take on "Crosseyed And Painless."
The second set revealed a incredible list of Lotus songs. After kicking off the set with the interstellar "Kodiak" supported by the kick-drum battery of Mike Greenfield, "Suitcases" took the cake for the suave groove of the night and "The Oaks" followed, cementing the band's solid grasp on Post-Modern Rock. The highlight of the Lotus-centered set came with "It's All Clear to Me Now" that led into crowd favorite "Spiritualize." The jam-out felt a little a bit Phishy and the end was incredibly mystical. Lotus has a knack for allowing the audience to float away before bringing them back with an upbeat bridge–something missing from many bands in this genre. Playing through a fun and energetic "Age of Inexperience" the second set ended and the crowd awaited a solid encore.
The night closed with the haunting "Sunset of the Giant Dipper," soothing us into clear skies, but it was clear the audience didn't want to end on a note so existential so Otto darted to his microphone and the band busted into one final Talking Heads hit: "Once In A Lifetime." The crowd erupted and no fan of either band left at all disappointed.
Lotus – Red Rocks – September 19th, 2014
Set I: Moonrock, Found a Job, I Zimbra, This Must Be The Place, Girlfriend is Better, Pull Up the Roots, Warning Sign, Crosseyed & Painless
Set II: Kodiak, Suitcases, The Oaks, It's All Clear to Me Now > Spiritualize, Backlight Sunflare, Age of Inexperience
Encore: Sunset of the Giant Dipper, Once in a Lifetime
Energy: A-
Musicianship: A
Sound: A-
Stage Presence: A-
Set/Light Show: A
Overall: A-
Lindsay was born in Georgia, raised in Florida, and moved to Colorado when she turned 18. All Lindsay asks for in life is music, hoppy beer, and the written word. The necessities of family, friends, water, and food naturally follow.