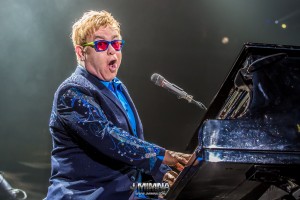 Photos by Jim Mimna
The Scene: This past Saturday at the Pepsi Center played host to an epic evening for many as Sir Elton John graced Denver with his royal presence. The venue rumbled with chatter of moms telling their daughters of the first time they saw Sir Elton; husbands waited outside smoking their cigars and cheersing their Scotch & waters; dapper young gents were giddy with excitement. John still brings a sense of comradery and joy to his fans and will do so until the end of time. That's the beauty of timeless classics like Elton John–he's everlasting.
Elton John: Sir Elton has stories. He's been around the block a time or two with legends, hall of famers and just plain 'ole great people and he is kind enough to share so many of his stories with each and every audience with whom he shares a moment. John made sure his moment of celebrating the 40th anniversary of Goodbye Yellow Brick Road was shared with the world and we were happy to experience it. The English singer/composer/pianist told us of his friends and loved ones, his fervor for Blues music and his appreciation of the men and women who fight for their countries. He was openly gracious to his band and thanked his fans in between almost every song. Clad in a glistening blue suit with multi-colored glasses, John took us on a journey of tales and hits. The first song was a lengthy one, "Funeral for a Friend/Love Lies Bleeding," which followed with a vivacious rendition of the barroom favorite, "Bennie and the Jets." Classics continued with "Candle in the Wind" followed by "Grey Seal"and then the moment when John informed us that Goodbye Yellow Brick Road has been around for 40 glorious years. He thanked the audience once again.
Next up was "Tiny Dancer" which drew tears from many and sent chills through everyone. A lit chandelier slowly descended above John and his band and he told another story of life on tour which led to "Holiday Inn." A few songs later, as Sir Elton laid into a mean solo, a single light shown down upon him. The solo slowed and he gently sang into the mic, "She packed my bags last night…preflight…" and the crowd roared. The lyrics to "Rocketman" were sung by all and the venue rattled. The moms and pops of the audience were certainly shaken up at this point.
To bring some sanity back into the crowd, John busted out a blustering "I Guess That's Why They Call It The Blues." The wonderful "Your Song" followed soon after with a few more uptempo wonders taking it to "Don't Let the Sun Go Down on Me" and "The Bitch Is Back." John introduced his highly talented band, revealing two long-time bandmates Davey Johnstone (vocals, guitar, mandolin) and drummer Nigel Olsson.
Those fortunate enough to sit in the first few rows were allowed to approach the stage for his final song of the main set, "Saturday's Alright for Fighting," which was incredibly appropriate for this fiery Saturday evening. John signed autographs, shook hands and thanked all of those who greeted him at the stage. He left for a moment, only to return for two final songs. He chose the fun singalong "Crocodile Rock," which seemed to reinstate the lively vibrance of the night. The catchy hook of this song was ringing on long after the show ended.
The final song of the night was the Disney classic, "Circle of Life." Sir Elton, alone on stage with his piano, reminded us of our childhood. He revealed the purpose of its resurgance was in light of his children; its nostalgic beauty shown throughout the entirity of the song.  All in all, his voice somehow sounds even better. It's like he continues to mature and grow into his artistry. His tenacity, paired with a fascinating history, makes for a momentous performance. Thanks for all of the stories, Elton. And thanks for all of the memories.
Setlist: Funeral for a Friend/Love Lies Bleeding, Bennie and the Jets, Candle in the Wind, Grey Seal, Levon, Tiny Dancer, Holiday Inn, Philadelphia Freedom, Goodbye Yellow Brick Road, Rocket Man, Hey Ahab, I Guess That's Why They Call It The Blues, Oceans Away, Your Song, Burn Down the Mission, All the Girls Love Alice, Home Again, Don't Let the Sun Go Down on Me, The Bitch is Back, I'm Still Standing, Your Sister Can't Twist, Saturday's Alright for Fighting
Encore: Crocodile Rock, Circle of Life 
Energy: A+
Musicianship: A+
Sound: A-
Stage Presence: A+
Set/Light Show: A-
Overall: A
Lindsay was born in Georgia, raised in Florida, and moved to Colorado when she turned 18. All Lindsay asks for in life is music, hoppy beer, and the written word. The necessities of family, friends, water, and food naturally follow.