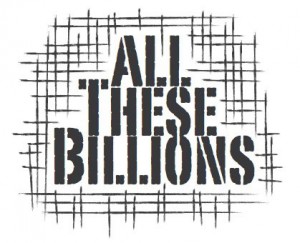 All These Billions
Friday, July 22, 2011 at 6:00pm
Moe's BBQ
The hot new Denver band, All These Billions, have announced that they will be kicking off Friday night of the UMS at Moe's BBQ (530 Broadway) in the 6:00pm slot.  Don't miss it!
The Marquee Magazine has pegged the coveted "UMS Must Hear" tag on their set with the following teaser:
"All These Billions is a Denver-based four-piece that incorporates elements of electronica and blues into their rock-based sound. Formed in September, 2010, the group has spent the last eight months emersed in three-day-a-week rehearsals forging their musical direction and unique sound, which both Plato and Carl Sagan probably would have enjoyed. They will be playing on July 22 and look forward to finally being able to use their fog machine."
All These Billions UMS Profile
Music has always been a part of my life. It probably all started listening to old Grateful Dead, Peter Paul & Mary, and Simon & Garfunkel records that my parents had, but it wasn't long before they were taking me to concerts like Starship, Crosby, Stills & Nash, and Huey Lewis & The News. I got the bug to write about music after reviewing an Eric Clapton concert for a creative writing project in high school but didn't really take it up seriously until 2002. Since then I have published countless articles in The Marquee Magazine and done some work for Jambase.com, SPIN Magazine, and various other outlets. I started Listen Up Denver! as a way to share the music information that is constantly spilling out of my head with people who care. Please enjoy!