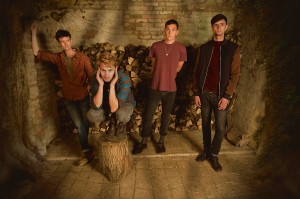 The Scene: Larimer Lounge, one of Denver's favorite hipster-havens, played host to indie-rock quartet, Glass Animals, last Thursday night. To no one's surprise, the up-and-coming band sold-out the small venue. Many were openly agitated by the lack of space, but once the music began, the humidity was embraced and the sweat began to drip. Dance moves ensued.
Glass Animals: The band hails from Oxford, England and this night's performance was their Denver debut. While their ensemble takes on the look of a typical Indie band, their sound is anything but usual. Their layering of sound is sexy and slow, mystical and ominous; it's the type of music to get lost in. It's these layers of sound that engulf the mind and body and make the whole event a psychedelic experience.
Dave Bayley, the band's front man, took the stage with his bandmates and dove right into the hit single, "Psylla," from their 2013 self-titled EP. A Psylla is a type of "sap-sucking" insect which plays along with a common theme that exists within the Glass Animals' psyche. The group typically strays toward subjects relating to plants, animals and similar imagery…and somehow their live performance does too. Their down-tempo beats move in a way that is slow and slithering as Bayley projects a similar vibe in his relationship with the microphone. "Black Mambo" followed shortly after, with the very popular "Gooey" right on its tail.
Starting off with such popular songs doesn't necessarily infer that they got them all out of the way too soon. Glass Animals just has that many winners. Their debut album, Zaba, resonates with An Awesome Wave by fellow English indie-rockers, Alt-J, which tells me that these Brits are doing something right. The ability to provide a story in an album seems difficult to do these days. Some are hits and misses, with one-hit-wonders sprinkled throughout. Glass Animals does it right with their story.
The similarly mysterious "Cocoa Hooves" was a spot on delivery, followed by a cover of Kanye West's "Love Lockdown,"which had the crowd surprised and energized. They've proved they have an ardent grasp on their unique sound while layering it atop a Top 20's track, demonstrating their knack for quality musicianship. Their top played song, "Pools," closed out the night.
Though it was a great night, the band's performance seemed lacking in some instances, but this shouldn't be blamed on the music or talent of Glass Animals. The sound seemed rough but I get that one doesn't necessarily go to Larimer Lounge for the stellar sound or production value, but more so for the chance to see a talented band up-close and personal for quite possibly the last time. These guys should be at The Ogden or Fillmore sometime in the near future.
Setlist: Psylla, Black Mambo, Exxus, Gooey, Walla Walla, Intruxx, Hazey, Toes, Flip, Cocoa Hooves, Wyrd, Love Lockdown, Pools
Energy: A-
Musicianship: A+
Sound: B+
Stage Presence: A
Set/Light Show: B+
Overall: A-

Lindsay was born in Georgia, raised in Florida, and moved to Colorado when she turned 18. All Lindsay asks for in life is music, hoppy beer, and the written word. The necessities of family, friends, water, and food naturally follow.