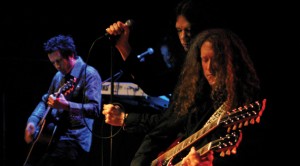 The Scene:  It doesn't matter if you were born in 1965, 1998, or anywhere in between, most know and can appreciate the hard Rock and Roll of Led Zeppelin.  The range of ages saturating the crowd for the Get The Led Out show at Red Rocks on a beautiful Thursday evening was remarkable.  Noticing a group of 17 yr olds singing and rocking out to every song to my right and the white haired couple recollecting their youth and creating new memories with the songs that formed those early feelings of love and rebellion to my left.  Led Zeppelin has made and kept fans in all generations since the late 60's and will continue to grow their fan base as parents continuously pass on their favorite Led Zeppelin albums and songs down to their children.
Led Zeppelin played their first US show on December, 26 1968 at the Denver Auditorium (which is now part of the Ellie Caulkins opera house) as the last act added to a sold-out Vanilla Fudge and Spirit show by legendary Denver concert promoter Barry Fey.  After the show, Denver's rock station, KLZ called Fey to ask who the band was that had their phone lines ringing off the hook.  Fey, luckily had a copy of the band's unreleased debut album, took it to the radio station and they immediately played it nonstop that day.  History proves that nobody really remembers who Vanilla Fudge and Spirit are but Led Zeppelin are Rock and Roll history.  Robert Plant has said that the Denver show and radio play was an essential part of their early success.  Get the Led Out came to Denver to pay homage to this show and coincidentally enough, Zeppelin's drummer, John Bonham's death fell on September 25th, 1980.  Bonzo was cheering on the band from the clouds Thursday night, air guitars were being played with enthusiasm and the illusion of actually seeing and experiencing Led Zeppelin live at Red Rocks was formed.
Get The Led Out: The American Led Zeppelin. As legend has it, Zeppelin struggled to recreate their studio recordings with only the four of them on stage.  The studio recordings had countless loops and sound effects, sometimes piecing different recordings together and a myriad of other recording maneuvers that couldn't be replicated on the live stage.  This is where Get the Led Out has stepped in.  Instead of the normal four piece, a group of six from Philadelphia, known as The American Led Zeppelin, are playing the songs as true fans.  There's the two Pauls; Paul Sinclair (lead vocals, harmonica) and Paul Hammond (electric and acoustic guitars, mandolin), Jimmy Marciano (electric and acoustic guitars, vocals) and Billy Childs (bass and vocals), Adam Ferraioli (drums and percussion), Andrew Lipke (keyboards, electric and acoustic guitars, percussion) and Diana DeSantis who adds a whole new dynamic to the song "Battle of Evermore" with her guest vocals.
This isn't your typical impression and cover band.  They don't dress up in late 60's clothing, their lead singer doesn't have long blond curly hair and they aren't here to just cover Led Zeppelin songs.  They are here to recreate the studio albums and recordings.   I was lucky enough to catch a few words from lead vocalist, Paul Sinclair, backstage after the show "there's a lot of bands that do a Zeppelin show.  They get the costumes and stuff and go that route. There's no other band that I know of that are concerned about replicating the studio versions, which is our mission.   I have to imagine that the majority of the Zeppelin fans on this planet love Led Zeppelin because of what was on those records.  So why anyone would get into a concert and do anything other than that?  It's beyond me but it's thrilling and thankfully we have the market cornered and recreating the live versions… that's our thing."
Get the Led Out slammed into a menagerie of all your favorite songs; "Immigrant Song," "No Quarter," "Good Time Bad Times," "Ramble On" and "Going to California."  "Dazed and Confused" and "How Many More Times" had Paul Hammond playing those prominent whining riffs with a violin bow.   DeSantis assisted Sinclair on "The Battle of Evermore" providing that extra layer needed to give the live version its true harmonious sound.  Paul Sinclair sang "Babe I'm Gonna Leave You" with the emotion and spirit of Robert Plant.  "'Babe I'm Gonna Leave You' is probably my absolute favorite song to perform" stated Sinclair.  "I think its Robert Plant's most beautiful vocal performances and I try to mimic or emulate that, it's what I'm trying to do.  I'm so inspired, it gives me goose bumps listening to it so I'm trying to give a few as I'm singing it."
The passion coming out of Paul's voice was heard throughout the show.  His voice was strong, had impressive range and on a few occasions I found myself saying, he sounds just like HIM! [Robert Plant].   Asking him what his favorite songs are, "picking one is like picking your favorite child but 'Ramble On,' and 'Babe I'm Gonna Leave You' are on the top of that list." A highlight for many percussion enthusiasts was Adam Feraioli's drum solo on "Moby Dick."  As Feraioli pounded each piece of the kit with all his might, and struck every note of the solo, you were left wondering if Bonzo gave him drum lessons.
The stage had a minimal setting with lights matching the hard hits of "Living Loving Maid" and "Kashmir."  Get The Led Out filled every nook and cranny of Led Zeppelin favorites.  "Heartbreaker" was quoted as being the song that solidified the love of Led Zeppelin for Sinclair.  The treasured "Fool in the Rain" was a crowd sing-along as was "Over the Hills and Far Away."  "Stairway to Heaven" showed itself during the last few moments of the show which then ended with the heart pounding and triumphant "Whole Lotta Love."  "It's the greatest gig of my life," Sinclair admitted.  "And we're all so lucky, blessed and thrilled to be a part of it because it's a gig that we can do for the rest of our days as long as we can do the music at the level were doing it."
Energy: A-
Musicianship: A+
Sound: A+
Stage Presence: B
Set/Light Show: C+
Overall: B+

From Evergreen, CO currently lives in the highlands of Denver, CO. Found my passion for live music as a young child with my parents taking me to see concerts and live music early in life. First concert? Jimmy Buffett at Fiddlers Green! Received a Bachelors of Arts degree in Business Administration and minor is communications from Fort Lewis College in Durango, CO. Have worked in music publicity for over five years around Denver. Favorite bands and artists include; Talking Heads, Steely Dan, Widespread Panic, Jackie Green, George Clinton, Joe Bonamassa. Rock and Roll, funk, hip hop and jam are the types of music I will favor. Favorite local band; The Motet. Favorite things to do: concerts and live music, SUP on local lakes, yoga, camping and weekend adventures, dive bars with a good jukebox and dining al fresco on my deck with friends.