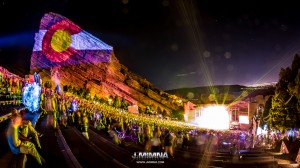 Photos by Jim Mimna
(Photos from September 26th Performance)
The Scene: Last Saturday night at Red Rocks Amphitheater was the third annual Rowdytown, featuring Big Gigantic with openers, heRobust, Caked Up and The New Deal. The lots were filled with 20-somethings boozing off Franzia and comparing their new tribal-printed leggings. Men and women were fighting for the best spots in the open field to urinate in, while others ran around showing off their super heady jewelry, trying score a buck or two. This is the typical crowd of Rowdytown.
Opener: The New Deal. Clad in sequins and tacky Hawaiian shirts, the people of Rowdytown filled the stands for opener, The New Deal. The Canadian odern Electronica band failed to impress with loud noise that cluttered the air. While many seated around me figured it was all due to sound issues, those who were present for heRobust and Caked Up let us know that it couldn't be that. The New Deal is usually a stand-out artist at smaller venues around the region, but on Saturday they just sounded "off." Livetronica with harsh battery on the drums and messy keyboard beats isn't appealing or grooving. In fact, it was nearly impossible to groove. One thing is for certain though; this band's got incredible energy which shouldn't scare you away from seeing them in the future.
Big Gigantic: Saxist/producer, Dominic Lalli, and his loyal wingman on drums, Jeremy Salken, took the stage after The New Deal's performance. Lights and bass erupted and the crowd roared. This is what everyone was waiting for. Similar to the likes of Pretty Lights, Big Gigantic is known for incorporating a plethora of genres into their music. Ranging anywhere from Hip-Hop to Jazz to Dubstep, the duo feverishly brings a heavy build-up that has the crowd giddy with anticipation. That well-know "drop" can get even your grandmother up and moving.
Fresh out of Boulder, Big G has stolen this stage three years in a row and is refreshed by the experience each time. Lalli made it a point to admire the audience, explaining that no other venue makes him feel quite this privileged. Who can blame him?
The Saturday set incorporated a variety of tracks from their 2012 album, like "Hopscotch" and "Rise and Shine." And a night with Big G wouldn't be complete without the classics "Lucid Dreams" and "Sky High." New popular Dub track "Clvdbvrst" was a fan favorite followed by the wonderful rendition of Aloe Blacc's "I Need a Dollar." Top memories of the night definitely have to include the cameo by members of The Motet and familiar face, GriZ. The best addition to the stage, however, was the Eaglecrest High School Marching Band. I've never wanted to be in a marching band more. They held down the fort for covers of "I Need a Dollar" and the hip hop track, "Can't Hold Us" by Macklemore and Ryan Lewis.
The unique encore ended with a quiet stage and a surprising performance from the duo settled in the sound booth. These guys know how to keep the rowdiness to an ultimate level and the ambitious energy helps make it happen. Big G is going to continue to rage and we are happy to see them so grounded at their home in Colorado. Until next year!
Energy: A
Musicianship: A
Sound: A-
Stage Presence: A
Set/Light Show: A
Overall: A
Lindsay was born in Georgia, raised in Florida, and moved to Colorado when she turned 18. All Lindsay asks for in life is music, hoppy beer, and the written word. The necessities of family, friends, water, and food naturally follow.