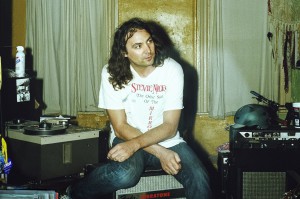 Photo by Dusdin Condren
Why You Should Go: Philadelphia's The War on Drugs reside at the blurred edges of American music: overexposing studio limitations, piling tape upon tape to maximum density, and then — with each song — they pull off the scaffolding to reveal what sticks, keeping only what's absolutely necessary and dig into what sounds like the best kind of fucked up. As on their 2008 debut, Wagonwheel Blues, central member Adam Granduciel takes small moments occurring over multiple tapes and multiple song versions, and puts every last drop of trust in his own keen instinct of momentum. The group's most recent release, Lost In The Dream, is the outstanding presentation of Granduciel's progression and growth as a songwriter, performer, and producer. It is an immense listen to be absorbed and discovered now and for decades to come. Sound interesting? Check it out for yourself this Friday at The Ogden Theatre!
Venue:  The Ogden Theatre, 935 E. Colfax Ave Denver, CO 80218 – 303-832-1874
Doors: 8:00 pm. Showtime at 9:00 pm.
*Price: Adv. $20.00. Dos $25.00
Buy Tickets
*All prices are gathered from other sources and we are not responsible for mistakes or inconsistencies. They are intended only as guidelines. Please, always call the venue if you desire the most accurate information possible.