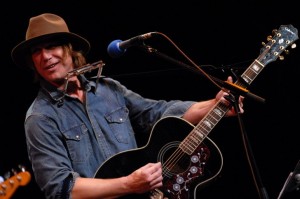 Why You Should Go: Todd Snider is a vociferous musician whose fans know him to be quite the workhorse. His acclaimed 2006 release, The Devil You Know found the barefoot troubadour performing live on The Tonight Show with Jay Leno and Late Night with David Letterman and the CD appeared on numerous year-end Top 10 lists including Spin, Blender and Rolling Stone. More recently, the Peace Queer EP–a concept record featuring all the peace, love and anarchy Snider is known for–inspired Blender to say he "morphed from a wisecracking country-ish journeyman to the sharpest and funniest protest singer working today." The EP spent five weeks at number one on the Americana chart and Spin Magazine dubbed him, "One of roots music's slyest, smartest songwriters."
Join Snider on the bill and backing him up will be Vince Herman's Great American Taxi.
Venues:
Friday – Mishawaka Amphitheatre – 13714 Poudre Canyon Highway, Bellvue, CO 80512 – 970.482.4420
Saturday – The Bluebird Theatre, 3317 E. Colfax Ave, Denver, CO 80206 – 303/377-1666
Doors:
Friday – 7:00 PM
Saturday – 8:00 PM
*Price:
Friday – $29.00 Adv & $32.00 Door – Buy Tix
Saturday – $25.25 Adv & $28.00 Door – Buy Tix
*All times and prices are gathered from other sources and we am not responsible for mistakes or inconsistencies. They are intended only as guidelines. Please, always call the venue if you desire the most accurate information possible.

Music has always been a part of my life. It probably all started listening to old Grateful Dead, Peter Paul & Mary, and Simon & Garfunkel records that my parents had, but it wasn't long before they were taking me to concerts like Starship, Crosby, Stills & Nash, and Huey Lewis & The News. I got the bug to write about music after reviewing an Eric Clapton concert for a creative writing project in high school but didn't really take it up seriously until 2002. Since then I have published countless articles in The Marquee Magazine and done some work for Jambase.com, SPIN Magazine, and various other outlets. I started Listen Up Denver! as a way to share the music information that is constantly spilling out of my head with people who care. Please enjoy!