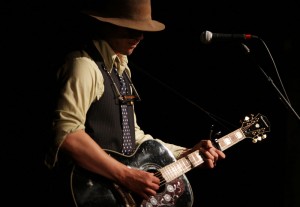 The Scene: Storyteller and traveling songsmith Todd Snider was joined by local Nederland favorites Great American Taxi this past Friday at the always amazing Mishawaka Amphitheater. I caught a less than half full bus from the Tasty Weasel in Longmont and was dropped off directly in front of the venue at around 8 o'clock. There was no line at the will call window or the front gate. The guy at the ticket window guaranteed me that it was not going to be selling out. There were a handful of folks around my age but the majority of the crowd was made up of middle aged fans. Quite a few older couples relaxed on blankets and lawn chairs as the cemented area before the stage slowly filled with people ready to Boogie. Leftover Salmon front-man Vince Herman, and his band Great American Taxi, set the tone for the evening as the sun began to go down behind the surrounding hills.
Great American Taxi: Americana without borders is really the only way to describe Great American Taxi. They draw from all aspects of down home music. You can clearly hear the honky-tonk, progressive bluegrass, and southern blues influences to their sound; all the while segueing between songs with countless solos and extended "jams." Vince Herman definitely surprised me with his mandolin pickin' ability and I definitely dug their sound and the way it contrasts to his other band, Leftover Salmon.
Herman even brought out his son Silas on the Mandolin for a really fun version of "Nobody's Business." Honestly, I was rather impressed with the father and son jam session. I have a feeling that Silas Herman will be a name to look out for sometime in the future. Everyone seemed to be thoroughly enjoying themselves on stage. There songs were strong ballads of life in the mountains. Being that I grew up on the Front Range, I always enjoy seeing Vince and the boys but it was especially cool in such an intimate setting. I can't help but enjoy hearing a local band shred that hard and sing songs about the place where I've grown up.  They ended their first set at about 10 by getting everyone on their feet for the upbeat song "Good Night To Boogie."
Todd Snider: Singer songwriter and Storyteller extraordinaire, Todd Snider, has been bringing his one-of-a-kind show to stages everywhere for over 15 years now. He is known for his ability to channel great storytellers like John Prine and Jerry Jeff Walker. His unique delivery and shy stage presence adds to the entire ambiance of the Todd Snider experience. A long time favorite songwriter of mine, Todd's way with words and his complete honesty has been something I've been looking forward to seeing live for quite some time now and I couldn't have asked for better weather. Right as the moon started to disappear over the tree line, an all too familiar voice cracked out of the sound system.
An old timey record player was set up at the back of the stage. You could tell a record was spinning under the needle and Snider's voice rang out from the ancient machine. As the short introduction came to an end he moseyed on stage and picked up the fancy black acoustic guitar he is known for playing. By this time there were at least a hundred people in attendance scattered throughout the area.  Although security looked strict, it didn't appear that they were doing too much to put a halt to the aroma that filled the air as Taxi came back to the stage to serve as the backing band.
Snider was wearing a red and black flannel jacket, a bandana around his neck and his trademark brown full brimmed hat pulled down to his eyes. He started the set with a funky version of his song "Sideshow Blues." His self described "Stoner Folk" music takes traditional country sounds and throws what can only be described as a "hippie" feel to it.
If you are a fan of Snider then you know about his love for Jerry Jeff Walker, so it was no surprise when him and the boys went into the Walker classic about Murphy's Law titled "The Continuing Saga of the Classic Bummer…" From this they went into the "Double Wide Blues," a song with serious lyrics about life in a trailer home. Snider has a great way of taking big issues, or serious sentiments, and putting a comical twist on them through satire and musical jests.
I do have to say that after about 4 songs, the endless, noodling solos from Taxi were starting to wear on me a little bit. However, I blame myself for not reading the show bill properly. You see, I showed up expecting Todd Snider and thought perhaps he would mix it up between solo songs and playing with the band. Being that Todd isn't much of a soloist himself, it was almost as if he spent most of the time strumming his three chords and awkwardly dancing around stage until it came time for him to approach the microphone again. Don't get me wrong, I absolutely love Vince and the Taxi, but would have appreciated at least one or two solo acoustic numbers. On the other hand have a great time dancing to the rock-n-roll versions of all of my favorite Snider songs.
I was thankful to hear them start the hilarious story of a song; "America's Favorite Past Time." Not only is the story of Doc Ellis pitching a no hitter on a head full of LSD one of my favorite stories, Snider's version is also one of my favorite adaptations of it. He ended with a nice short story relating Doc Ellis' experience with one of his own that brought a wave of laughter over the crowd. Unfortunately this was only one of the very few stories he told.
I held out hope until the very end that he might possibly just do at least one song on his own, but to no avail. That aside, it was still a great evening of talented musicians playing many of my most loved songs. His set ended with "Can't Complain" and from what I could tell, left everyone feeling content and happy with the outcome of their night. Todd Snider is easily one of the greatest songwriters of his generation and often I feel he doesn't get the recognition he deserves. His songs have appeal on so many different levels of life and from old and established, to young and confused, he speaks to the soul of everyone who takes the time to sit down and listen to his words.
I overheard a few rumblings from people saying they expected something totally different, but the consensus was that the show was an amazing success. I have to agree with each side on some level.  Great American Taxi did a great job backing him up, but next time I think I'll try to catch him on his own in order to get the feel for his solo performance. "I hope you heard the song you wanted to hear" was the last thing he said before walking off the stage. He played so many of his classic tracks and the progressive "jamming" by Vince and friends added an entirely new element to his roots music sound. Snider may come off as shy on stage, but it was clear by the end that he is a performer at heart. The top notch music fit perfectly with the noise of the powerful river under the serene night sky.
Energy: C+
Sound: B
Musicianship: B+
Stage Presence: B-
Set/Light Show: C
Overall: B-

I rode my skateboard from school in 7th grade to my buddy Vince's house where he put on the song "Perfect Government" by NOFX and I was hooked. The next day I bought the album Duh by Lagwagon. The next year I saw Against Me! at the Starlight Theater in Fort Collins, my mom dropped me off. I've since devoted every waking hour to anything done with passion. My speakerbox bumps everything from Lil' Wayne to Pablo Casals. I was never very good at making music, but I am damn good at listening to it. I've been filling up yellow notepads with random thoughts and misspelled words for as long as I can remember. I enjoy whiskey of all sorts, Newport cigarettes and the company of my family. I've got an addiction to run-on sentences that I'll probably never cure. A solid handshake with a stranger who has become a friend over a few beers means the world to me. You'll often find me wide eyed and wandering with an ear to ear grin. I live for funky break beats and spreading the love.