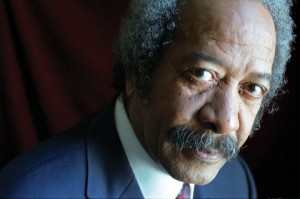 Why You Should Go: It's going to be one hell of a night of New Orleans music.  From Boogie-Woogie Piano to Brass Band to Zydeco, this bill has it all!  Headlining the night is pianist Allen Toussaint.  Toussaint is one of the most influential figures in New Orleans R&B. His playing has what he calls "flairs of Fess" — a reference to Professor Longhair, patron saint of the New Orleans piano faculty. From Boogie-Woogie and jazz to ballads and blues, Toussaint plays them all amidst crafty horn arrangements.
Toussaint got his shot as a solo artist with a record for RCA. Two of his earliest tunes, "Java," which became a mega-hit for trumpeter Al Hirt, and "Whipped Cream," the Herb Alpert hit, became instrumental standards. He continued to put his mark on the music business with his arrangements on Patti LaBelle's hit, "Lady Marmalade," continuing on with her through the early stages of her solo career and crossing paths with many other music giants in the course of his illustrious 40+ year music career. He has produced, written for, arranged, had his songs covered by, and performed with music giants Paul McCartney, Paul Simon, Elvis Costello, Patti LaBelle, Etta James, and countless others.
Toussaint was inducted into the Rock and Roll Hall of Fame in 1998 and into the Songwriter's Hall of Fame in February 2011.
The Dirty Dozen Brass Band is a world famous music machine, whose name is synonymous with genre-bending romps and high-octane performances. They have revitalized the brass band in New Orleans and around the world, progressing from local parties, clubs, baseball games and festivals in their early years to touring nearly constantly in the U.S. and in over 30 other countries on five continents. The Dirty Dozen have been featured guests on albums by artists including David Bowie, Elvis Costello, Dr. John and the Black Crowes.
American musical legend Stanley "Buckwheat" Dural Jr.—along with his band, Buckwheat Zydeco—is the preeminent ambassador of Louisiana zydeco music. The New York Times calls their music "a down-home and high-powered celebration, meaty and muscular with a fine-tuned sense of dynamics…propulsive rhythms, incendiary performances." People magazine called their music a "propulsive, rollicking, swamp-boogie joy ride."
Venues:
Denver Botanic Gardens – 1007 York Street, Denver, CO 80206 – 877-435-9849
Doors:
6:00 PM
*Price:
$61.00 Public
$56.00 Members
Buy Tix
*All times and prices are gathered from other sources and we am not responsible for mistakes or inconsistencies. They are intended only as guidelines. Please, always call the venue if you desire the most accurate information possible.

Music has always been a part of my life. It probably all started listening to old Grateful Dead, Peter Paul & Mary, and Simon & Garfunkel records that my parents had, but it wasn't long before they were taking me to concerts like Starship, Crosby, Stills & Nash, and Huey Lewis & The News. I got the bug to write about music after reviewing an Eric Clapton concert for a creative writing project in high school but didn't really take it up seriously until 2002. Since then I have published countless articles in The Marquee Magazine and done some work for Jambase.com, SPIN Magazine, and various other outlets. I started Listen Up Denver! as a way to share the music information that is constantly spilling out of my head with people who care. Please enjoy!