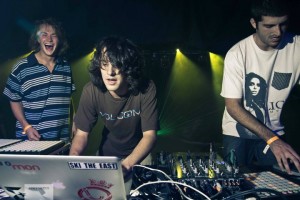 The Scene: The Bluebird is one of Denver's premiere concert venues, its small size makes for quite an intimate concert experience not to mention the place has great sound. When you throw huge beats and dub step wobbles into a small club atmosphere like the Bluebird, it makes for a wild, floor shaking evening. Robotic Pirate Monkey, Sorry For Partying, DJ Mo:Rockin and 2DUBAII took full advantage of a party hungry Friday night crowd, adding another level to the Dub-Step mayhem sweeping across Colorado.
DJ-Mo Rockin: This was the second set of the evening after 2DUBAII opened the show. By all indications he killed it because there was already a healthy crowd buzzing around the Bluebird. Although I had never heard of Mo:Rockin, he came on stage with confidence and didn't waste any time getting into huge tracks by Crizzly, Flux Pavilion and Bassnectar among others. Being a Dub-Step fan myself, I can appreciate seeing a crowd go wild over 'filthy' and 'abstract' beats.  There's just nothing quite like it when a DJ is so good that's he practically pulling the audience towards the stage, all hands raised in the air at once.  From the start, Mo:Rockin was just this good. He had his audience captivated and going wild the entire set. He concluded with a massive rendition of Flux's "Gold Dust," which had the crowd singling to the ceiling. I'll also give him major points for not losing the crowd once during his entire set and  some of the most enjoyable moments came from his enthusiasm on stage. He would jump behind the sound equipment before a drop and then pop out in frenzy when the bass line kicked in. This rising star in the Denver Dub-Step scene started off my evening in impressive fashion.
Sorry For Partying: Sorry for Partying let lose a torrent of epic Dub-Step and Mash-Up that fully ignited my dancing spirit. I've always been on the fence about mashing songs together and calling it music, but Sorry for Partying played a good and varied set that gave me positive feelings about the direction of the genre. Despite getting caught up talking to old friends, which proved to be a bit of a distraction, I had a great time during the set. They had the enthusiasm to ignite the young crowd into a sweaty mess and I'll definitely be heading to more of their shows in the future. It was certainly a loud set, a bit cluttered at times but a more than adequate warm-up for the headliner.
Robotic Pirate Monkey: By this point in the night, the Bluebird was a sold-out sweaty mess. My friend and I managed to squeeze down towards the stage where the temperature matched the anticipation of seeing Robotic Pirate Money play for hometown fans.  A few minutes later, the boys came out and immediately launching into a raucous and glitchy version of "Jukebox Hero."  It was clear from the start that RPM has a refined sense of how, and what, to play live. The crowd was giving them all they could handle as they ripped seamlessly through samples from The Fugees, Bob Marley and Nas.
There aren't too many three person DJ teams, but Robotic Pirate Monkey showed experience beyond their years, each one bringing a distinctive sound that explodes out of the speakers. The final product is like hearing classic vinyl remixed into a delicious blend of electro-funk-dub. I especially enjoyed the remix of "Sunshine" which displayed RPM's incredible sampling skills and penchant for group sing along.
After going hard for an hour, there was a distinct period of slower, more down-tempo songs in the middle of set. I took this time to move locations and wipe the sweat off the face.  As this point it was the like the crowd was taking a breath before jumping back into the frenzy. Before long though, they turned the beats back to eleven and had the crowd dancing to familiar favorites.  Looking out over the crowd from a higher vantage point, I saw a sea of hands and smiling faces thrilled by the music of Robotic Pirate Monkey.
The highlight for me was definitely the encore, after several minutes of rousing applause from the Bluebird crowd; RPM came back swinging with a huge remix of "Sing with Me." It felt like they ratcheted up the volume at this point because the floors and walls of the Bluebird started shaking as my ears tried to swallow the massive electro funk spun around a spirited Aerosmith song. Great show, great fans. I'm sure we will be seeing Robotic Pirate Monkey light up the electronic scene for years to come.
Energy: A
Sound: A
Musicianship: B
Stage Presence: A
Set/Light Show: A-
Overall: A

I've worked various positions in the music industry with Madison House, Rock The Earth and Bohemian Nights. My dream is to travel the world and seek out all the good tunes, beer and food that make life so special. I have a healthy obsession with live music and I'm thrilled to share the epic moments with you.