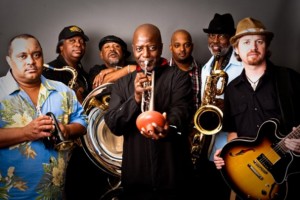 Baritone Sax man of Dirty Dozen Brass Band, Roger Lewis, was kind enough to spend some time on the phone with Listen Up Denver! as he woke up in his home in New Orleans the morning the band was hitting the road for a run of shows here in Colorado.  As he rubbed the sleep from his eyes and The Sandman's fog lifted from mind, Lewis opened up about everything from the beginnings of the band to the progress they are making on a new record.  Along the way he touched on his time with Fats Domino, the band's involvement with the HBO original series Treme, and the secret to the bands 30 plus year career that is still going strong today.
Listen Up Denver!: On Friday when you guys hit Denver you'll be sharing the bill with two other New Orleans musical legends Allen Toussaint, and Buckwheat Zydeco.  I assume you've played alongside both in the past.  What's it like to play with these guys?
Roger Lewis: We've done recordings with Allen Toussaint, so it's just like playing any other gig, you don't think about it much.  We are just up there playing music.  Allen Toussaint is doing his thing, we are doing our thing, and Buckwheat's gonna do his thing.  As a matter of fact we've recorded with Buckwheat too.  We did a record with him.  We'll just be up there playing some music and trying to make some people happy, you know.
LUD: Is there any chance that we'll see some sit-ins or cross pollination between the bands?
RL: I don't think that's gonna happen.  Our band has never sat in with Allen, his show is pretty structured and I don't think he has many people sitting in.  Buck is pretty similar.  Obviously if he asks us to we'll sit in and play a number with him, but I'm not gonna say that's gonna happen.
LUD: I understand that the Dirty Dozen is re-releasing My Feet Can't Fail Me Now, for the 25th Anniversary of the album.
RL: Yeah, as a matter of fact, we'll be selling them at the show!  It was our very first CD.  It's just a re-master of the original CD, I don't hear much difference but the packaging is a little different.  The original one had a second line parade on the cover and this one here is a little different.
LUD: Since you guys got started in the late 70's and this record wasn't released till 1984, you must have been playing together for a while before this was released.
RL: Yeah we had, in fact, we recorded a few tunes on our own label, The Mad Musicians Label, that was what we called it, and they were released on 45.  Mary Mary, Blackbird Special Part 1 & Part 2, and Little Liza Jane were on that one and that was back in the 70's.  I think we had been together for maybe about a year at that point.
LUD: Can you tell me the story of how the band came together?
RL: I don't know if we have that kinda time.  If you talked to everybody in the band, everybody would have a different story to tell about how they got started in the band.  For me, I used to play with Fats Domino, in The Fats Domino Band and I was out in California for a while and had just come back to New Orleans and met a guy named Darryl Adams and he asked if me if I wanted to do a second line parade and I said 'why not.'  I had never done nothin' like that before.  I had mostly come up playing rhythm and blues and rock-n-roll in clubs, you know.  So I did the gig and I met Charles Joseph and he had been doing gigs with The Original Sixth Ward Dirty Dozen Brass Band which was under the leadership of Benny Jones who also had the Treme Brass Band.  The Original Sixth Ward Dirty Dozen Brass Band was Kirk Joseph, Charles Joseph, Andrew Greene, Benny Jones, a guy by the name of Cyril Syban, and myself.
At that time, since Fats was taking a vacation, I decided to go take some music classes at Southern University and one of the guys who was there at that time was Charles Joseph, bear in mind that we had been playing gigs with Benny Jones Original Sixth Ward Dirty Dozen Brass Band, but we always wanted to find a gig playing together full time so he and I were having a conversation one day and he said, 'you know what, we oughta try and organize a band.'  You know, try to get some cats to start rehearsing and start to organize some music.  So Charles, he knew Gregory Davis, he also knew Kevin Harris who lived down the street from him and his little brother was just coming out of high school, Kirk Joseph, and Benny Jones of course and we started rehearsing at his father's house.  As the band started taking shape Benny Jones was in with all the Social and Pleasure Clubs around town so we started playing all these functions and what not and people started calling us the Dozen, and then they started calling us the Dirty Dozen.  So before we had a chance to change the name of the band, we wound up with the name The Dirty Dozen Brass Band.  So that's how this particular chapter of The Dirty Dozen took shape but before that it was The Original Sixth Ward Dirty Dozen Brass Band.
LUD: In the 25 years that the band has been around, you've managed to maintain a relatively stable core group while a couple of guys like Big Sam, Jamie McLean and others have come and gone.  What's the secret that has kept the Dirty Dozen going for so long?
RL: We've been together for so long that we are like family.  We get along to not get along, you know.  Maybe that's the secret.  We've got five of the original guys in the band.  We've got Kirk Joseph, Gregory Davis, Efrem Towns, Kevin Harris and myself and along with that we've got Jamal Watson on drums with us now, and Jake Eckert on guitar.
LUD: You guys have been featured at least once on the HBO series Treme.  What do you think the show is doing for New Orleans?
RL: I think it's giving New Orleans musicians a lot of exposure, but not only that, I think it's good for the city because people get an idea of how New Orleans is.  I think it's bringing a lot of attention to the city of New Orleans.  I think it's a good show.  There has never been a series about New Orleans in the history of the city.  People talk about it and people write book about it, but there has never been a television show about the city.
LUD: Do you think it accurately represents what's been going on down there for the last 5 or 6 years.
RL: Pretty much so, there is probably a little more to it than they are showing but as far as what the music scene in New Orleans is like now it's pretty close.  There is a lot of stuff going on in New Orleans musically, like you got cats that play around here and are good musicians but never get the exposure for whatever reason.  Those guys represent New Orleans music too.
LUD: I know that season 2 just wrapped up a week and a half ago, but it sounds like it has been renewed for a third season.
RL: Yeah they are getting ready to do another season so that tells you a lot doesn't it.  People are enjoying it and it's just so different.  There isn't anything else like it on TV right now.  You have a lot of local people that aren't even actors, just real musicians, who are involved.
LUD: Do you expect that The Dirty Dozen will be involved with the show moving forward?  Is it something you want to do again?
RL: We work so much that it's kinda hard, but I was talking to one of the producers . . . the last thing we did with Treme was us and Galactic with the rapper Juvinile in the second season.  In the first season I think they used a few of our songs but we weren't actually in it.  I think Galactic played our music, so we were represented in that season musically which was cool, but we have never done a scene with just The Dirty Dozen.  In season three I think we might get an opportunity to maybe have some speaking parts or something.  That's what one of the guys was talking to me about, but we'll see.
LUD: That's great exposure for you guys, it's great to see that happening.
RL: Not only for us but for all the cats around town.  Just about all the musicians in the city have, at one time or another, been in the show.  Everybody, just about everybody, have been in there except Fats Domino.  Fats has a little bit of Alzheimer's so I don't know if he could perform, they might have to use some clips or something, I don't know.  That's why he isn't performing, he can't remember the lyrics to his songs.
LUD: That's sad to hear.
RL: Yep, I guess it's one of them things.
LUD: Are you still in touch with him?
RL: Yeah, I call him every now and then.  In fact, I've got to go see him.  I'll try to go see him next week and see how he's doing.  I joined that band in 1971 and I played with Fats all the way up until 2000 off and on.  Whenever I wasn't working and he had a gig he would call me to come play because he likes the way I play.  Fats is great man, I got my first international experience playing music with Fats Domino.
LUD: The Dirty Dozen hasn't released a studio album since your take on Marvin Gaye's What's Going On back in 2006.  Do you have any plans for another studio record?
RL: We are working on some material right now, we are trying to something out before the year is out.  We've been rehearsing some new material.  I came up with a kind of a Latin type tune, Kirk came up with somethin', Gregory has something he is writing, so we are trying to get a record out before the year is over.
LUD: You guys have any studio time booked or are you just in the writing process now?
RL: Well, we are in the writing process right now and one of the guys in the band has a recording studio.  We've been working so much it's kinda hard.  We'll think we've got time and then before you know it here comes a whole list of gigs.  We've got to go to Brazil, we've got to go to Australia, then Japan.
LUD: You get to visit a lot of interesting places in this job.
RL: It's a wonderful thing.  When I was a kid everybody had encyclopedias in their house and I used to look at the pictures and read about all these different places all over the world.  When I joined Fats Domino's band I was in London and I'll never forget; I looked out my hotel window and there was Big Ben right across the way.  I was like 'wow, I feel like I'm in the book now.'  It's a blessing to be able to do what you love and go all these beautiful places and get paid for it.  It's a blessing man.  By the grace of God we are going to try to keep it going and try to bring some good for people – mind, body and soul.

Music has always been a part of my life. It probably all started listening to old Grateful Dead, Peter Paul & Mary, and Simon & Garfunkel records that my parents had, but it wasn't long before they were taking me to concerts like Starship, Crosby, Stills & Nash, and Huey Lewis & The News. I got the bug to write about music after reviewing an Eric Clapton concert for a creative writing project in high school but didn't really take it up seriously until 2002. Since then I have published countless articles in The Marquee Magazine and done some work for Jambase.com, SPIN Magazine, and various other outlets. I started Listen Up Denver! as a way to share the music information that is constantly spilling out of my head with people who care. Please enjoy!