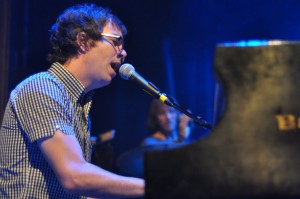 All Photos by Tim Dwenger
The Scene: After the deafening pummeling that my house took during the raging hail storm that tore through Denver on Wednesday evening, the thought of an evening of intelligent, quirky piano pop was really inviting.  As we walked up to The Ogden, there was a modest crowd outside catching up with friends, grabbing a smoke, and waiting in line to pick up tickets.  Given Folds sound, I was honestly surprised at how varied the faces in the crowd were.  There were people in their 40's and 50's rubbing shoulders with teenagers, there were guys with face tattoos in the bar line right behind the preppiest of 20 somethings, and there frat boys with their girlfriends standing right next to a male couple who had their hands in each others back pockets.  Though I've been a fan of Folds' for a long time, it's was really great to see that his unique sound truly appeals to all walks of life.
Opener: Kenton Chen. Though I only caught two songs of his 30 minute set, I was interested in enough in what I heard to wish I had arrived at the theatre a little bit earlier.  His strong voice and casual between song banter gave the sense that he was a seasoned veteran on the concert scene despite his youthful appearance.  I will say that I felt that his performance was a bit lacking since he utilized recordings to back him during the two songs I heard.  While his silky jazz-pop vocals were performed live, it sounded like he had pre-recorded himself singing the background parts.  While it's not necessarily easy, artists like Martin Sexton, Keller Williams and countless others make great use of samplineg gear to record themselves and then loop their own vocals and instruments to create similar backing tracks on the fly that they then sing or play on top of.  I think Chen could take advantage of similar equipment to really crank his stage show up a notch and wow audiences.  As it is, I think he comes off a bit like a like a very talented Karaoke artist.
Ben Folds: Just a few minutes after 9pm a slow clap began to take hold of the audience and it gradually built in intensity and volume until the entire room exploded in cheers.  As if on cue, as the cheering died away, the lights went down and Folds and the band emerged from back stage.  Folds waved to the crowd and took it all in for a moment before sitting down behind the piano and leading the band into the hilariously funny, political satire, "Levi Johnston's Blues."  The laughs we all got at the expense of Sarah Palin's daughter and her now ex-boyfriend, set the tone for an evening of tongue in cheek humor, poignant ballads, and some seriously bad ass piano playing.
Throughout his more than two hour set, Folds played 25 songs drawing on all parts of his vast catalog.  He touched on several tunes from his phenomenal 2005 LP Songs For Silverman including "Sentimental Guy," "You To Thank," and "Bastard" and even went all the way back to the days when he was the frontman for the ironically named trio Ben Folds Five.
The first of several highlights of the evening came about five songs in when Folds related the story of how he and his band chose what song to cover on this tour.  After debating long and hard they agreed to open iTunes and learn the song that was number one the iTunes charts at that moment.  The song turned out to be Ke$ha's "Sleazy" and damn if Folds and his band didn't put together an awesome version of the song (see them recording it here).  Midway through the tune, Folds pushed back his stool and came out to the lip of the stage for some white boy rapping that really got the crowd energized.  The cover was loaded with quirk and was everything that we all have come to expect from Folds.  In short, it was the perfect cover for this band.
A little later in the set Folds told the story behind the song "Effington" that was featured on his Way To Normal album and after all five members of the group nailed some stunning 5 part harmony on the tracks opening line, he went to break a piano string during a solo.  I'm not sure I've ever seen a rock piano player break a string during a show, but with the way he bangs on the keys, I guess it's bound to happen from time to time.
Early on in the evening a fan in the front row had slid a "Choose A Request" poster up on stage, that featured 6 song titles covered with Post-Its, in hopes that Folds would pull one of the Post-Its off and play the song hidden beneath it.  When he finally did pick up the poster, as you might expect, Folds promptly took off all the Post-Its and went on to choose, not one, but two of the songs to play.  The first, "Rock This Bitch," is a largely improvised song that Folds has been doing for years at his live shows.  The beauty of the song is that he makes up new lyrics just about every time he plays it.  At The Ogden, the song featured a passage about the green room being infested with mold, some references to spelunking, and a meandering tale of taking a shit in the woods and loosing his glasses before a show in Saratoga, NY way back in the early days of Ben Folds Five.  He had all of us in stitches as the song stretched out and got funnier and funnier.
After he finally wrapped up "Rock This Bitch" the band left the stage leaving Folds alone for a four song set that included "Picture Window" from Lonely Avenue, his mega hit abortion ballad "Brick," "The Luckiest" from Rockin' The Suburbs, and "One Down (3.6 To Go)," a darkly funny song that talks about how hard it is to write songs on deadline for a publishing company.
While the band really helped to flesh out the songs during much of the set, the songs that Folds chose to play solo were a refreshing break in the middle of the show and clearly demonstrated that he has been around the block a time or two and has a developed a knack for pacing a set so the audience stays interested from beginning to end.
As the evening wound down, Folds found time to give us two versions of "The Bitch Went Nuts."  The first, a version of the song that was released on a fake leak of the album Way To Normal, told the story of a liberal girl who did some coke at a conservative office party and started spouting all sorts of left wing rhetoric much to the dismay of the narrator, while the second was the actual album version.  Now, I'm not sure if it was the because they were played back to back, but I've got to say that I really prefer the fake version of the song.  The hooky groove and chorus are  instantly danceable and the album version really just pales in comparison.
Folds wrapped the set up with "Army" from the Ben Folds Five album The Unauthorized Biography of Reinhold Messner. Before the song he explained that he was going to have us all sing the horn parts and went to instruct us in how, and when, to sing.  The result was a high energy version of the song that got everyone in the room involved.  It was an ingenious way to end a spectacular set.
After a brief encore break the band re-emerged for a raucous take on "Philosophy" that featured a raging piano solo that conjured up images of Little Richard in his heyday and ended up with Folds breaking yet another string.  After waving off his roadies who moved quickly to replace the string, the band closed the show with "Not The Same" from Rockin' The Suburbs.  While were in the shadow of downtown Denver, and not in the suburbs at all, when we walked out into the cool night air, Folds and his band had indeed rocked us with an incredible night of music that lived up to everything I was hoping for.
Energy: B+
Sound: B
Musicianship: A
Stage Presence: A
Set/Light Show: B
Overall: A-
Music has always been a part of my life. It probably all started listening to old Grateful Dead, Peter Paul & Mary, and Simon & Garfunkel records that my parents had, but it wasn't long before they were taking me to concerts like Starship, Crosby, Stills & Nash, and Huey Lewis & The News. I got the bug to write about music after reviewing an Eric Clapton concert for a creative writing project in high school but didn't really take it up seriously until 2002. Since then I have published countless articles in The Marquee Magazine and done some work for Jambase.com, SPIN Magazine, and various other outlets. I started Listen Up Denver! as a way to share the music information that is constantly spilling out of my head with people who care. Please enjoy!