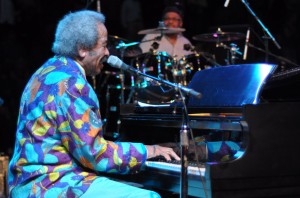 All Photos By Tim Dwenger
The Scene: There really isn't any other way to say it:  It was a fickle night at The Gardens.  The day started out hot and beautiful as we sat in line and chatted with our neighbors, but soon after Buckwheat Zydeco started the heavens opened, and closed, and opened again.  It was like that for most of the night.  We would put up our umbrellas and pull in our feet and then minutes later, the sun would come out and we'd be enjoying a nice summer evening.  This was the case all night.  Wet, dry, wet, dry, etc.  I guess what it comes down to it; that's Colorado in the summer.  At least we are getting some rain this year!
Buckwheat Zydeco: This New Orleans throwdown opened up with the legendary Buckwheat Zydeco tearing into one of his signature numbers "Hard To Stop."  From there he was indeed hard to stop as he got the audience involved in a "Who Dat" chant and name checked his beloved New Orleans Saints.  Buckwheat switched off between his Accordion and the Hammond organ throughout his brief set and he really seemed to enjoy every minute.  Though it seemed he had just gotten started, he closed the set with the title track of his 2005 release Jackpot!, and he got each and every one of us thinking that we have stuck the jackpot with the line-up that was in front of us tonight if Buckwheat was only the opener!
Dirty Dozen Brass Band: Another legendary New Orleans institution, the Dirty Dozen Brass Band, took the stage next as the crowd endured another downpour between sips of wine.  The Dozen brought out the brass and got the crowd going as Kirk Joseph's Sousaphone chugged away on the low end.  They hit on some classic R&B tunes with LTD's "We Party Hearty" and The Temptations "Papa Was A Rollin' Stone" before they ran through their classic "My Feet Can't Fail Me Now."  They closed out the evening with a New Orleans staple, "When The Saints Go Marchin' In," to the delight of a crowd that was definitely in the mood to hear some highlights of the New Orleans cannon.
Allen Toussaint: While Buckwheat and The Dozen set the stage admirably for the legend, Allen Toussaint blew them both out of the water.  He came running out on stage in a technicolor dreamcoat just as the sun sank below the mountains and opened his set with "Party Going On," a very appropriate song for the an evening where wine was being consumed by the bottle, and there were a few handles of vodka being passed around.
From there, Toussaint kept the crowd on their feet with a smokin' rendition of his own "Sneaking Sally Through The Alley," a song that Robert Palmer recorded and released on his debut album way back in 1974.  Toussaint continued to school the audience on his material as he busted out "A Certain Girl" and "Workin' In A Coal Mine," before taking the party back to New Orleans with the standard "St. James Infirmary."  Throughout his set, Toussaint demonstrated some incredible chops as he illustrated why he is known as one of the legends of New Orleans piano.
Toussaint closed his set with a pair of very well known tunes; one that he wrote, and one that Steve Goodman wrote.  The first, "The City of New Orleans," was written by Goodman back in 1972 and was made famous by Arlo Guthrie, and the sets closer, "Southern Nights" was a song that Toussaint himself wrote in 1975 and became well known when Glen Campbell released a cover of it in 1977.
Allen Toussaint is a true legend of not only New Orleans music, but of popular music period.  He has written and arranged countless hits throughout his career for names like The Band, Elvis Costello, Paul McCartney and Eric Clapton.  It was a treat to see him perform in the intimate confines of The Gardens, even if the rain tamed the party a bit.
Energy: B
Sound: B
Musicianship: A
Stage Presence: B+
Set/Light Show: C
Overall: B+
Music has always been a part of my life. It probably all started listening to old Grateful Dead, Peter Paul & Mary, and Simon & Garfunkel records that my parents had, but it wasn't long before they were taking me to concerts like Starship, Crosby, Stills & Nash, and Huey Lewis & The News. I got the bug to write about music after reviewing an Eric Clapton concert for a creative writing project in high school but didn't really take it up seriously until 2002. Since then I have published countless articles in The Marquee Magazine and done some work for Jambase.com, SPIN Magazine, and various other outlets. I started Listen Up Denver! as a way to share the music information that is constantly spilling out of my head with people who care. Please enjoy!