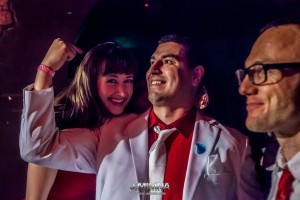 Photo by Jim Mimna
Why You Should Go: J2G Live presents The Love Shack at Cervantes' Masterpiece Ballroom! From the people who brought you The Dance Party Time Machine comes The Love Shack. Join us at Cervantes' Masterpiece Ballroom on Friday Feb. 13th for a Valentine's Day dance party featuring some of Colorado's finest musicians. Come get down and see some of Colorado's best come together to bust out the songs that make you FEEL THE LOVE. Love Shack will feature Dominic Lali & Jeremy Salken of Big Gigantic; Aron Magner & Allen Aucoin of The Disco Biscuits; Dave Watts, Ryan Jalbert & Gabe Mervine from The Motet; Bridget Law from Elephant Revival; David Murphy from Seven Arrows and DJ Russo. Along with local luminaries from Euphorquestra, Yamn, Fox Street, The Congress, Kinetix, and Tiger Party. Show some love Colorado and do not miss this show!
Venue: Cervantes' Ballroom, 2635 Welton Street, Denver, CO 80205 – 303/297-1772
Doors: 8:00 pm. Show @ 9:00 pm.
*Price: $23 Adv. $28 DoS. Purchase Tickets
*All prices are gathered from other sources and we are not responsible for mistakes or inconsistencies. They are intended only as guidelines. Please, always call the venue if you desire the most accurate information possible.
Nate Todd was born on the central plains of Nebraska, but grew up on the high plains of the Texas panhandle. With not much to do in either place, music was his constant companion. His parents dubbed the first two albums he ever owned onto a tape for him. Side A was Bert and Ernie's Sing Along. Side B was Sgt. Peppers. His lifelong love affair with music started early as he practically grew up in a Rock & Roll band, with his father and uncle often taking him out on the road or into the studio with them. Nate began performing live at sixteen and hasn't looked back, having played in numerous bands from L.A. to Austin. At the age of twenty he was bitten by the writing bug, and upon moving to Denver decided to pursue a degree from Metropolitan State University where he recently graduated with a B.A. in English and a minor in Cinema Studies.