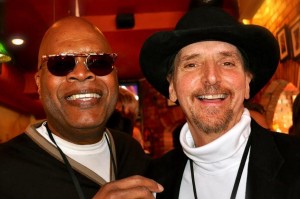 When a fresh, exciting band called Freddi Henchi and the Soulsetters — fronted by the captivating Freddy "Freddi" Gowdy and Marvin "Henchi" Graves — came to Colorado in the early 1970s, folks were blown away by the sights and sounds they brought with them.  Especially captivated was a young musician named Chris Daniels who, at the time, was playing in a hippie band called Magic Music. Daniels remembers getting goose bumps when he first heard Gowdy sing and so was born a lasting friendship that would also mark in earnest the beginning of the R&B scene here in Colorado. It wasn't an easy road for R&B music, or for these remarkable musicians who fought courageous battles with various cancers. While Graves was sadly overcome by the disease in 2009, Gowdy and Daniels won their battles and so did R&B. In recent years Gowdy has found a new home in Daniels' band and on the eve of releasing a new album with Chris Daniels and The Kings that they compare to  Sam & Dave with a Sly and the Family Stone feel, these mainstays of the Colorado scene are set to shower their fans with love once again at their album release at Herman's Hideaway on Valentine's Day. Listen Up Denver! was fortunate enough to catch up with these two legends as they laid down the story of R&B and Funk in Colorado.
"I met Freddi at the Good Earth up in Boulder when they were sort of the house band. I was playing with Magic Music, which was an all hippie band, kind of a cross between Crosby, Stills, and Nash and a British band called Tintagel. We were all long haired, flannel shirts, the whole thing," Daniels fondly remembered of the first time he met Gowdy. "We would come in and our whole audience would sit down and get blissed out. Then Freddi and Henchi would jump up on stage in their gold suits and all of our blissed out people would jump up and get the soul shakes." Daniels finished recounting his story amidst laughs from his old friend Gowdy but not before adding, "when Freddi-Henchi came to Colorado there wasn't a great Funk thing going on. They were really the first. They need to be in the Colorado Music Hall of Fame because they really brought that here." This fortuitous meeting was no doubt a big influence on Daniels as he would go on to form the successful horn group Chris Daniels and the Kings who toured nationally and internationally and were staples at festivals like Telluride Bluegrass alongside acts like Newgrass Revival.
The Freddi-Henchi Band, as they would come to be known in Colorado, got their start as Freddi-Henchi and the Soulsetters in Phoenix, Arizona in the mid sixties. Quickly dubbed "The Crown Princes of Funk," the band moved to L.A. where they signed various contracts with record labels finally landing a big deal with Warner/Reprise who released their seminal album appropriately titled Dance. With a successful album and numerous singles like "Funky To The Bone" under their belt, the Soulsetters hit the college circuit where their legend grew as the funkiest band west of the Mississippi. Looking to expand their musical horizons Freddi and Henchi moved to Colorado where their sound was something completely new. "Freddi-Henchi Band and The Soulsetters were all from Arizona and we listened to all types of music when we were down there. So when we came to Colorado we were a totally different band than anybody had ever seen here," said Gowdy. Splitting their time between California and Colorado Freddi-Henchi finally made their home here playing gigs at local clubs like Boulder's Good Earth but also opening for bands and artists like James Brown, Steely Dan, Elton John, and Tina Turner. After settling in Colorado Freddi-Henchi Band decided to make another record. "We did a record at Caribou Ranch and were very honored to do it. Jeff Guercio produced that record and I still have it, as a matter of fact I listened to it the other day," Gowdy admitted.  "I think we were one of three R&B bands that ever recorded at Caribou. Earth, Wind, and Fire did it, we did, and there was another band that did it up there. They didn't really do much R&B up at Caribou but we loved it up there." When we asked Gowdy what it was like to work at Caribou he answered with one word: "Paradise." It was around this time that Gowdy and Daniels' paths would cross again and would continue to do so, in sickness and in health.
In the 1980s when Chris Daniels and the Kings were getting fired up they often traded rooms with The Freddi-Henchi Band. "We used to be booked by the same agent," remembered Daniels. "Back in the day when there were like 12 or 13 clubs from Vail to Fort Collins, you played six nights a week with one band. We used to chase each other around (laughs). They'd play one night and we'd play the next." Both bands continued to gig throughout the nineties and the two friends were busy with their respective projects. But around 2000 Gowdy underwent treatment for colon cancer and had to take a break from music. Another shock came when Henchi Graves passed away in 2009 to be followed closely by another blow. "When Henchi passed, I was at his funeral and Freddi and I talked a little bit. I didn't know it at the time but I was real sick. I was diagnosed with leukemia and went through a whole big battle. When I came out of going through that I saw Freddi at a Colorado Music Hall of Fame thing and I asked him what he was doing and he said 'nothing' and I said 'no, no, no, you're going back to work' [laughter]. So we've been playing pretty much steady since 2012. When I got healthy enough to start playing again he (Freddi) became a King, but I like to look at it as our band becoming Soulsetters." The fact that the two old friends both beat cancer has brought them even closer together and it is palpable in their interactions. "What a nice compliment!" Gowdy replied to Daniel's statement about becoming Soulsetters. "Chris and I have something very much in common. We wake up with a smile on our face and we try to face the day upbeat through our music. When you're lying on a bed for hours upon hours everything flashes back," Gowdy said.  "I wish I could have done that; I had a chance to do that and I didn't do that; or I wish I could have done this and that. Then, when you get a second chance, you got to go with it…and enjoy life." To which Daniels simply replied "Amen."
The pair's newfound zeal for life is evident on their new album Funky To The Bone (an homage to the classic Soulsetters single). Gowdy and Daniels wrote a song together called "Survivors" and one of the album's other tracks is simply, and appropriately, titled "Joy."  For the most part the album is pure old school R&B and Funk. "We got together and we talked about it and we worked out the tunes. We put a lot of powerful stuff on the tunes and it's bangin'," raved Gowdy. "It's old R&B, Funk, a little jazzy and we're really proud of it." Daniels describes Funky To The Bone  as Sam and Dave meets Tower of Power with some Sly and the Family Stone thrown in. "Freddi's the pretty one. I just sit in the back," Chris explained about the duo's Sam and Dave format. Gowdy expanded on the Sam and Dave aspect a bit more. "That was a concept Chris thought of, he and I singing harmonies and singing off of each other, matching each other. It worked out really fine and we had fun doing it." The two old friends continued to riff off each other as Chris extrapolated. "The idea was to bring that vibe of Sly and the Family Stone, which is really that big party feel, together with the big horn sound that the Kings have always had. Then Freddi had such great tunes that he wrote with The Freddi-Henchi Band; I just wanted to tap into that aquifer of soul music and then add the horns to it." But they added a lot more than that.
Funky To The Bone boasts quite the guest list of local and national talent and Daniels broke down the selection process. "For the back up singers that was easy. Hazel, Coco, and Carl sing together all the time. And I said, 'oh man, that's who I gotta have.'" Daniels is of course speaking of Hazel Miller who is a legend in her own right and whose band will be opening up the CD release party. Chris also brought in another heavy hitter for the piano and B3 work. "Bill Payne (Little Feat, Leftover Salmon) has been a longtime friend. He produced a record that I did back in '94 and we worked together on a project called Magic Music all of last year. So I just called him and said, 'hey man, you wanna' come down and play on this one?' He came in and we planned to have him two days in the studio. He banged out all ten tunes in one day! One of them was a first take. He's just monstrous." Gowdy could be heard laughing in the background before adding, "see, that's the thing with Chris; all he has to do is ask. He's so respected in Colorado that most of these musicians just jump aboard. All he has to do is ask and they come along." They certainly did come along. But we wondered in the wake of this new album where Freddi and Chris see the R&B scene today?
With Funky To The Bone, Daniels and Gowdy present R&B and Funk in the way that it was intended to be heard. "You don't really hear live Funk, R&B music anymore," explained Gowdy. "Everything is computerized and digitalized. You really don't hear that deep bass, trashy drum sound anymore. That's what we're trying to capture." While he may be right, there has been a new interest in using analog instruments and recording on tape that has found a home here in many Colorado studios. The newfound re-popularity of vinyl is also a testament to this. While Funky To The Bone will be released on vinyl it may take fans a few weeks to get their hands on a copy. "The CD will be out on Valentine's Day but because of the huge resurgence in vinyl all of the pressing plants are backed up 12 weeks and beyond," Daniels explained. "But we're working with a really cool plant out in California and we should have vinyl by mid March. So we'll have it all summer long and we're doing a Kickstarter  right now to support that." (Click HERE to support the Kickstarter). Whether on CD or vinyl, both Daniels and Gowdy are pleased with the way the album turned out. "I think we did the best we could on this," Freddi explains. "We didn't do different things or try to sound plastic. We did the best we could and we're blessed that it turned out really well. I'm proud of it." But Daniels had a slightly different goal in mind. "When I went into producing this record I really had a vision of having a recording that sounded as good as modern technology could make stuff sound and that captured Freddi's voice. When I first heard Freddi's voice I got those goose bump things you get when you hear really good stuff. I really wanted to capture that…and this record did." But Freddi and Chris's legacy goes far beyond this album.
There has also been a resurgence of old school R&B that has taken place across the pond in the UK with bands like The New Mastersounds who are once again reinterpreting American music and bringing it back to us fresh in a continuous feedback loop that is nearly 60 years old. It is no coincidence that The Mastersounds have made Colorado their home away from home, playing and recording frequently here. In many ways we owe this bumper crop of Funk and R&B to Freddi & Henchi and their migration to Colorado all those years ago, and to guys like Daniels who have kept R&B and Funk alive in our fair state. We tip our hats to you guys.
If you want to see the real thing in the flesh, be sure and boogie on down to Herman's on Valentine's Day. And like Chris says, "Bring your baby."
CHRIS DANIELS & THE KINGS w/ FREDDI GOWDY
Album Release Party for: Funky To The Bone
Herman's Hideaway
Saturday, February 14th
Tickets: $10
PURCHASE HERE
Nate Todd was born on the central plains of Nebraska, but grew up on the high plains of the Texas panhandle. With not much to do in either place, music was his constant companion. His parents dubbed the first two albums he ever owned onto a tape for him. Side A was Bert and Ernie's Sing Along. Side B was Sgt. Peppers. His lifelong love affair with music started early as he practically grew up in a Rock & Roll band, with his father and uncle often taking him out on the road or into the studio with them. Nate began performing live at sixteen and hasn't looked back, having played in numerous bands from L.A. to Austin. At the age of twenty he was bitten by the writing bug, and upon moving to Denver decided to pursue a degree from Metropolitan State University where he recently graduated with a B.A. in English and a minor in Cinema Studies.