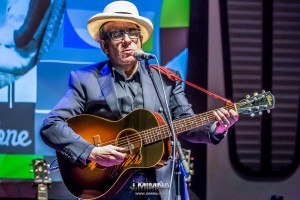 Photos by Jim Mimna
The Scene: People of all ages filed into the sold-out Boulder Theater on a frigid Sunday night to see Elvis Costello on the first stop on "Detour", his 2015 solo tour.  The variety of people represented in the audience reflected not only Costello's undisputed legacy and longevity, but also his status as a cultural icon.  For many, Costello is a touchstone through which memories and relationships can be explained and returned to once again. It's easy to recognize this through just talking with a fan.  The woman sitting next to me had become a fan through meeting her husband in 1981.  Dating back to their children's elementary school era, Costello and his concerts became part of their family culture (along with Bruce Springsteen).  In fact, her husband had run home from the hospital to spell check "Alison" before naming their baby daughter.  Now, tradition dictated that the family reunite once again, even if that meant flying in from different parts of the country during a snowstorm. Clearly, this was a family affair.
Opener: Larkin Poe. This may be expected on a Costello tour, but the sentiment was literally true through the opening sister act of Larkin Poe.  Opening for Costello on a number of tour dates, the two sisters from Atlanta, Georgia introduced their own brand of hip Southern Rock and Blues, with the younger Rebecca Lovell on lead vocals and mandolin and Megan Lovell on slide guitar.  Without a drummer or other backing instruments, their sound had a sort of hollow, Gothic tinge to it, which reminded me aesthetically of later Black Rebel Motorcycle Club, but with more of a true roots rock sound.  (As it turns out, the band is named after their great-great-great-great grand father, a relative of Edgar Allan Poe.) Their songs have a frenzied, emotional quality, reflected in Rebecca Lovell's voice as it echoed off the walls of during "Mad as a Hatter". In matching off-white blazers and black boots, the sisters stomped, hit big notes, and  energized the audience into a standing ovation by the end of their set, which included a cover of Nancy Sinatra's "Bang Bang (he shot me down)".
Elvis Costello: Costello, dressed in an all black three piece suit and white hat, was also in a familial kind of mood.  Coming out to a stage set up of seven guitars, a grand piano, a keyboard, a bullhorn, and a giant replica of a old school CRT television, Costello went onto play an epic, just under 30 song set.  Along the way, he periodically referenced pictures of his father, also a musician, his mother, and his grandfather that appeared on the television, charming the crowd with stories of times he played with his father's band and his father performing "If I Had a Hammer" on the 1963 Royal Variety Performance broadcast.  Similarly, the fully historical catalog of Costello was on display, from his acoustic version of "(The Angels Wanna Wear) My Red Shoes" from his classic debut, My Aim Is True, to presenting new material, a song with Burt Bacharach about "a girl who takes up with wicked men", to charming the crowd with performing comically dark "Walkin' My Baby Back Home" under a prop street light.
As Costello is well into his fifth decade playing and creating music, he has an enviable zen quality to his performance, alternating between a gentle strum by thumb to striking a pose for emphasis as needed, with an occasional tip of the hat to acknowledge the crowd.  But his self-assurance shouldn't be mistaken for complacency.  Proceeding with two encores, he reunited with Larkin Poe for several songs, including Larkin Poe singing "Six Months of Kansas City" while Costello riffed and sang his familiar piercing "ooohhhs."  For his second encore, Costello reappeared inside the giant television itself and thrilled the crowd by doing stripped down versions of "Pump it Up," "Alison," and "(What's So Funny 'Bout) Peace, Love, and Understanding."  Hearing the depth and breadth of Costello's music was experiencing a musical history that Costello continues to add to.
Energy: A+
Musicianship: A+
Sound: A
Stage Presence: A
Set/Light Show: A
Overall: A+
Patty is a Washington State native that was lured to Colorado by the sun and the mountains. When not listening to music, there is a pretty good chance she can be found eating ice cream.