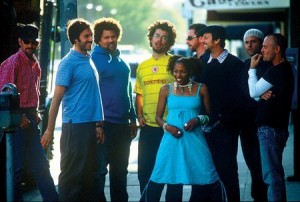 Why You Should Go: Los Angeles based band Orgone is many souls with a cosmic connection, a natural creative force and musicians who have played together for years. They are self schooled and continue to shape their musical voice as a solid unit of guys who hang, spin records and jam out their shared inspirations. With a rooted sense of funk, soul, afrobeat, deep rhythms and an intimate understanding of dj culture as well as each others' individual talents, Orgone seamlessly slides through multiple styles and dynamic performances. The group continuously injects whatever they play with a heavy brand of raw funk power.
Hailing from the Washington DC area, the Empresarios are adept at mixing diverse cultures and sounds together. This five man collective led by Javier Miranda (Vocals, Congas, Producer) alongside John Bowen (Video DJ, Producer), Paul Chaconas (Guitar, Bass, Keys, Producer, Engineer), Sonny Cheeba (Brazilian/Latin DJ, Producer) and Sammy Arsam Khosh (House DJ, Producer) bring their own personal style to every track. There is no shortage of creativity among these talented musicians and DJs and their influences, from downtempo, dub, Latin, house, trip-hop and reggaeton can all be heard in their definitive, eclectic sound.
The Funk Ark is a world funk ensemble based in Washington, DC.  The group draws on influences from the African and Latin funk/dance music scenes of the 1960's and 70's and the result is a gritty and soulful mix of inspired afrobeat and big band funk.
Venue:
Cervantes Other Side, 2635 Welton Street, Denver, CO 80205 – 303/297-1772
Doors:
8:00 PM
*Price:
ADV – $12.50
Buy Tix
*All times and prices are gathered from other sources and I am not responsible for mistakes or inconsistencies. They are intended only as guidelines. Please, always call the venue if you desire the most accurate information possible.

Music has always been a part of my life. It probably all started listening to old Grateful Dead, Peter Paul & Mary, and Simon & Garfunkel records that my parents had, but it wasn't long before they were taking me to concerts like Starship, Crosby, Stills & Nash, and Huey Lewis & The News. I got the bug to write about music after reviewing an Eric Clapton concert for a creative writing project in high school but didn't really take it up seriously until 2002. Since then I have published countless articles in The Marquee Magazine and done some work for Jambase.com, SPIN Magazine, and various other outlets. I started Listen Up Denver! as a way to share the music information that is constantly spilling out of my head with people who care. Please enjoy!