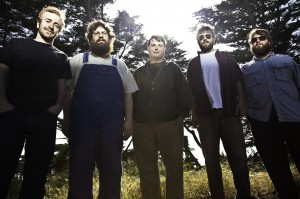 The Scene: On Friday, a very joyful group of bluegrass fans, young and old, filled a sold-out Mishawaka Amphitheatre for a night of Americana and Bluegrass featuring Musketeer Gripweed and Trampled By Turtles. Entering the Mish around sunset, there was already a healthy crowd buzzing around the stage and river. It was interesting mixture of young adults, older music fans and even a few small children.
After ten straight days of rain In Fort Collins it was a welcome relief to see clear skies and a full moon just in time for the ho-down. Since my last visit here for Leftover Salmon in June, the river had receded significantly, allowing people to drink and converse on the rocks below the stage. How often do you say river and stage in the same sentence? There's a certain unexplainable happiness that's fills you when you step inside the hallowed grounds of Mishawaka and tonight was no different. As I roamed the crowd, I found that people were here for three reasons: One, they love the Mish so much that the music becomes almost secondary. Second, they were rabid Trampled fans dedicated to their distinctive brand of Bluegrass and third, where I fit in, they were avid bluegrass fans who hadn't experienced a live TBT show. I was told by numerous people in the crowd that Trampled was far and away the best live bluegrass band out there right now so I picked a spot near the front right of the stage and posted up with the still raging Poudre River behind me. Let the Mishawaka traditions continue!
Opener: Musketeer Gripweed. Describing themselves as American Revival Stomp Ass, Shake Holla! Musketeer Gripweed threw an opening party that set a raucous tone for the rest of the evening.
Fully bearded lead singer, Jason Downing immediately evoked comparisons to Reverend Peyton with his all out style and boogie shaking lyrics. They opened by proclaiming loudly, "The rich man is a slave to me" which they turned in a rousing rhythm that got the whole crowd excited and wanting more.
With the amazing amount of instruments on stage, you could tell Musketeer Gripweed came to impress the Mishawaka Crowd. It sounded like a new breed of stomp-grass, which people around the music world will quickly embrace. At times the sound was bit scattered and you could tell they are still coming together as a band, but the talent level on stage will be enough to propel them to the next level. They even let the crowd know that their name doesn't require a PHD to decipher. As lead singer Jason put it, "I'm a musketeer and I grip weed." What a way to start the show.
Trampled By Turtles: After a lengthy set break, Trampled took the stage to a packed crowd. There was a loud roar as the first fiddle note rang out in the canyon and it quickly progressed into an all out jam. From there the show was pure bliss. Trampled ran through favorites from their recent record, Palomino, always managing to turn the ends of the songs into wicked bluegrass jams. I realized pretty quickly that these guys were incredible instrumentalists, bass, fiddle and banjo all worked together in incredible harmony. Of course you could say most Bluegrass bands have very talented instrumentalists so what really separates TBT is the way they place beautiful, almost pop like songs, into their sets. These songs always have a bluegrass sound but they have lyrical power that rivals most other Bluegrass bands.As they moved quickly through their set, they played a couple of slower ballads including "Bloodshot eyes" which completely shut down the dancers but mesmerized the crowd.
I took a seat on the deck towards the middle of the set and was able to look down on the audience. It was incredible to watch the crowd as TBT moved through loud and soft moments. One minute they would have the crowd dancing fast and furious, and the next they would be still with their eyes glued to the stage. Trampled is a complete band, they don't always consider themselves bluegrass but that's what makes them great. Many other influences from soul to folk show up in their music and the final product is a hybrid that draws fans from all over the country.
Highlights were the gorgeous bluegrass harmonizer, "Victory," the rousing "Wait So Long" and the ultra fast paced "Sounds like a Movie." A couple interesting moments occurred towards the end of the show as a fighting couple were swiftly ejected from the venue, they both seemed desperate to see the encore because they were actively trying to free themselves from the iron grip of the security guards. TBT recovered after this brief tussle in the crowd and played a three-song encore that elicited one of the loudest roars I've heard from a Mish crowd! I'll definitely be making my way to more Trampled By Turtles shows in the future. Great show, great night. Long live Mishawaka!
Energy: A
Sound: A
Musicianship: A
Stage Presence: A-
Set / Light show: B-
Overall: A

I've worked various positions in the music industry with Madison House, Rock The Earth and Bohemian Nights. My dream is to travel the world and seek out all the good tunes, beer and food that make life so special. I have a healthy obsession with live music and I'm thrilled to share the epic moments with you.