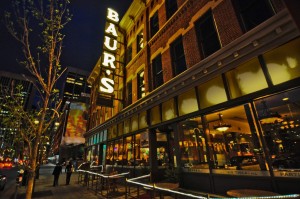 This Sunday a new kind of music venue is opening it's doors in Downtown Denver for the first time.  This isn't another Rock club, concert hall or amphitheater; it's a very special "Listening Lounge" that aims to break the mold of traditional music venues in several ways.  
Baur's Listening Lounge, located in the Baur's Building at 1512 Curtis St, will build on the nearly 150 year history of the building when they officially open for business in April with a full service restaurant and modular performance spaces.  "Baur's as an institution you could categorize as an event center.  The way the space is laid out is quite large and it has several distinct areas.  It has a private salon that seats 100 and is perfect for weddings, then it has a dining area and then the lounge area that spills out into the dining area where we are going to set up the stage for shows," said the building's owner, and the Creative Co-Director and President of Baur's, David Spira during a recent interview with Listen Up Denver!  "We are going to have a really fine PA system.  The one we are testing out for the first two shows is the HK from Germany.  It's super-high fidelity PA system but we are going to use as little amplification as possible to ensure we convey the true nature of the music.  So when we put on a show we aren't just going to ask people to turn off their cell phone, but we'll ask them to not talk and the waiters will be running around in the background.  While it is possible to have service during a performance we prefer that everybody pay attention while the performer is playing.  You can come for dinner, get your drinks, then sit down and enjoy the show."
Beginning in 1891 the O.P. Baur Confectionery Company called the building home for decades. In its heyday, Baur's was a virtual palace of sweets: cases of candy, cakes and other treats, and a soda fountain, all lit by twinkling chandeliers. In the years since the building has been home to a variety of restaurants, and with the opening of the new listening lounge and restaurant Spira hopes to return the building to it's former glory as a fixture in the downtown Denver scene.  "As the institution which Baur's is, and deserves to be in the historic sense, I feel that the music element gives it a sense of purpose.  To combine food and music to me makes it eternal," Spira said.  "We put a lot of effort into finding an operator for the food side that shared that vision and so we're going to re-open as Baur's Restaurant and Listening Lounge with Dory Ford as proprietor."  Ford, a successful chef, restaurateur and businessman from Monterey California, focuses on sustainability and seasonality in his food and is crafting a menu with executive chef Robert Grant that will center on timeless classics.
By blending the classic menu, historic space, and inspired live music, Spira, a self-proclaimed "music consumer" (as opposed to industry insider) has set his sights on creating a unique, consumer-centric performance space that is at once family friendly and inviting to adults out on the town looking for an evening of quality entertainment.  "It will be really good music, people will be on their good behavior . . . that doesn't mean you can't have a drink, but I hope it does mean that kids can see music their parents enjoy and see how adults behave when they are behaving well and enjoying themselves.  I believe it's possible," he said hopefully.  "Kids need learn that there are possibilities out there beyond a rave or a packed general admission show at Bluebird or Fillmore or the other formats they have for college kids and teenagers.  That's not the only way to experience music."  With a schedule of shows heavy on Sunday evenings and matinee's, Spira hopes to draw from the huge pool of Denver music fans who aren't necessarily up for a 2am night at The Ogden or The Larimer Lounge on a weekly basis but still love seeing live music.  
One of the most innovative ideas behind Baur's is the non-profit Music Appreciation Society (M/A/S) that is responsible for the music and other cultural programming that will be central to the experience that Spira is aiming to create.  "The Music Appreciation Society is the exclusive promoter of music events.  We have a board of directors who is made up of several individuals who love music, want to work directly with artists where possible, and support progressive, non-commercial programming.  Acoustic music, Classical, Bluegrass, local, international…it's my belief that the Society should be interactive and the board should listen to what the members want," Spira said.  "We have a similar scheme to Swallow Hill so members will get premium seating up front with no waiting, 10% off at Twist & Shout, invitations to special events like the dinner we are having on Sunday, rehearsals, auditions and sound checks, advance purchase opportunities, benefits at Baur's restaurant and other perks.  You can make a donation per-show, we call that a premium ticket to get the membership benefits for the day of the show, or you can purchase a year long membership.  An individual membership is $100 or a family membership is $150. We are registered as a non-profit and we are filing our 501 C-3 status so we will have that this year and all donations will be tax deductible."  The first goal of the M/A/S is to raise money for the new "People's Piano," a 2001 Model D Steinway Grand Piano which will grace the halls of Baur's Listening Lounge.  "It's a gorgeous instrument, hardly ever used but it's been Colorado for a long time so it's seasoned," said Spira.
This Sunday's performance will feature a very special appearance from New Orleans Piano master Jon Cleary and tickets are still available.  Cleary is a mainstay of the New Orleans music scene who combines soulful vocals, masterful piano skills, and a knack for composing infectious grooves with melodic hooks and sharp lyrics.  "I was looking to establish a benchmark," Spira admitted.  "I have all of Jon's albums and have been listening to him for years.  To demonstrate our capabilities at this pre-opening party I thought Jon was perfect."  This inaugural performance will set a high bar for Baur's but it's a bar that Spira is confident that they can live up to in the coming months and years as they strive to bring a unique listening experience to Denver music fans.
In addition to showcasing the talents of independent artists and nationally recognized names in myriad genres, Baur's will aim to explore the vast wealth of talent that resides right here in Denver.  "There are some incredible international stars living in Denver that rarely play here or that people take for granted," Spira said.  "I recently booked Katie Mahan, an internationally acclaimed classical pianist who plays almost exclusively in Germany.  She lives in Denver and she'll be playing the Steinway on Mother's Day.  We are doing a matinee at 3 o'clock and she is bringing her mom [who she began studying piano with at the age of four] and she and her mom are going to play a duet on the piano in addition to a solo classical recital in the salon."
As Baur's gets rolling in the coming months Spira promises more innovative and groundbreaking performances will appear on the schedule.  Though they are limiting themselves to a handful of performances a month as the concept finds its legs, the quality is sure to be nothing short of superb and the music loving community in this town would be foolish not to embrace such a unique and consumer focused venue with open ears.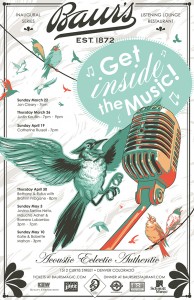 Music has always been a part of my life. It probably all started listening to old Grateful Dead, Peter Paul & Mary, and Simon & Garfunkel records that my parents had, but it wasn't long before they were taking me to concerts like Starship, Crosby, Stills & Nash, and Huey Lewis & The News. I got the bug to write about music after reviewing an Eric Clapton concert for a creative writing project in high school but didn't really take it up seriously until 2002. Since then I have published countless articles in The Marquee Magazine and done some work for Jambase.com, SPIN Magazine, and various other outlets. I started Listen Up Denver! as a way to share the music information that is constantly spilling out of my head with people who care. Please enjoy!