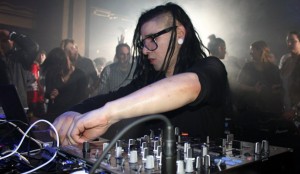 SKRILLEX
w/ Skream & Benga, Nero, 12th Planet, Two Fresh, Nadastrom
Monday October 31st, 2011
1st Bank Center
Tickets: $29.75 – $40.00
On-Sale – Monday 7/25 @ 10am
PURCHASE HERE
"I've been deep into electronic music my entire life. The first records I ever owned were 'Fat of Land' by the Prodigy and 'Come To Daddy' by Aphex Twin," raves Sonny Moore, better known as emerging electronic visionary SKRILLEX. "Marilyn Manson and Nine Inch Nails were also early influences. I've been dabbling in making electronic tracks on programs like Fruity Loops since I was 14 years old."
SKRILLEX is part of a new generation of artists that refuse to be restricted by preconceived notions or outside expectations. "Genre has never been important to me," he insists. "I've never thought about music that way."
Describing his current sound as "a mix of dubstep, electro and glitch all thrown together," new SKRILLEX release "SCARY MONSTERS AND NICE SPRITES" reflects all of the above and beyond. The uplifting post-trance synth melodies of "ALL I ASK OF YOU" (featuring the soaring vocals of Penny) stands in stark contrast to the face-melting electro bass blasts of the massive electro-dubstep hybrid "ROCK N' ROLL (WILL TAKE YOU TO THE MOUNTAIN)."
"I've listened to so much music for so long, it's more about instinct than influence," Moore explains about his sonic inspirations. "Coming up, I was into a lot of artists on the Warp record label like Autechre, Squarepusher, and Aphex Twin, so SKRILLEX tracks are inclined to have more changes than most dance tracks normally have. I can draw influences from almost anything. I just like to mess around and create cool new sounds and noises. I just go where the music takes me."
After just one hugely successful independent release, "SCARY MONSTERS AND NICE SPRITES" is the first SKRILLEX release on Big Beat Records, in conjunction with fellow electronic revolutionary Deadmau5's freshly minted Mau5trap record label.
"For years, the artists needed the record labels. I don't feel that way at all," Moore stresses. "SKRILLEX has been 100% independent until now. I think it's so important to be self-sufficient as an artist. Working with Atlantic / Big Beat, and cooperating with Mau5trap, allows us all to work as a team and expand on what's already been built."
Following its release on Beatport, the 9-song EP dominated the charts on the site, with the title track claiming the site's #1 slot (the first time a dubstep track has ever done so), 8 songs breaking into the top 10, and multiple tracks claiming the #1 slots on several of the site's subgenre charts, including Dubstep, Electro House, Progressive House.
Aside from the immediate success of "SCARY MONSTERS AND NICE SPRITES," SKRILLEX has also made a name for himself as a highly sought-after remixer. He's already produced officially commissioned remixes for such A-list artists as the Black Eyed Peas ("Rock That Body"), Lady Gaga ("Bad Romance" and "Alejandro"), and La Roux ("In For The Kill").
SKRILLEX stands not only at the vanguard of electronic dance music, but the perpetually evolving new music industry as a whole.
"For me, it's important to believe in and love the music you're making. I gave away my first EP on my manager's website, just so people could hear the music," he enthuses. "It was downloaded by the thousands in just a couple of months, and it hasn't let up since. That's all the inspiration I need to keep making music.
"SKRILLEX can be anything I want it to be," he continues hopefully. "There are so many different avenues for music now. Video games, movie scores — the possibilities are endless, and I'm excited to be a part of it."
Music has always been a part of my life. It probably all started listening to old Grateful Dead, Peter Paul & Mary, and Simon & Garfunkel records that my parents had, but it wasn't long before they were taking me to concerts like Starship, Crosby, Stills & Nash, and Huey Lewis & The News. I got the bug to write about music after reviewing an Eric Clapton concert for a creative writing project in high school but didn't really take it up seriously until 2002. Since then I have published countless articles in The Marquee Magazine and done some work for Jambase.com, SPIN Magazine, and various other outlets. I started Listen Up Denver! as a way to share the music information that is constantly spilling out of my head with people who care. Please enjoy!