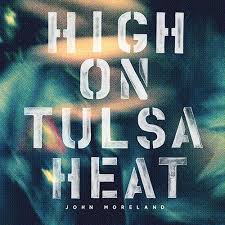 Echoing greats like Hiatt, Earle and Springsteen, with High On Tulsa Heat Tulsa native John Moreland has crafted an exquisitely moving record saturated with intricate wordplay, deft fingerpicking and vivid storylines that evoke the kind of emotion few are capable of.
From the stunning opener "Hang Me In The Tulsa County Stars," to the album's foot stomping closer "High on Tulsa Heat," Moreland proves that he has songwriting chops well beyond his 29 years as his gravelly voice builds the myth.  The centerpiece of the ten track album is the haunting "Cherokee" that Moreland subtly fans until it billows into a gorgeous Folk masterpiece.
With expertly written hooks like "you're the exception babe I'm the rule, I traded love for a song like a fool, I'm always drawn to the wrong thing to do" from "Sad Baptist Rain" and "you try to keep going but the ride won't steady, you try to get high but your heart's too heavy" from "Heart's Too Heavy" this record is a powerful addition to the new Americana canon that adds Moreland's name to a list includes Joe Pug, Jason Isbell and Ryan Adams. Look out for more groundbreaking work from this masterful artist as he matures into one of the great songwriters of his generation.
Music has always been a part of my life. It probably all started listening to old Grateful Dead, Peter Paul & Mary, and Simon & Garfunkel records that my parents had, but it wasn't long before they were taking me to concerts like Starship, Crosby, Stills & Nash, and Huey Lewis & The News. I got the bug to write about music after reviewing an Eric Clapton concert for a creative writing project in high school but didn't really take it up seriously until 2002. Since then I have published countless articles in The Marquee Magazine and done some work for Jambase.com, SPIN Magazine, and various other outlets. I started Listen Up Denver! as a way to share the music information that is constantly spilling out of my head with people who care. Please enjoy!