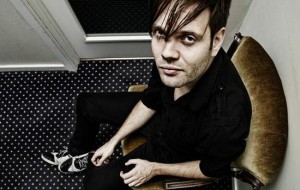 TRENTEMØLLER
Friday, October 21, 2011
The Ogden Theatre
Tickets – $22.00-$25.00
On-Sale – Saturday July 23rd, 10:00 AM
PURCHASE HERE
When his debut album 'The Last Resort' was released in 2006, Anders Trentemøller already had established his name as one of the greatest talents of electronic music.
The Copenhagen based Danish producer and multi instrumentalist started out with a number of yet classic single productions. In February 2005 Berlin producer and DJ Steve Bug released the Trentemøller 12-inch 'Physical Fraction' on his brand new label Audiomatique. It became one of the summer anthems of 2005 and was followed by three releases on Bug's main label Poker Flat: 'Polar Shift', 'Sunstroke' and 'Nam Nam'. Trentemøller's fresh sound and quality production gave a new twist to the upcoming minimal techno-sound and consolidated his reputation as one of the most interesting producers of the year.
To expand his horizon and show the world another side of his musical personality he worked on his debut album 'The Last Resort' (2006). The 13 instrumental tracks together form a musical story, almost like the soundtrack of a movie. 'The Last Resort' struck a chord with new audiences all around the world and became a international hit and earned a number of music awards as well as the 'album of the year' in various magazines. In 2007 followed two vocal singles taken from the album: 'Always Something Better' (featuring Richard Davis) and 'Moan' (with Danish singer Ane Trolle).
In the summer of 2007 Anders started a live tour: 'Trentemøller Live in Concert'. For the first time Trentemøller and band (Henrik Vibskov on drums and Mikael Simpson (guitar/bass)) performed tracks from the album 'The Last Resort' live on stage, with spectacular visuals provided by videodirector Karim Ghahwagi. The tour included festivals like Glastonbury (UK), Melt (Germany), Lowlands (Netherlands), Roskilde (Denmark), followed by his first USA concerts.
In October 2007 the double album 'The Trentemøller Chronicles' was released: a kind of Best Of, which contained Anders' personal selection of his best songs which were not included in the debut album 'The Last Resort' and remixes for artists like Röyksopp, The Knife and Moby, as well as some new and exclusive songs.
Trentemøller continued touring in 2008 and released the third single from the album on Audiomatique: the instrumental 'Miss You'. This was followed by a live CD with tracks taken from the show at the Roskilde festival in 2007.
In 2009 followed Trentemøller's remix for the first single of the new Depeche Mode album 'Sounds Of The Universe'. 'Wrong' was released on the official remix EP in April 2009. The Trentemøller remix for Franz Ferdinand's 'No You Girls' was released in 2009 and has been nominated for a US Grammy award. A month later Trentemøller presented his first mix compilation on the new label 'hfn music'. 'Harbour Boat Trips 01- Copenhagen' consisted of a collection of Trentemøller's personal favourites from the past four decades.
One of the highlights of 2009 surely was headlining Roskilde Festival 2009, where Trentemøller performed a show in front of more than 50.000 people. The concert featured lots of guest musicians, performers and extraordinary visual effects designed and built by Henrik Vibskov and his crew.
And now, in 2010, there's 'Into The Great Wide Yonder', Trentemøller's second artist album. The follow up of 'The Last Resort' show an artist that's willing to take risks, find inspiration in new places and move beyond the sound of his previous album. Trentemøller: 'Of course I didn't want to make the same record twice. That would have been boring.' Instead he just started to collect new ideas, without thinking too much about the direction the music would take him: 'The only thing I knew was that I'd want the music to be more organic, warm and not typical electronic sounding'.
Compared to the intimate electronic mood pieces of 'The Last Resort', the ten tracks on the new album indeed have a rather indie rock sound, with a lot of dynamics, distorted twang-guitars and synths alongside four melodic vocal songs might be one step ahead of his previous work. While the album is released end of May an extended live tour around the world will start in autumn 2010.

Music has always been a part of my life. It probably all started listening to old Grateful Dead, Peter Paul & Mary, and Simon & Garfunkel records that my parents had, but it wasn't long before they were taking me to concerts like Starship, Crosby, Stills & Nash, and Huey Lewis & The News. I got the bug to write about music after reviewing an Eric Clapton concert for a creative writing project in high school but didn't really take it up seriously until 2002. Since then I have published countless articles in The Marquee Magazine and done some work for Jambase.com, SPIN Magazine, and various other outlets. I started Listen Up Denver! as a way to share the music information that is constantly spilling out of my head with people who care. Please enjoy!