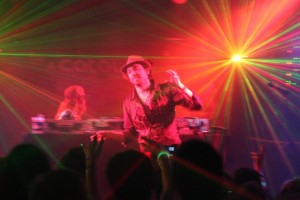 The Scene: The world renowned psy-trance sound manipulator and multi-instrumentalist Simon Postford took over the Mishawaka Amphitheatre this past Friday. Simon is half of the downtempo, psychedelic outfit: Sphongle. We took the bus up from Longmont and arrived at the venue a little after 9. Judging by the long lines at the box office and the front gate I knew that it was sure to be a sold out show. If you are familiar at all with the music of Shpongle than you know that "normal" is a word that would never be used to describe their fan base. I knew from the beginning that I would be in for a real treat as far as people watching went. Hundreds of wide-eyed, big grinning psychonauts filled the outside amphitheater. The overall energy walking into the place was that of mass-confusion and a strange tribal joy.  Scantily clad go-go dancers lined the outside of the crowd and a sea of consciousness expanding youth filled the area in front of the stage.
I think it's safe to assume that a good majority of the folks in attendance were far from standing on planet earth.  Most age groups were represented and the only thing I had trouble understanding was the 8 year old child hula-hooping until 2 in the morning. It didn't really strike me as a scene that small children should be exposed to, but that's just me.  Beside that everyone was in high spirits, really high spirits. It was far too difficult to navigate through the massive crowd down by the river, so I decided it would be a good idea to find a table up on the patio in order to gather my thoughts and figure out what in the world was actually going on.
Opener: Random Rab. The bus driver was late picking us up and because of that we didn't get inside the venue until Random Rab was already close to halfway through his set. I sat on the deck for most of his set and was actually more impressed than I anticipated being. This was the first I had ever heard of Rab and I thought he was going to bring more of a Dubstep sound with him. Fortunately enough for me, he did not. He has a very emotional down-tempo feel to his songs. I wasn't able to pick out any song titles being that it was the first time I had seen him, but I can compare his work to artists much like Bonobo or Emancipator.
Heavy bass lines and calming guitar riffs created a beautiful soundscape. That along with the raging river next to the stage made for a peaceful and serene set of music. He blended Middle Eastern sounds with hip-hop beats in order to create a beautiful, emotion filled atmosphere. If you are into intelligent dance music and a fan of well thought out electronic sound sculptors than I highly recommend you give Random Rab a chance. I am really looking forward for another opportunity to see him, and hopefully will be able to catch his entire set next time.
Shpongle: Simon Postford is half of the internationally known and respected electronic act; Shpongle. Although Shpongle doesn't tour much anymore as a unit, Simon still takes the time to travel around and spin DJ sets of everyone's favorite Shpongle tracks. Lately he has been touring with what he calls the "Shpongltron Experience." The "Shpongltron Experience" is a giant rig equipped with lasers, LCD screens and go-go dancers. Unfortunately the experience did not come out for his stop at the Mish. This bummed me out a little, but didn't matter too much since there was still plenty of eye candy.
I made my way down closer to the stage for the start of his set and Simon opened with a crowd favorite and one of the more recognizable songs; "Divine Moments of Truth." This is an ode to the psychedelic drugs LSD and DMT with a vocal sample of the Raja Ram (the other half of the Shpongle) describing one of his own DMT experiences. About half way through this song I had to go back to the top area to escape the overwhelming cloud of smoke coming from the mass of people.  Again, I found myself being concerned for the young guy in the back hula-hooping away. If I got a contact high just by walking through the crowd I could only imagine what might be going on in his little brain.
At times I felt as if a lot of the younger folks were hardly even there for the music, but more so to just have a cool place to do drugs. I guess this is one of the larger draws to the Shpongle experience. I found a new spot with much more fresh air, but not before helping some half naked girl to her feet while her friends reassured me she was alright so I wouldn't go get security. They threw her on their shoulders and off into the crowd they went. After that I had to sit down, I was shocked and amazed by the things going on around me. A complete free for all it seemed.
It was easily one of the strangest things I have ever been a part of which was fitting since the Shpongle sound is like nothing I've ever heard. He takes listeners on an incredible sonic adventure. He went from down-tempo tribal numbers into four on the floor house tracks. Providing a great opportunity to dance as well as a chance get lost in the unique sound landscapes he creates.
Honestly, in my own opinion I felt like he didn't bring his "A" game. Granted it has to be difficult to keep that many very high people entertained or not difficult at all; I'm really not sure. Maybe, that's why I walked away feeling a little disappointed with the outcome of the night. At one point about halfway through Simon's set a kid standing next to me leaned over with a blank stare and asked me "when does Shpongle start?" . . . oh boy!
While my head was nowhere even close to the planet most folk's must have been on, I still enjoyed hearing the songs I am familiar with. One of which was the world beat number "My head feels like a Frisbee." Raja Ram's flute playing always leaves me impressed, that coupled with the strange vocal sample over the up-tempo drum beat got my feet moving and brain wishing I had taken that salsa lesson I've been talking about.
Something must also be said about the lightshow, which was basically nonexistent. The only visually stunning thing I can remember from the night was watching a clearly inebriated young man with a giant paper mâché Shpongle head make his way through the crowd to the stage. Somehow he managed to crawl onto the stage and stumble back and forth in what looked like an attempt at dancing to the music. I really enjoyed watching that go down.
Overall I just feel like Simon missed the mark a few times. The flow seemed forced to me and although most people were lost in the music, I had trouble keeping up. I couldn't tell which direction he was going until it was too late. Then he would switch into a totally different type of sound, often catching me off guard and leading me towards more confusion.
I really hope Simon decides to come back sometime soon with the full live Shpongle group, or at least with the giant Shpongletron Experience. I've been a fan of their music for quite some time now and perhaps that is why I left feeling disappointed.  Don't get me wrong, I enjoyed the set and I also enjoyed every minute of the people watching, I just felt that Simon could have put more effort into his song selection and flow. I can turn my speakers loud and shuffle a Youtube Shpongle playlist by a river any day.  At least it was a beautiful night and I was surrounded by hundreds of happy go-lucky humans getting weird with it and enjoying the freedom that comes along with the indescribable sound of Shpongle.
Energy: B-
Sound: A
Musicianship: N/A
Stage Presence: C
Set / Light show: C-
Overall: C+

I rode my skateboard from school in 7th grade to my buddy Vince's house where he put on the song "Perfect Government" by NOFX and I was hooked. The next day I bought the album Duh by Lagwagon. The next year I saw Against Me! at the Starlight Theater in Fort Collins, my mom dropped me off. I've since devoted every waking hour to anything done with passion. My speakerbox bumps everything from Lil' Wayne to Pablo Casals. I was never very good at making music, but I am damn good at listening to it. I've been filling up yellow notepads with random thoughts and misspelled words for as long as I can remember. I enjoy whiskey of all sorts, Newport cigarettes and the company of my family. I've got an addiction to run-on sentences that I'll probably never cure. A solid handshake with a stranger who has become a friend over a few beers means the world to me. You'll often find me wide eyed and wandering with an ear to ear grin. I live for funky break beats and spreading the love.