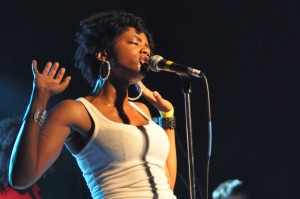 All Photos by Tim Dwenger
The Scene: Simply put it was a sweaty dance party at Cervantes Other Side on Saturday night.  From the start of the night, until the wee hours of Sunday morning, the Funk was flowing freely.  As the night moved on, the bodies crammed together in the packed club pushed the temperature higher with every passing hour.  Despite the heat, the vibe was intensely positive; as if we were all witnessing something truly special.  Bands like Orgone don't come along every day and they couldn't have scripted two better bands to open their Denver coming out party than Washington DC's, The Funk Ark and Empresarios.
Empresarios: The Fort Knox Recordings label has always had great  taste in what gets a room moving and The Empresarios are no exception.  Headed up by percussionist extraordinaire Javier Miranda, the Latin tinged group combines elements of Funk, Dub, Reggae, and Hip-Hop to create a unique sound that had the room bouncin' on Saturday night.  They will be back through the area on Sunday for a free show at Cervantes Other Side, so don't miss your chance to catch their encore performance, you won't be disappointed.
Orgone: The high energy funk band Orgone hails from Los Angeles, and much like the vibe on the West Coast, Orgone takes pride in having a collective effort in their approach towards life, community, and writing music.  By definition Orgone is "a theory of a universal and ever present life force" and it seems like a natural name for the band.
Their set on Saturday night at Cervantes Other Side was dominated by heavy hitting horns, high flying guitar and keyboard solos, while thick and predominant percussion provided the back bone to grooves that were deep enough to make even the most timid person in the crowd dance.  Combine that with a sexy lead singer who commands attention on the stage, and you had the recipe for a true dance party.
The crowd of late 20 somethings and 30 somethings danced the evening away to Orgone, while the band created an intimate, feel good atmosphere for the audience.  It was clear from the get-go that when you go out to an Orgone show you cannot stand and observe the music.  No, their music demands that you move your body.
Before the band took the stage, I was lucky enough to sit down with guitar player Sergio Rios and keyboard player Dan Hastie and they confirmed my notion that this band cares about nothing more than giving their audience a fun, high energy experience.
"It's all in the name of having a good time.  That is the purpose of music.  To provide some sort of uplifting feelings, that's our privilege," said Sergio with a smile on his face.  He went on to say, "the band can feed off the crowd, and provide a moment for someone watching.  It's as much of a moment for them as it is for the band.  This is your moment, this is our moment."
The crowd on Saturday must have provided the band with the energy they needed to get up and play their high octane music for several hours, because from the front row, all the way to the back, it was nearly impossible to find a person not dancing and having a great time.  This stands as a testament to Orgone's ability to make people move, as their show did not start until after 11:00, on an evening where Empresarios and The Funk Ark had much of the crowd had dancing for several hours already.
The band makes no secret about their deep appreciation for the state of California.  In 2010 they released their second album with Ubiquity Records, appropriately named Cali Fever.  "A lot of us are born and raised in LA, and if not, we have lived there a long time.  There's a great music scene in LA, a lot of great musicians.  We are a part of a community.  It's a place that provides a music scene like a place like Brooklyn, although the scenes are very different.  There's something very West Coast about a lot of the music that is made is LA," Dan said.
The album's title track "Cali Fever" is a good example of the band's material that moves cohesively as a unit, with no single melody being a driving force, but more a collection of layered sounds that move as one.  "The way we write music, it comes from jams.  It's about all the guys playing minimal parts, and providing a space for the others.  We just lock in.  It doesn't get in anybody's way," explained Dan and Sergio.
When asked if Orgone has brings that "West Coast feel" to their shows, Sergio replied, "I don't know that we definitely have it, but that's what we're going for."  One thing is for certain, whatever they are doing, the crowd in Denver took notice and it's clear as their fanbase continues to grow, that Orgone is becoming a force to be reckoned with.
Energy: A
Sound: B+
Musicianship: B+
Stage Presence: A
Set/Light Show: B
Overall: A-