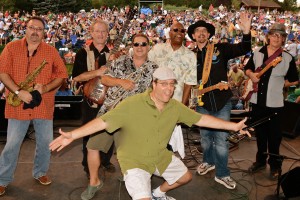 Chris Daniels and the Kings, an incredibly popular band that calls Colorado home, has been showered with love by fans for over 30 years now! They are an R&B band with a passion for horns. Not only is Chris Daniels in the band, he is also an assistant professor at the College of Arts & Media, at the University of Colorado Denver. Amidst a very busy summer concert schedule and having just come off an international tour, Chris Daniels took the time to take a break and answer several questions from one of Denver Writes' enthusiastic almost 13-year-olds, Lauren Smith.
Chris Daniels and the Kings will perform from 2:10 until 2:55 on the outdoor stage at Park House (1515 Madison St, Denver, CO) on Saturday, August 1st.  Tickets are $10 in advance and available now – PURCHASE HERE.
Lauren Smith: How did you come up with your band's name?
Chris Daniels: My band's name? Wow! It started out as Chris Daniels and the Rhythm & Blues Kings. Rhythm & Blues was a term that was invented in about 1949, and it replaced a very pejorative, a very negative term that people used to classify music of black Americans. I think it was Jerry Wexler who came up with the name Rhythm & Blues. The idea was that it was really rock & roll. Now when we think of R&B, we think of Rihanna and we think of Prince. But, in 1984 when we started the band, by using the term Rhythm & Blues, a lot of people were confused. They didn't know are we like Prince, are we like Michael Jackson, are we like old school Rhythm & Blues such as Ray Charles? What are we doing? So, it confused people. We just took that off and it became Chris Daniels & the Kings.
LS: How would you describe your sound?
CD: We are a cross between Sly & the Family Stone and Sam & Dave and Blood, Sweat & Tears. We have the Funk of Sly & the Family Stone, the fun of Sam & Dave and the big horn sound of Blood, Sweat & Tears.
LS: How did you guys get started playing together?
CD: It's kind of a funny thing. I was touring, the whole band was actually touring as a back-up band for a very famous songwriter by the name of Russell Smith who had a band called the Amazing Rhythm Aces. He had a couple of hits. One called "Third Rate Romance, Low Rent Rendezvous." We were touring around backing him and he decided he didn't want to be on the road anymore, so he said I'm going to go to Nashville and write songs. We were sitting there with this great band and we didn't know what to do with it. A friend of mine had a band with a horn section and I asked him "can I borrow your horns for one night? We're only going to do this one night." It was March 14th, 1984, and we went into a club in Boulder called The Blue Note, and we played one night and people went crazy for it! In 1985, we kept doing it.  We kept trying it at different clubs. Also in 1985, Westword voted us the best Rock band in Colorado. From there it took off. We put out a record in '85 and we just kept going. It was a one-night stand. I always tell people you have to be careful of one-night stands. They can last you a long time.
LS: What is the strangest request you've had at a show?
CD: (Laughing) Oh my gosh! That's a really good question. People always ask us to play Country music, which is strange. I've never figured out why. The other one that they will come up and ask us for is a specific song by an artist. I'm not ever quite sure how to respond. A band has to rehearse everything together. You may know it personally. You may know how to play "Mr. Bojangles," right? But the whole band doesn't know how to play it. We've never rehearsed it. And they get very offended. They get really mad at you. That's pretty constant.
But what's the weirdest? I think it's come at a wedding. It was a woman who'd hired us to play for her wedding in Kansas City. We played at the wedding. She called me five years later and said that we were the only things she liked about her first marriage. She was getting married again and asked if we would we play at her second wedding? I said "Sure, why not!?"
LS: What was the first song you wrote together as a band?
CD: It was a song called "Black Cat." It was about bad luck. It was all about how sometimes in a relationship, when you end it, the other person doesn't take that seriously and keeps coming back. It's sort of like bad luck that keeps coming back and you're going no, this is over, we're done, and they keep coming back. That was the song we wrote together in 1988.
Lauren: What is your favorite venue in Colorado, and why?
CD: Red Rocks. We've played Red Rocks five times. It is probably the most exciting thing to stand on that stage. Rocks is kind of goofy in that those big walls create a giant box of air, and that big, huge PA system can vibrate that whole box of air. If you hit a certain note, which is actually in the key of A, it creates sympathetics, and the whole area vibrates. It's huge. It's really cool! It's sort of like being God for about half a second.
LS: If you could play on any stage in the world where would it be and why?
CD: It would be the North Sea Jazz Festival in the Netherlands. I've played just about every other festival in Holland, but I've always wanted to play the North Sea Jazz. The other one would be the Montreux Jazz Festival in Switzerland. Those are two that I haven't played. Oh, have to add a third. New Orleans Jazz Festival. Those are my three. That's always been one of my dreams is to play that festival.
LS: Is there something special about playing in Holland?
CD: It's a long story, but the short version is that our first big record deal came from Holland. In 1990, we got signed to a very good record company that is still around called Provo Records. They were going to give us money. I said don't give us money, guarantee us four tours of Europe. They brought us over for four tours in 1991, 1992, and then two tours in 1994. We played one festival called Park Pop for half a million people. It was all because of one radio DJ. This one radio DJ liked one of our songs and he played it all the time on his show. So, we had a number one record then. I just got back from there. We just finished our 21st tour over there.
LS: If you could open for any band or artist, who would it be and why?
CD: There's a great question. Right now, it would be Bruno Mars. I think his audience understands the kind of music that we do. I mean "Uptown Funk," we actually play the song, and it fits perfectly into our set of music. I'd love to play for his fans because I think they would understand us.
I've gotten to open for a lot of others. Another all-time favorite opening was for BB King. What an honor. Obviously talented and brilliant, he was also the most gracious and kind man that I've ever gotten to meet. He was wonderful.
LS: What is the funniest thing that happened on tour?
CD: That I can talk about? Well, I'll tell you one more wedding story. We don't play a lot of weddings. We may play three or four a year, but we played a wedding for the guy who was the real-life Jerry Maguire. Barry Bonds was there. All these huge, amazing, athletic stars were there. It was a real honor to be there and we were excited about it.
The father of the bride had too much to drink and came up on stage. He said, slurring, "I need to make a toast." This is the guy that's paying you. That's how weddings work; it's the father of the bride who pays the bill. So, we can't really say no to this fellow. He jumps up on stage before we're supposed to do our first song. He looks out and says, "I just want to tell you (speaking to this Jerry Maguire fellow), you can't bring her back. Because I've put with her mother for the last 32 years…" and then went into a long, just awful tirade saying she's so mean to me and she's so terrible and you can't bring her back. It just was so awful. We tried to crawl underneath the drum set. He finally tottered off and the whole place was aghast. They were silent. So, I had to walk up to the mic and go "OK, let's dance."
That was the craziest gig I've ever played. The strangest experience on the road, though, is going through borders. It's always interesting. We got stopped at the Swiss border because it's not part of the EU. They made us go through every single piece of our stuff. It took us like three hours with guys standing around. That happens at a lot of borders.
LS: What are you most excited about with your career right now?
CD: Two things. Number one is that our new record Funky to the Bone has been on the Blues charts now for 16 straight weeks. That's huge! That hasn't happened to us in 20 years. We've gotten reviews from Downbeat, from all of these great magazines, saying this is the best record that we've done. I'm really excited about that.
The second thing I'm really excited about is that I teach at the University of Colorado. I teach music business. One of the things that I'm really excited about is how the music business is changing. Some things are finally starting to settle out. Record companies did very stupid things for a long, long, long time and so now we have streaming and the Internet and all that. Artists aren't making much money. My job is to talk to students about how are you going to survive? Yes, you're talented and you can play this instrument and sing and do all these wonderful things, but how are you going to make money? My job, which I love, is to say, ok, how are you going to make a living?
Those are the two things I'm excited about.
CHRIS DANIELS & THE KINGS
Firefly Autism "Road To Blues & Brews"
Saturday, August 1st 2015
Park House – 1515 Madison St, Denver, CO
Set Time: 2:10 – 2:55pm
Tickets: $10 in Advance
PURCHASE HERE