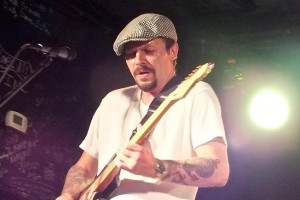 Michael Hornbuckle and his band have found increasing success in Blues, Rock and Soul-style music since they released their first CD in 1998, titled Pass the Torch. Over the last 17 years, the Hornbuckle Band has played in a number of esteemed venues and opened for artists like The Allman Brothers, Ted Nugent, and Def Leppard. Their most recent CD, titled Virtue and Vice, earned the title "Best Self-Produced CD."
Last week, 15-year-old Kate Soulliere of Denver Writes sat down with Michael to talk about the band's major influences and development over time, as well as it's direction for the future and how he never saw himself collaborating with Hip-Hop artists and doing competitions. Now he's doing both!
Michael Hornbuckle will perform from 6:50 until 7:35 on the outdoor stage at Park House (1515 Madison St, Denver, CO) on Saturday, August 1st.  Tickets are $10 in advance and available now – PURCHASE HERE.
Kate Soulliere: What's your favorite memory of playing together as a band?
Michael Hornbuckle: I would say some of my fondest memories playing have been at the bigger venues around here. We are lucky and blessed to have a place like Red Rocks in our backyard. People come from all over the world to say they've played that, and I've been fortunate enough to play at Red Rocks.
Here's a little bit of Denver trivia for you. If anybody ever asks you what local musician played the very last show at McNichols Arena and the very first show at Pepsi Center, you can now say you know who it is. We got to open up for ZZ Top. ZZ Top played the very first show at McNichols Arena in 1976, or something like that, so they brought them back for the sayonara show. Actually, Celine Dion was the first show at Pepsi Center, but the first rock show was Freddy Jones and we got to open up for him thanks to Lewis and Floorwax. We had a band with them. Wait, what was the original question [laughter]?
So, those are very special memories. When I was a youngster, younger than you, I started playing with my dad at 12. Playing with my father and my brother, we had a family trio. My brother Brian played bass and I was the drummer before I started playing guitar. My father was Bobby Hornbuckle who is considered the godfather of Blues here in Denver.
KS:  What is your favorite song to cover?
MH: Favorite song to cover? Currently? There's so many. Let me think of the songs I do real fast. This is tough because I do a lot of originals now. I got one. I like covering Citizen Cope songs. It's called "Son's Gonna Rise." It's a song of hope. It's a positive song and it's got a Hip-Hop beat behind it.
KS: What is your favorite venue in Colorado, and why?
MH: It's called Ziggie's Saloon and it's in North Denver. It is the oldest Blues club in Colorado. I grew up in the Berkeley District of North Denver right down the street from where the old Elitch Gardens was, so it's kind of like a second home. My dad spent a lot of time there, played there a lot. It's been under different ownership throughout the years, but they've really created into a music venue instead of a bar that has music.
I actually played there last weekend for another pretty big deal called the International Blues Challenge (IBC), and will be playing there on August 29  for the Finals of the IBC, presented by Denver's Mile High Blues Society. Last year, our Virtue & Vice album won "Best Self-Produced CD" from the Mile High Blues Society. Every time we go there we have a great turnout of local, blue-collar people who've been there for years. Now their kids after them are starting to show up. There's always good energy.
Another one is Herman's Hideaway, but Ziggies does have a special place in my heart.
KS: What was the first song you wrote together as a band?
MH: It was a Blues song called "I Don't Need Nobody." It's on our first CD that's called Pass the Torch. It was a simple Blues song. It didn't require too much experience at songwriting. Blues songs are pretty much you repeat the line twice, add another line and repeat that one again. I had a knack for simple songwriting back then.
KS: If you could play on any stage in the world where would it be and why?
MH: I'd say the Grand Ole Opry. I grew up watching it on TV and I was into all those old Country acts because my dad turned me onto them. Glenn Miller Orchestra and stuff. My grandma, who has since passed, called me up a couple years ago because she had to call and tell me about her dream. "Michael, Michael, I had a dream. It was so beautiful. You were playing at the Grand Ole Opry." Awesome, that's an omen! Time has passed and I still haven't played there, so it's got to be the Grand Ole Opry just to make grandma smile.
KS: If you could open for any band or artist, who would it be and why?
MH: We've gotten chance to open for a lot of people who were on our list. But one of them I would pick, who retired this year, would be Eric Clapton. We're sort of out of guitar heroes. It was a different era and generation as far as people like Jimmy Hendrix, Stevie Ray Vaughan, Eric Clapton and guys like that. He's sort of the only one left, besides maybe Santana. Maybe between Santana and Clapton just because they're icons and it would be a novelty to do it. I guess, though, I'm now going to have to say Santana because Eric Clapton retired.
KS: Tell us about the material you've released.
MH: We have a lot of released material and we're working on a new CD. That's always progress. Writing and putting out as much material as possible.
KS: Who would you count as major influences on your band?
MH: First and foremost, my father. The guys in the band all have different backgrounds and influences. The bass player's name is Jeff Andrews. He's from Oakland, California and has kind of a Heavy Metal background. Bands like Testament, Megadeath and Metallica. Plays Blues great, but that's sort of his background. Mine too. That's sort of where I started.
The keyboard player's name is AC. He's from Hungary and he grew up on music like The Beatles and Rolling Stones and stuff like that.
My main influences besides my father, would be Bobby Bland, Howlin' Wolf, Muddy Waters, I could go on and on. I spent a lot of time studying Blues and getting immersed into where it came from. I still do.
There's a lot of young guys that are out now that are carrying the torch, so to speak, and keeping the music alive. Guys that were teenagers when I was a teenager like Johnny Lang and Kenny Wayne Shepherd. There are people your age, Kate. There's a kid named Quinn Sullivan. His voice still hasn't changed yet, but he's amazing. The guitar is bigger than him, but he's just amazing. There's another kid, I call him a kid but he's 18 or 19 and just blowing me away, whose name is Matthew Curry. His voice is way ahead of himself. Like Johnny Lang had that real old sounding, raspy voice? He's a monster on the guitar.
I get influenced by younsters now, you know? Every time I turn around someone is saying "you've got to see this kid." But it's cool that the music is evolving and still alive and well. Not that the Blues would die, but it was fading for a little bit, becoming a fad.
KS: How would you describe your sound?
MH: I'm not a fan of labels. It always kind of stumps me when people ask "what kind of music do you play?" It's Blues influenced because that's what I know and would be my primary language. What I'm best versed in and where my roots are. That being said, I also have Rock influences, Pop influences, Country influences, Hip-Hop influences. I would hope that it still stays true to the Blues, but I also hope for it to be something original; something that when people hear it, they can tell it's us playing.
When I was out in LA I met this fellow who I knew was into music and who I knew worked for Universal Pictures. I finally asked him what he'd been doing before he was doing this, and he said he was in this band that I'd probably never heard of. I asked him the name and he said Mother's Finest. My jaw dropped because one of the first songs I'd ever learned was a Mother's Finest song because of my dad. We'd been doing their songs since I was a little tiny kid. Long story short, I hooked up with this guy whose name is Alex 'Ace' Baker and he writes, composes and records music for soundtracks. He's also in charge of the music library at Universal Pictures. He finally started throwing some work my way doing sound track material. So, I got my name on the sound track and we ended up hitting it off and writing songs together.
So the album that we currently have out, which I should have answered in a previous question, is called Virtue and Vice. I got to record with this fellow who is a top-notch producer. It's something that Denver lacks, good production. Tons of great musicians and great music scene, but the industries are out on the coasts. Through this album, Virtue and Vice, I learned a lot about songwriting through this fellow. My songwriting evolved.
I had been estranged from my brother. My brother and I hadn't played anything together for a long time. Alex said that we need players, so we found this drummer and I then I decided the only right thing to do is to get my brother out here. So my brother learned all the songs, packed up his van and drove out to LA so that we could record the CD in two weeks. It's a 16-track CD. It won best self-produced CD. We got a ton of accolades last year. It just came together. That's because of meeting this fellow, someone I'd known about since I was a kid, I thought you can't be him. LA is such a big city, the chances of me and this guy meeting? It was kind of like a "godshot" I call it. It was supposed to be. Now we'll know each other until one of us dies. He wants to come out here and record a CD.
I keep pumping that CD even though we're working on another one. That has been our best piece of work. I'm really proud of it.
KS: How did you guys get started playing together?
MH: In this current incarnation that I'm in? The drummer and the bass player, Jeff and Dave, I've known them forever. Maybe 20 years. The community of players around here, especially where I'm from in North Denver, it's a tight knit group of musicians. When one guy's not available, another guy will step in and already knows the material. We have a group of probably 30, 40, 50 people that we'd be able to play with. Rotating members in all these different bands. It's really cool.
I've used Jeff and Dave probably more so than anybody else. I always come back to them. It's like old romances. I have a long history with the bass player and the drummer. The keyboard player I just met like a year ago. I started seeing him on Facebook when I was in California. He was playing with some guys out here and I thought that guy is great, so when I finally ended up meeting him, I stole him from the band he was in.
KS: What are you most excited about in your career right now?
MH: I'm glad you asked that. I'm sort of exploring a different avenue of music right now. I'm steering away from the bars and the clubs and going towards festivals. Me and another guy are starting a non-profit to benefit recovering addicts and give them resources to get into treatment and sober houses. This is for guys who don't have the resources. We're starting this non-profit and going to be throwing festivals here soon. It's not that corny recovery message, but the money is going to somewhere good. It doesn't exclude anybody. We're going to have everything from Hip-Hop to Blues to poetry to speakers. I'm really excited about that. It just became an idea about a month ago and everything's just falling into place rapidly for us.
It's funny how when you have a good cause and start doing the right thing, how your perspective on things changes. What was important just isn't as important anymore. I don't care so much about all the accolades and what comes with that lifestyle. I want to know what good are we doing? I'm excited about this and that there's a cause behind it.
I've also been collaborating with these Hip-Hop guys. They're a local group called Top Flight Empire. They've rallied behind this cause. They do a whole bunch of giving back to the community. We're recording a video next week. I've never recorded a video before, especially with a Hip-Hop group, no less. But I'm really looking forward to it! So, we recorded this song. I do a song on this album I told you about called "Bird of a Feather." It's about going back to Denver. It's a really cool song. It's a rock song. I got in touch with these guys and they wanted to use the chorus. They used the chorus. They do their own verses, but just use my chorus in this song. Then they licensed the song to the Broncos. So when you go to a Bronco game and you see them come out of the tunnel, the song you're listening to is me with these Hip-Hop guys. I never saw myself doing stuff like this. But I did and I'm enjoying it. I love it! These guys are good dudes. All they do is work. They do music. It's contagious hanging out with them. Long story short, we're going to do the video next week and am excited for that.
Another thing I said I would never do is competitions. This thing that we're doing on August 1 is a competition. Then, I'm involved in another one. The IBC Blues Challenge I talked about earlier. I said I'd never do them and now I've got two that I'm involved in and I'm loving it. It's making me want to be better. It's making me want to have more camaraderie with guys. Instead of having a competitive attitude, it doesn't have to be like that. You know Chris Daniels is involved in this and I've looked up to Chris since I can remember. I'm really excited about stuff like that and just being in the mix with certain people. Feels brotherly.
MICHAEL HORNBUCKLE
Firefly Autism "Road To Blues & Brews"
Saturday, August 1st 2015
Park House – 1515 Madison St, Denver, CO
Set Time: 6:50 – 7:35pm
Tickets: $10 in Advance
PURCHASE HERE